Notable Concordian
Alexandre Bilodeau
BComm 16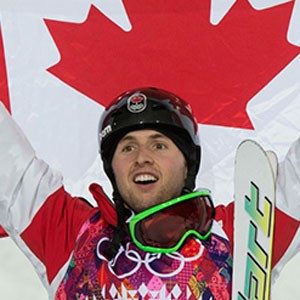 Awards & Distinctions
Great Concordian
John Molson School's two-time Olympic champion
Alexandre Bilodeau is a shining star among Concordia's winter Olympians. The John Molson School of Business student made Canadians and Concordians proud at the Sochi Olympics in Russia, earning a second gold medal in mogul skiing.
The world champion successfully defended the title he had won at the 2010 Vancouver Olympics, thereby becoming the first freestyle skier to stand twice on the highest level of the Olympic podium.
This was one of many firsts for Bilodeau who, at age 14, became the youngest athlete to perform a triple jump in competition. He started off as Rookie of the Year in 2006 and quickly collected victories at international ski events, including 19 World Cup gold medals and three World Championships in dual moguls.
Bilodeau retired from professional skiing after the 2014 World Cup season.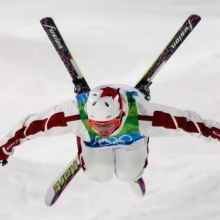 Alexandre Bilodeau in action. | Photo: Canadian Olympic Team
He has two heroes: his brother Frédéric, who is affected by cerebral palsy, and Jean-Luc Brassard, former Olympic freestyle ski champion.
Bilodeau has long been a spokesperson for — and a dedicated supporter of — many charitable organizations, including the Princess Charlene of Monaco Foundation, the Cerebral Palsy Association of Alberta, the Canadian Association of Paediatric Health Centres for Cerebral Palsy Research and the Quebec Cerebral Palsy Association.
Now ready for a new challenge, Bilodeau completed his bachelor's degree in accounting. He studied intermittently, on a part-time basis, for several years. At a homecoming celebration Concordia held in his honour after his Sochi win, Bilodeau said it would have been impossible for him to reconcile his two lives — athlete and accounting student — without the support of professors and administrators.
"Without John Molson [School of Business] or Concordia people, I would never have been able to do school and skiing. And I probably would've stopped skiing if I couldn't have done both," he explained. The two-time Olympic champion has many projects in mind, but his priority is to step back into the classroom and complete his degree. In his own words: "Now changing my goal, it's something refreshing and I've been looking forward to it."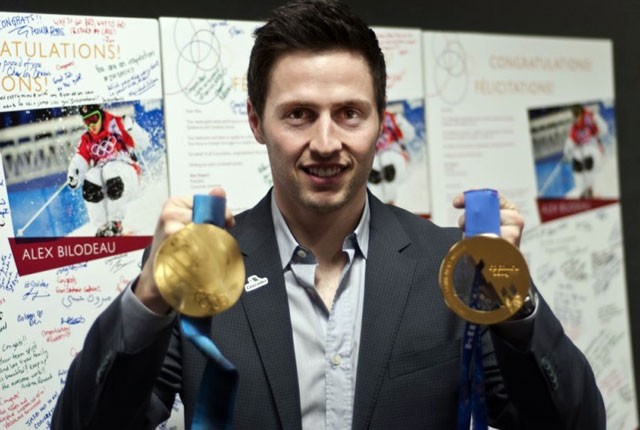 Alexandre Bilodeau shows off his two Olympic gold medals before a giant congratulatory card signed by Concordians. | Photo: Brandon Johnston
More Great Concordians