Setting an example: Like father, like son
Clelland family legacy inspires community to support full-tuition bursary
Setting an Example is a first-person story, in the words of a Concordia donor, on the importance of supporting higher education.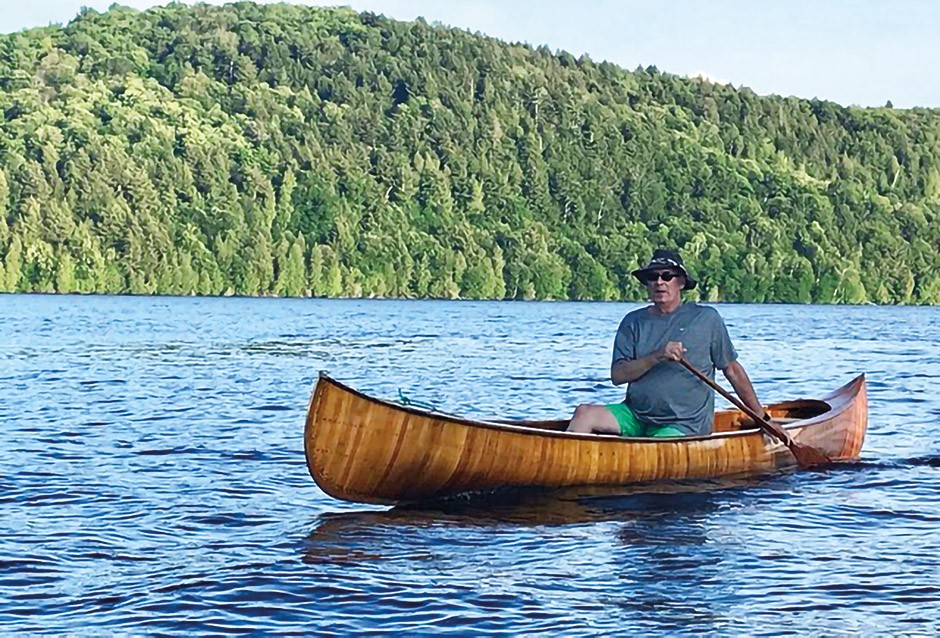 Neil Clelland on Lac-des-Seize-Îles
My brother Neil was diagnosed with a particularly fast-growing and deadly cancer in February 2020. No treatment, no hope, nothing. He chose to end his life under Canada's medical assistance in dying (MAID) program.
A week before he died, Neil told us he wanted to fund a student's university education. The reason had to do with our father.
Our dad, Norman Clelland, was a very generous guy. He valued higher education but was denied the chance to pursue it himself. Dad served as chairman of the Montreal Association for the Blind and was very active in the charitable sector. Later in life, he was a board member and benefactor at the YMCA that established Sir George Williams University, one of Concordia's founding institutions.
Unbeknown to us, Dad also put students through school in the 1930s. We only learned about this at his funeral in 1972, when we were approached with condolences and thanks. Neil wanted to follow Dad's example. My sister Sheila [BComm 82, GrDip 83] and I told him that we fully supported the idea.
Neil had enough to fund a student for a year, or maybe even through a full bachelor's degree. But we suggested that we set up a bursary in our father's name. He liked that. So we told him, 'When you leave us, we'll get going on it.'
He gave us the names of some people he thought could help. After Neil passed on March 14, 2020, we got to work. It was great work to do. I'm retired now from a career in sales. There's nothing like selling something that's meaningful and personal like this.
We initially funded the bursary with $40,000 from Neil, my wife and me, and Sheila and her husband. Our goal was $130,000 — which generates $5,000 of annual support for one student, ad infinitum. With help from Neil's circle of friends and contacts, we were at $114,000 as of early December.
Neil had a lot of friends. Many came from Lac-des-Seize-Îles in the Laurentians, where we spent our childhood summers. A lot of the funding came from that community. My grandfather bought property there a hundred years ago. It's a special place. Like other residents, I would live under a park bench before I'd sell that land. There are three cottages there now for the next generation, Sheila's three boys.
It's a unique and tight-knit community of about 150 cottages around a small lake, mostly accessible only by water. Generations of families like ours have lived and grown up on Lac-des-Seize-Îles. Close relationships develop over the years.
Most of the funds for the bursary came from there and from people my brother knew in Montreal's West Island communities of Pointe-Claire and Dorval, where he lived for 40 years.
In Neil's obituary we wrote that "he was a friend, confidant, coach, volunteer" and that he "believed the most important things in life are passion, hope and love for one another." This was absolutely who he was.
Because of the pandemic, we couldn't have a celebration of life. We laid his ashes to rest in November, but without a proper service — just a small group of close family. When this is all over, we'll have a celebration for Neil with everyone who cared about him. He was surrounded by a lot of love.
If you would like to support the Norman Clelland Bursary, visit engage.concordia.ca/donate or email giving@concordia.ca.
---