'It's important to bring a little bit of happiness at this difficult time'
Mallory Lawton, BA 13, took the spirit of convocation to the doorstep of her graduating student athletes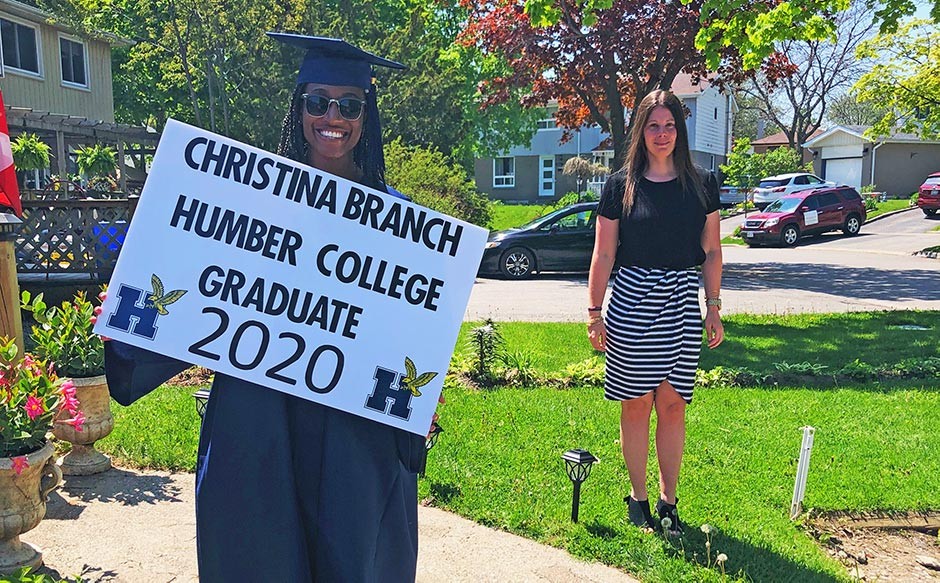 Mallory Lawton (right) delivers a celebration to graduating student-athlete Christina Branch | Photo: Humber College Athletics
When her students could not physically commemorate graduation this spring, Mallory Lawton, BA 13, the varsity academic coordinator at Toronto's Humber College, delivered a celebration right to their door.
"I've supported these students throughout their academic journeys, so when courses went online and convocation was postponed, I wanted to do something special for them," says Lawton.
Inspired by the fond memory of her own Concordia celebration, she ordered caps and gowns online, went to work on handmade posters — and then set off across Ontario to photograph (at a safe distance) Humber's graduating student athletes.
"My own convocation picture with my family has travelled around with me," she says. "It's always been one of the photos I put out in my house for people to see, because it was such a meaningful moment. I was also a student athlete, so it represented five years of hard academic work and dedication to my sport."
A Concordia toolkit for success
Lawton is a former Stingers hockey player; she played under the guidance of her father, Les Lawton, Concordia women's hockey coach for 34 years and now a special advisor to the team.
His daughter learned a lot from his leadership skills.
"I often see the positive impact that he has on his players, and that spirit is within me as well," Lawton says. "It's always at the forefront of my job. I'm always thinking, 'How can I make the students' lives better? How can I be a mentor for them?' I think that stems directly from my dad."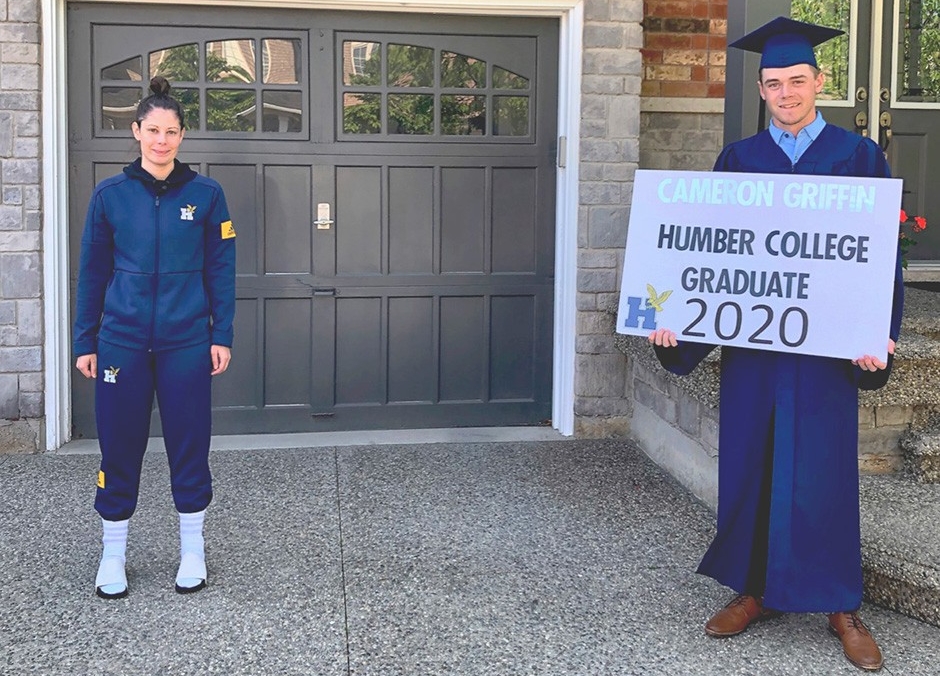 Mallory Lawton and Humber College grad Cameron Griffin
Lawton also credits Concordia with providing the professional tools she needed to succeed.
"Those were the best years of my life," she says. "Because I was a member of the women's hockey team during my studies, I am able to use what I learned at Concordia on a daily basis. I connect with student athletes on an interpersonal level because I lived that life — and my positive experiences at Concordia made me much more well-rounded as an advisor."
'Focus on what you can control'
So far, Lawton's list of spontaneous graduation photos has grown to include more than 35 of Humber's student athletes. She is incredibly satisfied with the results.
"I've spent hours and hours in our Humber van driving across the province, but it is absolutely worth it to see the reaction on the students' faces. To bring them a little bit of happiness in this difficult time has definitely made it all worthwhile."
She also has encouraging advice for Concordia's class of 2020 and for current students who are trying to navigate the fallout of the pandemic.
"When we're going through a situation like this, a lot is out of our control; there's no point in wasting time on those things. Give your best effort in everything that you do, follow your heart — and focus on what you can control."
The COVID-19 pandemic has affected the well-being of our Concordia students — many of whom can no longer afford basic necessities such as rent and groceries. If you can, please consider making a donation.
And if you're participating in COVID-19 community projects, don't forget to tell us: socialmedia.alumni@concordia.ca.
---