Making things perfectly queer
Concordia's Thomas Waugh and Matthew Hays redefine convention with their queer film classics series
In his seminal 1981 book The Celluloid Closet, late activist Vito Russo perceptively summarized 80 years of the portrayal of homosexuality in film with a "necrology," a list of how lesbian and gay film characters met their demise. This included some of the most violent murders, suicides, castrations and executions ever portrayed onscreen and was a clear reminder of the LGBTQ (lesbian, gay, bisexual, transgender, queer) community's skewed representation by Hollywood.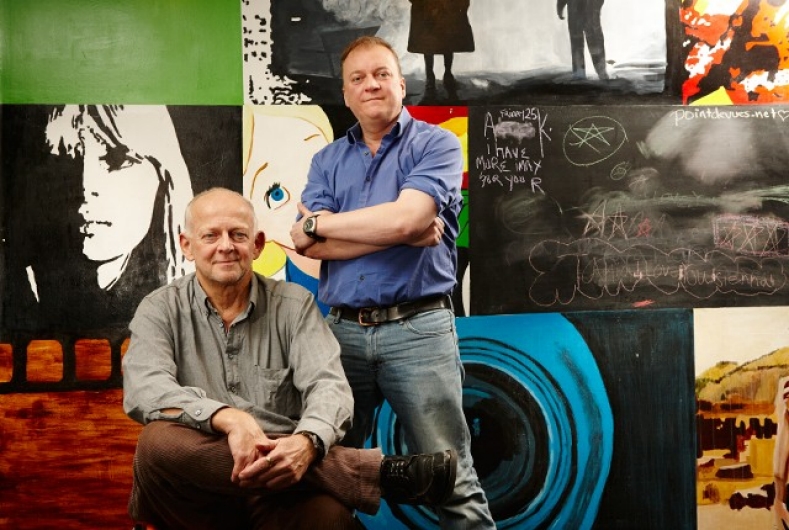 The Concordia Mel Hoppenheim School of Cinema's Thomas Waugh and Matthew Hays, pictured at the school, are co-editors of
The Queer Film Classics Book Series
.
Three decades later, times have certainly changed — mostly for the better — with local cineplexes and TV networks regularly featuring gay and lesbian characters and storylines, and university cinema departments offering courses on LGBTQ film. Yet the need for socio-historical context and critical theory remains paramount. It's one of the reasons why Concordia's Mel Hoppenheim School of Cinema professor Thomas Waugh and part-time film studies instructor Matthew Hays, BFA 91, MA 99, launched the Queer Film Classics series in 2009. Nearly two dozen volumes are planned under Arsenal Pulp Press, written by leading scholars and critics and co-edited by Waugh and Hays.
"Each book allows its author to get under the skin of a film, and to talk about it in a very eclectic way based on the reaction of its time, the response of critics both straight and queer, and the impact of the film," describes Hays.
The 10 volumes published so far offer a blend of critical theory and biography that are key selling points in reaching both academic and non-academic read­ers. Apart from celebrating queer film and addressing LGBTQ character rep­resentation, one of the series' goals is to educate youth on the significance of LGBTQ films from the past.
Waugh first had the idea for a se­ries after following work by his United Kingdom peers. "The British Film Institute's series of monographs on classic and contemporary films had been extremely successful since the 1980s," Waugh says. "But I felt they were giving short shrift to queer cinema, es­pecially in the light of the effulgence of new queer cinema in the 1990s."
A specialist in film and queer studies, Waugh wears many hats at Concordia, including professor of Film Studies and Interdisciplinary Studies in Sexuality, research chair in Documentary and in Sexual Representation, coordina­tor of the Interdisciplinary Studies Program in Sexuality and director of the Concordia HIV/AIDS Project. He's also author of several publications, includ­ing Out/Lines: Underground Gay Graphics From Before Stonewall (Arsenal Pulp Press, 2002). Waugh has helped expand Quebec's own Lesbian and Gay Archives over the years, pioneering queer curric­ulum since the early 1980s.
Hays, who teaches a course on LGBTQ cinema at Concordia, is also well suited to co-edit the series. His writings have ap­peared extensively in gay and mainstream media including The Advocate, Globe and Mail and New York Times. His Lambda Award-winning book The View From Here: Conversations with Gay and Lesbian Filmmakers (Arsenal Pulp Press, 2007) is a compilation of interviews with nearly 50 top filmmakers. Among them are art­ists in the Queer Film Classics (QFC) series, Canadian icons Robert Lepage, Patricia Rozema and Bruce LaBruce, and one of Hays's favourites, director John Waters. "Waters created his own language and his films were such an all-out assault on everyone's notion of good taste," Hays states. "As David Lynch once said, no one had done what Waters did before — he created a singular universe in film."
The QFC series will eventually publish an edition on Waters' film Female Trouble (1974), along with Canadian and international films like C.R.A.Z.Y. (2005), I've Heard the Mermaids Singing (1987) and Arabian Nights (1974). This year will build on transgender cinema, as Arsenal Pulp projects a November release of Lucas Hilderbrand's astute book about Jennie Livingston's 1990 documentary Paris Is Burning, which chronicles the drag "ball" scene of New York City in the late 1980s. The film captures a cross-cultural and transgender experience that was practically invisible at the time.
"Paris Is Burning is one of the endur­ing hits of New Queer Cinema in the early 1990s," Waugh says. "It still has astound­ing resonance for students and general audiences because it's one of those cine­matic moments when white middle-class American lesbian and gay culture con­fronts difference and 'the other.' "
"It's a tremendously layered film that not only deals with trans issues, but race and class and gender across America," Hays adds. "Its reception was controversial be­cause some people felt that white bourgeois audiences were titillated by poor black drag queens, and how progressive is that?"
Having just completed an anthology on filmmaker John Greyson, Waugh co-au­thored Montreal Main for the series with Jason Garrison. The 1974 fictional film set in and around St. Laurent Boulevard is a reflection of Canada in the wake of the decriminalization of homosexuality.
Waugh describes his reasons for jump­ing to co-write Montreal Main: "Its kind of 1970s indie iconoclasm looks better every year. It falls within the tradition of Canadian and Quebec youth movies and is unique in the way it respects the space and autonomy of its 12-year-old pro­tagonist. Now that the red light district of the lower Main has been demolished, Montreal Main becomes even more of an archival document with its vivid and tender documentation of such establish­ments as Frites Dorées."
Hays and Waugh's interpretation of "classic" veers from traditional. Hitchcock's Strangers on a Train — the most recent volume in the series — may not immediately come to mind when we think of gay cinema, until we read author Jonathan Goldberg's insight into Hitchcock's approach towards homosexuality and the homoeroticism of the film's main characters.
As Hays explains, the co-editors' call for submissions helped enrich that di­versity of content and critical viewpoint. The pair sifted through a multitude of author proposals before narrowing down selections, keeping in mind that films like Brokeback Mountain (2005) had al­ready earned their fair share of discourse.
They also had to think of commercial appeal. "We're still trying to figure out how to market books on single films to crossover audiences, including the academic ones," Waugh says
The QFC series is already part of Concordia's film studies curriculum and well on its way into other educational institutions around the globe thanks to strong public support. Celebrated author Andrew Holleran has praised several of its volumes in the Washington Post. Hays was interviewed about the series for the New York Times while Film Quarterly and Cineaste have reviewed the monographs as both groundbreaking and innovative in scope.
As he was once inspired by Russo's The Celluloid Closet, Hays is now excited to see a Canadian canon of queer cinema in the making as balance is restored to LGBTQ character representation onscreen. "Vito Russo was trying to make an appeal for positive imagery," says Hays. "Today we're able to see misrepresentation, but that's because we weren't as able to see it before. Now I feel like we can accept a negative or nasty portrait of a gay couple on television, for example, as long as it's part of the fabric of the show."
— David King, BFA 97, is a Montreal freelance writer.
---