Concordia collaboration invites participants to connect through vegetarian cooking and artmaking
From Palette to Plate events offer a safe and relaxed space for students to make art and discuss their concerns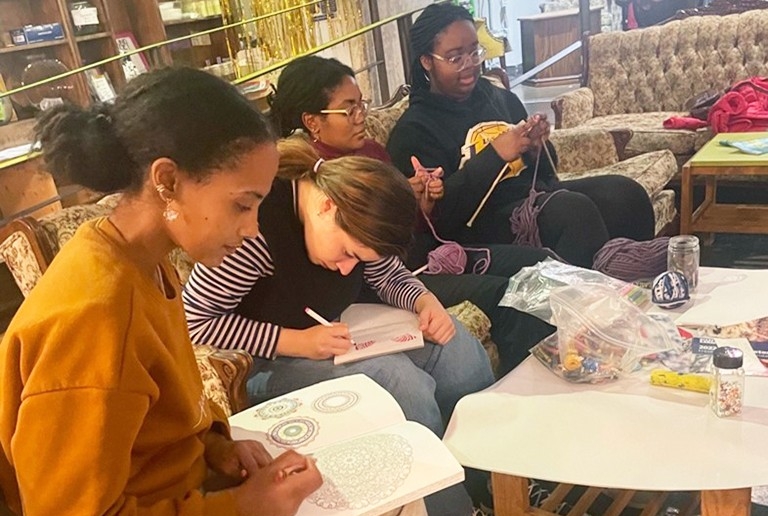 Mohammad Abdalreza Zadeh is a Concordia INDI PhD student, a facilitator at the university's Art Hive, engagement lead at the Mindful campus initiative and board member of Frigo Vert.
Concordia students struggling with loneliness or food insecurity are not alone.
According to a 2016 report, more than two-thirds of postsecondary students across Canada suffer from social isolation. And in 2021, a national study reported that over half of university students face food insecurity.
A new collaborative Concordia project offers an innovative response to help tackle these complex challenges.
Aligned with the university's Sustainability Action Plan, From Palette to Plate is co-organized by four Concordia initiatives:
From Palette to Plate leverages the combined resources of these partner organizations to create three-hour artmaking and cooking events.
Concordia students and the wider community have already come together at two successful gatherings, each held on May 16 and October 18. More than 25 students participated and the available spots were fully booked in less than four hours.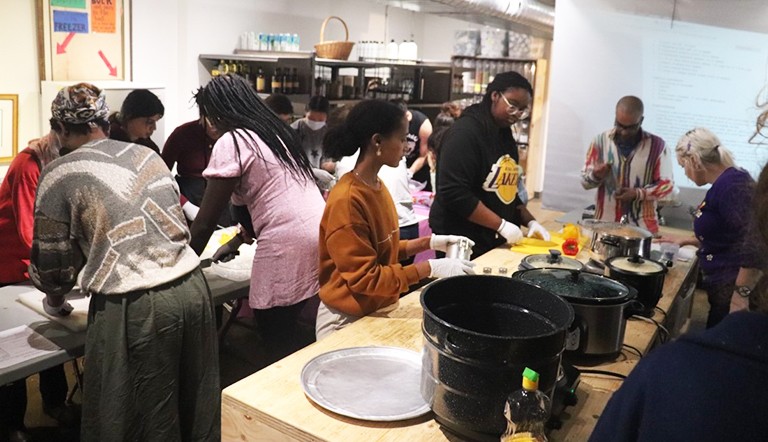 Art Hive facilitators created a safe and relaxed space for students to make art and discuss their concerns about student life challenges and broader social issues. Topics included tuition hikes in Quebec, the housing crisis, 2SLGBTQIA+ rights and the ongoing Middle East conflicts.
The artmaking was followed by a cooking workshop led by Le Frigo Vert. Participants cooperated in preparing delicious vegetarian dishes using locally sourced, fair-trade ingredients.
Students engaged in what they described as joyful collective meal preparation, as well as enriching conversations about the importance of food in their daily lives and how it can bring different cultures together.
From Palette to Plate is a multidimensional project that aims to merge community building, creative expression, experiential learning and the pleasure of collaboration.
It's also a small project by design.
"Small is beautiful and sustainable," says Rachel Chainey, Art Hives headquarters coordinator. "But we also have big dreams that come to life through organic social connections and partnerships."
To share ideas or resources that could support From Palette to Plate in continuing its mission, email mohammad.abdalreza@mail.concordia.ca.
The next From Palette to Plate event takes place at le Frigo Vert, 1440 Mackay St., on November 29 from 7 to 9 p.m.

Curious about creativity and sustainability? Check out the summer 2023 course, Public Art and Sustainability, offered by Concordia's Faculty of Fine Arts.
---