Concordia's cross-faculty case competition celebrates 10 years of multidisciplinary learning
ENGCOMM 2023 welcomes engineering and business students from across the globe to develop industry solutions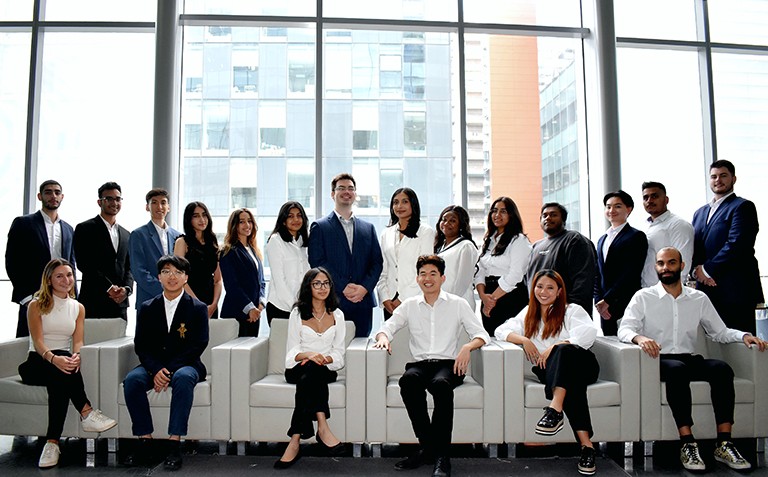 Maira Malhi: "Our participants walk away with knowledge of what their careers can look like."
ENGCOMM is an international case competition led by students at Concordia's Gina Cody School of Engineering and Computer Science and John Molson School of Business looking to bridge the gap between their fields. They are on a mission to propagate Concordia's professional reputation on a large scale by liaising with universities and sponsors worldwide.
The event is now in its tenth year, a milestone organizers recognize as they gear up for the start of the competition on February 21.
Alexandru Bara and Maira Malhi, ENGCOMM 2023's co-presidents and Gina Cody School software engineering students, express their passion about the benefits the case competition offers students.
"ENGCOMM can be a transformative experience for students who decide to participate," Bara says. "They are given a firsthand look at what it is really like to work with colleagues from a completely different field."
The competition offers a distinct opportunity for students to form teams, receive an industry case and present their proposed solution before a panel of judges. Each team comprises two commerce students and two engineering students from a given school.
The competition is designed to boost students' confidence and soft skills. "They get to learn how to give presentations, accept feedback, communicate effectively and network in a professional environment." Malhi notes. "Our participants walk away with knowledge of what their careers can look like and new connections with their peers and event sponsors."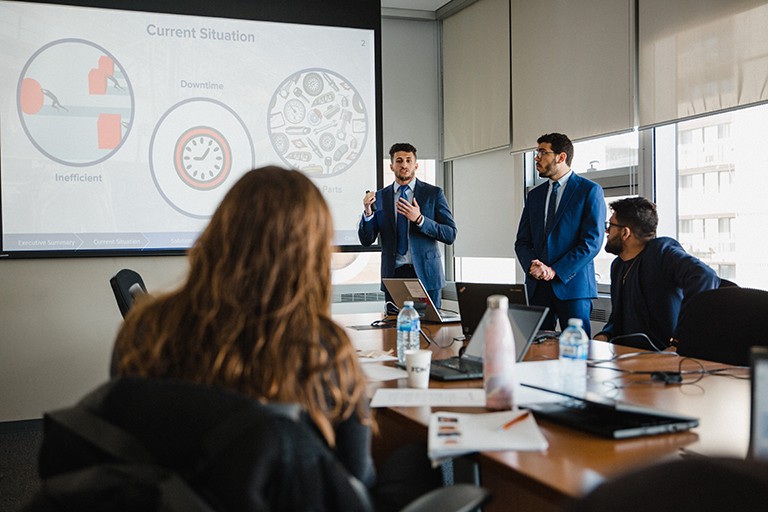 Gina Cody: 'a fantastic opportunity'
Over the years, competing in-person against other international schools has become a large part of the appeal for student participants, as has the chance to demonstrate their skills in front of sponsors.
"This unique competition at my alma mater is definitely something I look forward to every year," says the namesake of the university's engineering and computer science school, Gina Cody, MEng 81, PhD 89.
"Having run my own building engineering firm for three decades, I can tell you ENGCOMM provides a fantastic opportunity to promising students from many countries to demonstrate to the judges, sponsor companies and their colleagues that they have the problem-solving, teamwork and communications skills to succeed in the fast-paced engineering business."
The tenth iteration of the competition will take place over five days, including opening and closing ceremonies, a gala, a networking event and the case solving itself. Forty-four students across 11 teams are expected to attend, from universities spanning North America, Europe and Africa. More than 10 sponsors are participating in the event representing industries including aerospace, banking, construction and consulting.
"We recognize the importance of providing the teams with opportunities to network with our sponsors and the other schools to showcase their experience and potentially find future employment," Bara says.
The ENGCOMM organizers say they'd like the competition to expand in future years to accept more teams from schools that have not yet participated. They are also exploring other avenues, such as developing a qualifying mini-competition called ENGCOMMx for each school before the full-scale event.
So far, the University of Calgary, McGill University and the American University in Cairo have participated in ENGCOMMx.
"We are thrilled to have these schools participating in ENGCOMMx, but we would love to implement it at all the schools who want to compete," Bara adds. "A qualifying round would get many more students involved and ensure stronger partnerships between us and universities around the world."

Learn more about Concordia's Gina Cody School of Engineering and Computer Science.
ENGCOMM 2023 will be held from February 21 to 25. The competition's events will be split between the Centre Sheraton Montreal Hotel, 1201 René-Lévesque Blvd W., and on multiple floors in Concordia's Molson (MB) Building.
---