Mobilize your knowledge at Concordia's 4TH SPACE
Collaborative activities help develop research and research–creation projects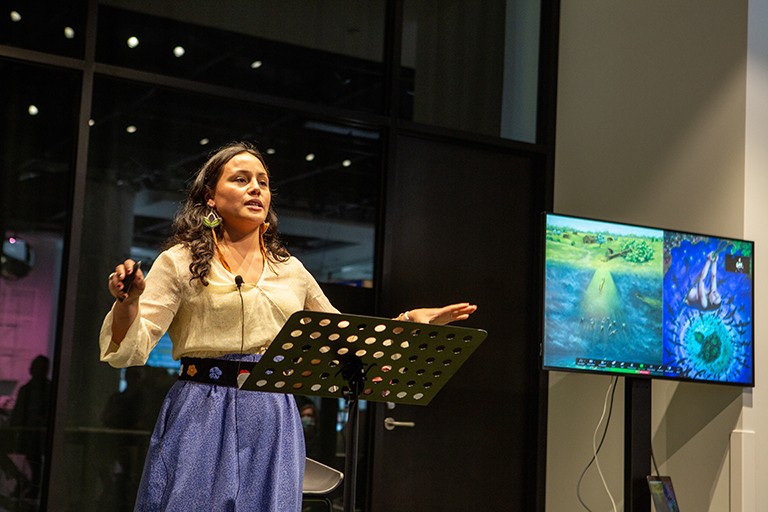 The inaugural Miywâcimo! storytelling competition was held at 4
TH
SPACE in March of this year.
Mobilizing knowledge is at the heart of Concordia's mission. And there is no better place on campus to engage the community with your research or research–creation project than at 4TH SPACE.
4TH SPACE opened its doors in 2018 as a novel street-level public space meant to bring the myriad of innovative Concordia-based projects to the wider community. 4TH SPACE's production team works with Concordia's faculty, students and staff to create networking opportunities with community and industry partners as well as the public and engage people in participatory learning with academics.
"We collaborate with our community to activate ongoing projects through engaging activities," says Anna Waclawek, 4TH SPACE manager. "We take an individualized approach to each initiative to explore what useful and impactful strategies of knowledge exchange make sense for one's goals."
4 years of adapting
4TH SPACE has developed its engagement formats and strategies over the past four years to ensure that it meets the diverse needs of the Concordia community.
The COVID-19 pandemic forced what were previously uniquely in-person activities to an online event- and social media-engagement model during the height of the public-health crisis. Since 2021, programming has shifted to reflect the dynamism in research, learning and university initiatives via daily livestreamed, hybrid events.
Working in collaboration with the Concordia community and external partners, the 4TH SPACE team has been producing over 300 hybrid activities per year, including podcasts, hands-on workshops, interactive class projects and research-based exchanges.
"The pandemic forced us to experiment with various virtual formats," says production coordinator Douglas Moffat. "This allowed us to use new platforms and activate numerous projects at the same time. We now have a more dynamic look at what is happening across the four faculties."
Here are just a few testimonials from satisfied 4TH SPACE users:
"4TH SPACE has been crucial in all stages of setting up and talking about the Sustainable and Resilient Cities and Communities and the Next-Generation Cities Institute. Workshops with industry partners and community leaders, student-led debates about sustainability and exhibitions of our work greatly helped us to connect to the Montreal ecosystem of urban sustainability."
– Ursula Eicker, Canada Excellence Research Chair in Smart, Sustainable and Resilient Communities and Cities and professor in the Department of Building, Civil and Environmental Engineering
"I used 4TH SPACE many times since its opening to host public events and conversations on various topics related to decolonization. What attracted me to 4TH SPACE is the accessible, modular open space and the audiovisual equipment. What has made me come back are the people!"
– Geneviève Sioui, Indigenous community engagement coordinator, Office of Community Engagement
"From the moment 4TH SPACE opened, I sensed that it had an incredible potential to showcase our research, students and researchers in a dynamic, outward-facing manner. They have always been professional, adaptable problem-solvers. They are a very competent team that I enjoy working with."
– Patrick Leroux, associate dean of research, Faculty of Arts and Science
"4TH SPACE has developed the expertise to switch seamlessly between an online and an in-person presence, providing rich programming and insight into the most exciting conversations happening at the university in both formats and providing a window into much of what is best about Concordia."
– Rebecca Tittler, academic advisor and research administration coordinator, Loyola College for Diversity and Sustainability

Learn more about how you can jump-start your research at Concordia's 4TH SPACE.
Don't miss the upcoming event, Sustainability in the Digital Age: In Conversation with Concordia's First Sustainability Think Tank, on November 30, 2022.
---