'I'm excited to see what life brings next'
New MEng grad Amnah Abdul Razzak enhanced her university experience through Concordia's many resources and volunteer opportunities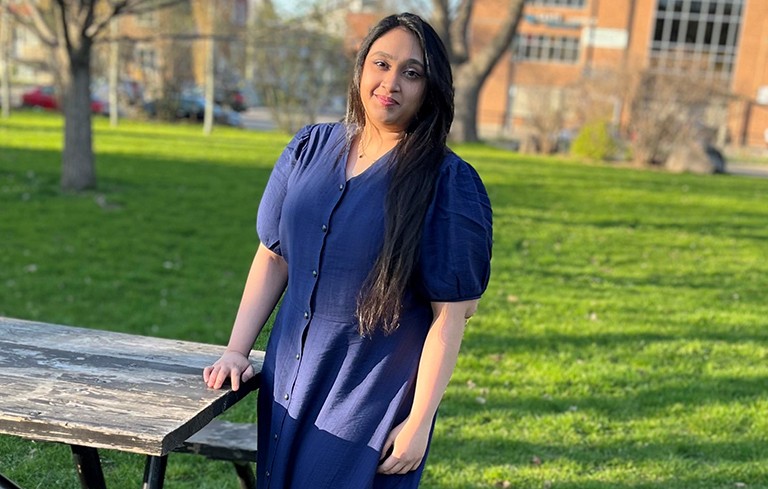 Amnah Abdul Razzak: "Working at the Welcome Crew will always be close to my heart."
Concordia will honour its newest graduates during fall 2022 convocation ceremonies at Montreal's Place des Arts on October 24. More than 1,000 students from the Faculty of Arts and Science, Gina Cody School of Engineering and Computer Science, John Molson School of Business and School of Graduate Studies will receive their diplomas.
One of those new grads is Amnah Abdul Razzak Abdullah, who earned her Master of Engineering in electrical and computer engineering from the Gina Cody School of Engineering and Computer Science.
It's time to put into practice everything I learned so far!
Tell us a bit about yourself
Amnah Abdul Razzak: I'm a social bird, and love chatting and reading cozy books to take me into the Montreal winters. Since school, I've enjoyed being part of scientific and intellectual activities. Surely, I was not disappointed after coming to Concordia, where I've had the opportunities to lead and contribute through various roles. My favourite has been being a Welcome Crew mentor in the Student Success Centre.
There's so much to say about the wonderful experience of working as a Welcome Crew mentor! Everything at the office, from the workflow and the people to the work we did, was incredible. I witnessed first-hand what a collaborative, motivated and family-like work environment can look like. And how incorporating feedback can constantly help any system to improve. These are practices that I now seek out in my future workplaces.
Working at the Welcome Crew will always be close to my heart because of my impeccable supervisors, friends and training, and how fulfilling the work has been.
What are some other highlights from your time at Concordia?
AAR: I loved being a TA and lab demonstrator. I feel that teaching and training come very naturally to me. From tutoring friends in the past until now, teaching with so many resources has been a rush. I cannot go without mentioning the Lab Coordinator, Ted Obuchowicz, whose incredible supervision helped refine my pedagogical methods.
What are the most important skills and lessons you learned at the university?
AAR: There was always some recommendation I received in the workshops, resources and services from GradProSkills and the Student Success Centre that became the starting point for a great idea or technique. I now know how to hone my active listening because it is an absolute gem of a skill to build and maintain relationships.
I still remember my planner from the Concordia Book Stop who helped me with better time management through scheduling. I've learned that it's pertinent to know your system and select and prioritize tasks.
But the most important lesson I learnt is that not every system or hack is going to work for any student. It's great to just learn to take in information and assess what suits you and what doesn't, then selectively match it to your needs and style.
Why would you recommend Concordia to future students?
AAR: If you're someone who wants to actively work on your practical skills to move ahead personally and professionally, as well as earn a quality education, Concordia is an excellent place for you. You'll find the kind of people that you want to learn from and collaborate with. All you have to do is take the initiative to look for them.
The two campuses are unique in their ways and let students experience two different learning environments. They're always buzzing, so it's no surprise that your favourite café might just be the perfect place to make friends or network.

What important advice do you want to pass along to them?
AAR: I would advise students to use the tons of resources that Concordia offers to explore what they want to do. As you move forward in your educational journey, change will be inevitable, so don't forget to be adaptable and as prepared as you can. Don't worry, you got this!
How does it feel to be graduating? What's your goal after graduation?
AAR: Graduation comes with a whole range of emotions, but mostly I'm excited to see what life brings next. My next big goal is to work with a company whose values, vision and working style align with mine. While the future is always unknown and job hunting can be a long process, I am confident and prepared for it. It's time to put into practice everything I learned so far!
But it's not all business. I want to rearrange my time for a balance in life, health and work. So, before winter hits, I want to explore a little bit more of Montreal.

Learn more about Concordia's convocation ceremonies taking place on October 24.
---