Guylaine Beaudry transformed the Webster Library and our digital experiences
On September 1 she assumes the role of dean of libraries at McGill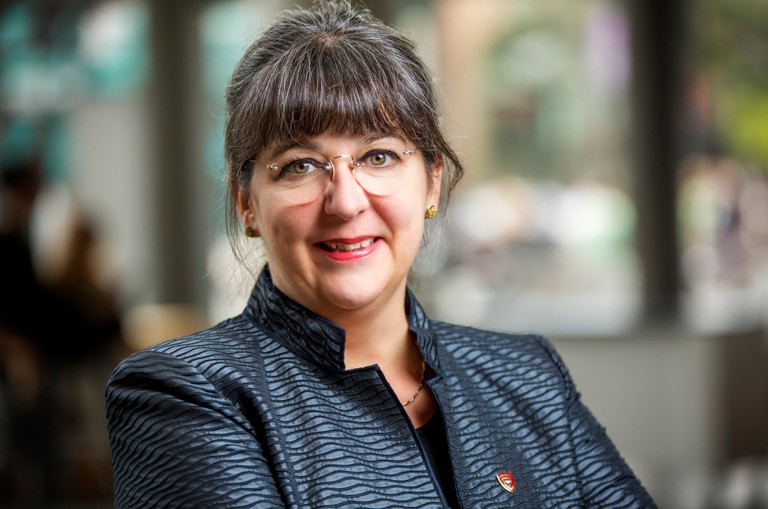 University librarian Guylaine Beaudry made an indelible mark on the experiences of students, faculty and staff during her 13 years of service to the Concordia community.
On September 1, she starts a new position as Trenholme Dean of Libraries at McGill University.
An exceptional legacy
Beaudry was instrumental in leading the transformation of the Webster Library and Grey Nuns Reading Room, and launching the Concordia University Press.
"Guylaine's commitment to the student experience was at the heart of the Webster Library transformation. From large silent reading rooms, zero-noise rooms, presentation practice rooms and a technology sandbox, every phase of the Webster Library defines next-generation teaching, learning and research," says Anne Whitelaw, provost and vice-president, academic.
"Entering the Webster Library immediately speaks to the diversity voices, needs and experiences of Concordians that Guylaine and her team captured. The library provides tens of thousands of students per year with the spaces, collections and services to inspire and support them from first year undergraduate to completion of their doctoral studies," she says.
"Guylaine leaves Concordia with an exceptional legacy — a multi-experience library that benefits the entire university community and public who use it daily."
Whitelaw adds that the impact of Beaudry's foresight and influence extends beyond the university to libraries worldwide.
"Many in her field have been inspired by her vision of next-generation libraries where user-centred design, technology and spaces are informed by careful community listening and consultations."
A university experience digitally transformed
Beaudry also spearheaded the university's Digital Transformation Office within the Office of the Provost and Vice-President, Academic, from its launch in 2017 to its operationalization in 2021.

She guided the Concordia community as it embarked on a multi-year institution-wide reflection and rethinking of its experiences, needs and aspirations.
"Guylaine has been a fantastic academic leader at Concordia. She has an almost unparalleled facility for building healthy communities by combining full-on stakeholder engagement with innovative thinking. Those skills did us in good stead in developing the digital strategy and commitment to user-centred technology that will serve us well into the future," says Concordia President Graham Carr.
"Working with Guylaine was a master class in diplomacy and consensus building
and being solutions oriented. She helped us better understand the university's complex institutional needs, and students, faculty and staff are all the beneficiaries of her vision and commitment to Concordia's identity as a next-generation university."
A search for the next university librarian will begin shortly. Pat Riva, associate university librarian for collection services, has agreed to serve as interim university librarian following Beaudry's departure.
"Working with Guylaine has been personally enriching," Riva says. "She inspired us all to take a long-term approach to thinking about universities. We're now ready to bring Concordia Library to the next level."

Learn more about Concordia Library.
---