Concordia's Leonard and Bina Ellen Art Gallery hosts the PME-ART group
June 1-9: The live performance-installation, a rewrite of Susan Sontag's journals, is part of this year's Festival TransAmériques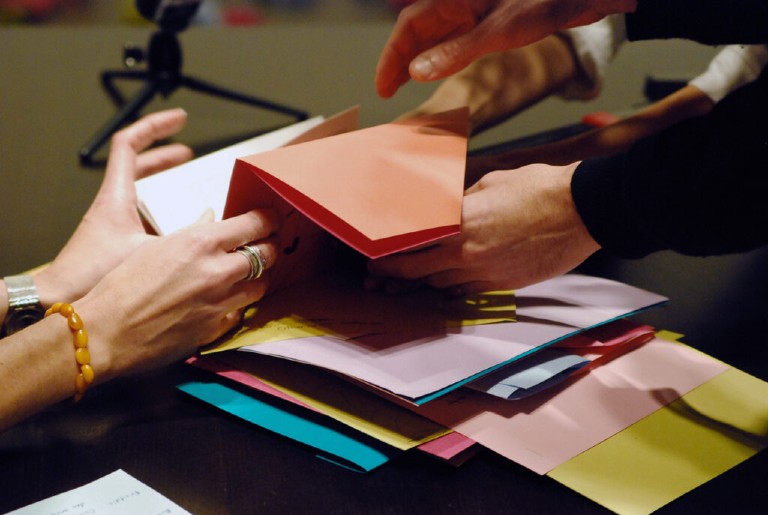 PME-ART,
Adventures can be found anywhere, même dans la mélancolie
, 2014. Photo: Mathieu-Chartrand
Have you ever loved a book so much that you decided to rewrite it?
As astonishing as it may sound, this is the concept behind PME-ART group's upcoming performance-installation, "Adventures can be found anywhere, même dans la répétition," for the Festival TransAmériques in Montreal.
A group of eight artists from PME — which stands for "Pretty Much Everything" — will be seated at a table and work continuously between June 1 and 9 to rewrite Susan Sontag's Reborn: Journals and Notebooks: 1947-1963.
"In this project we're thinking about how when we read a book, it can be said that we're changing it, or about how books often become part of us and are changed in our experience and memory of them," says Jacob Wren, PME's artistic co-director.
"When we finish rewriting each page we read it aloud — while it's still fresh, so to speak — creating a kind of immediacy between the rewriting and the performing. Slowly the gallery fills up with our rewritten version of the book," he says.
"It's a project that questions how literature can be put into a gallery setting, and what it means to treat historical works in a playful and mischievous manner."
The interdisciplinary and bilingual Montreal group PME-ART has been active since 1998 and works with a loose collective of artists and collaborators both nationally and internationally.
The group describes its work as a hybrid exploration into paradox, unpredictability and destabilization.
"We work with artists from extremely diverse backgrounds, who each have their own artistic backgrounds," says PME's other co-director, Sylvie Lachance. "This makes the process even more fraught and ultimately more rewarding."
Living exhibitions and performance-installation
As the biggest performing arts festival in North America, the mission of Festival TransAmériques (FTA) is to promote inventiveness, exploration and bold artistic voices.
As such, Michèle Thériault, director of Concordia's Leonard and Bina Ellen Art Gallery, jumped at the opportunity to work with the festival as co-producer of the performance-installation.
"When PME-ART approached us to re-present Adventures at the Gallery in co-production with the FTA, I was immediately interested because it was a recasting of an installation-performance that we had done in 2014," she says. Thériault is referring to a rewrite of Fernando Pessoa's The Book of Disquiet entitled "Adventures can be found anywhere, même dans la mélancolie."
"At the gallery, we like to consider how exhibitions are conceived and how they 'live' within our space. In 2022, after a long period of confinement, we asked ourselves how this project could unfold and be experienced differently."
Jacob Wren says that the objective is partly about the process, to help the collective find answers to questions that they don't yet have.
"One thing we often say about our work is that it's about being yourself in a performance situation. It's about the vulnerability and paradox of being yourself in a situation that in some ways is always going to be artificial."
Learn more about Concordia's Leonard and Bina Ellen Art Gallery.
---