Concordia looks to improve its campuses from the outside in
A new community survey focuses on social and green spaces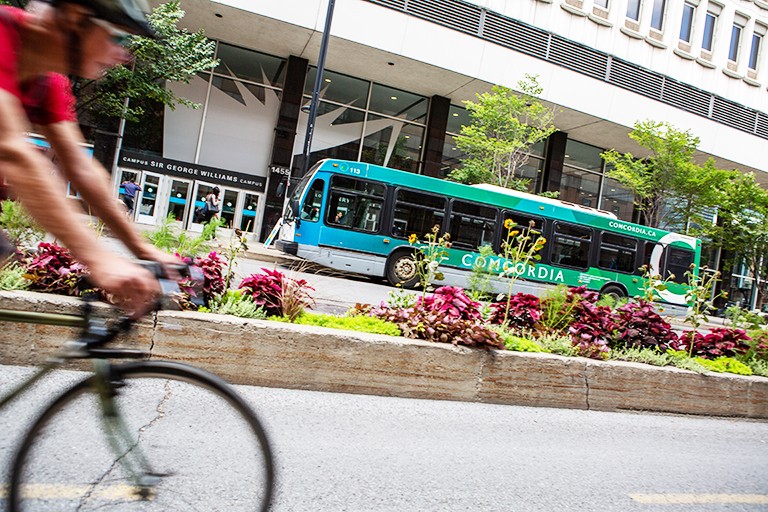 Concordia's Campus Master Plan team is getting closer to a vision of the university's campuses 15 years in the future. This is thanks in large part to guidance and feedback from community members.
Now the team is hoping to receive more input through a new survey.
For the last few months, the team has been meeting with neighbourhood groups and other organizations, City of Montreal officials and students, faculty and staff members.
Fruitful discussions
"Along with a thorough study and review process, consultations and integrated design sessions kept us busy the last few months," says Marie-Claude Lavoie, associate vice-president of Facilities Management.
To communicate the process, Concordia sent out 11,585 postcards to neighbours of both Sir George Williams and Loyola campuses and shared links to a consultation platform through web, email and social media platforms. The university also reached out to officials and organizations with expertise that ranged from transportation and sustainability to heritage and inclusion.
"We tried to get the word out to all those with a stake in the future of our campus grounds and buildings," Lavoie shares. "We organized three group sessions and 17 one-on-one discussions for those with specific interests or expertise, including transportation providers like BIXI, the STM and EXO."
Some sessions took place over the summer months but, by using web-based tools, people could have their say from anywhere with a Wi-Fi connection.
New lenses for evaluating projects
Thanks to these conversations and written submissions, the Master Plan team identified lenses through which space planning should be considered moving forward:
"Indigenization, sustainability, inclusivity, health and well-being and university identity are fundamental considerations that we will apply to our planning for both campuses," Lavoie notes.
Moving forward
There are a number of stages remaining along the path to a new Campus Master Plan. While coordination continues with the City of Montreal — a partner in the process — there are some areas where community priorities will help Facilities Management's Strategic Planning and Development unit make choices. For example, the new survey will help define the different options for improved sustainability, mobility and health and well-being scenarios.
"Answers will help us make choices for our campuses and also indicate to the city what the larger community values most in an urban setting."

To have your say about Concordia's Campus Master Plan, visit the engagement profile and select the survey. Those without a profile can quickly create one with their name and email address. Community members can also reach out to Strategic Planning and Development about other Campus Master Plan ideas by emailing: master.plan@concordia.ca.
---