From pool to school: six new classrooms in the FB Building basement are ready for students
The transformed site provides lots more individual and group study spaces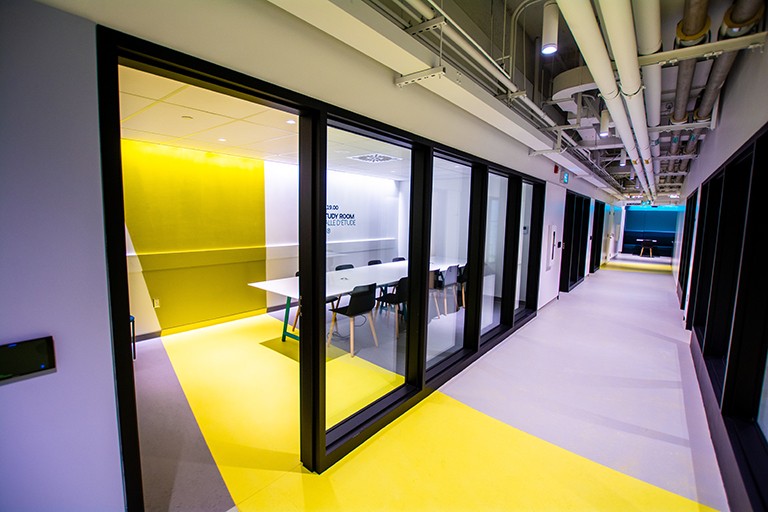 If you're an undergrad student, you may not remember Montreal's old Sharx pool hall below ground on Ste. Catherine Street near Guy Street. If you're among those who did go there to shoot some pool, you'll be amazed by the transformation.
Gone are the space's dark corners. They've been replaced by large, communal areas and bright classrooms. The overall space also looks much bigger because many utility spaces have been reclaimed for learning and study.
What was preserved were the unique, transparent escalators. They're the main way down from the Ste. Catherine Street entrance.
An underground revolution
"Renovating the basement of the FB was a massive job because there were so many technical puzzles to solve," says Marie-Claude Lavoie, associate vice-president of Concordia's Facilities Management.
"Our project manager, Caroline Elias, had to coordinate everything from the improvement of support pillars to the mechanical systems serving all of FB. Thanks to the collaborative efforts of so many involved, we've now got wonderful new learning spaces steps away from the bustling Guy and Ste. Catherine intersection."
There are six new classrooms, available for in-person courses and online teaching or conferences.
"The COVID-19 pandemic underscored the value of in-person learning. At the same time, it made it clear that we need to be flexible with the design of our spaces says Lavoie.
More study and collaboration spaces
As Concordia's student population grew, so too did calls for more group and independent study spaces. The new FB space has both: there are midsized rooms that can be reserved and larger spaces where students can work together spontaneously.
"And for students who want to work alone outside of the library setting, there are many options for that in the new FB space as well," Lavoie says.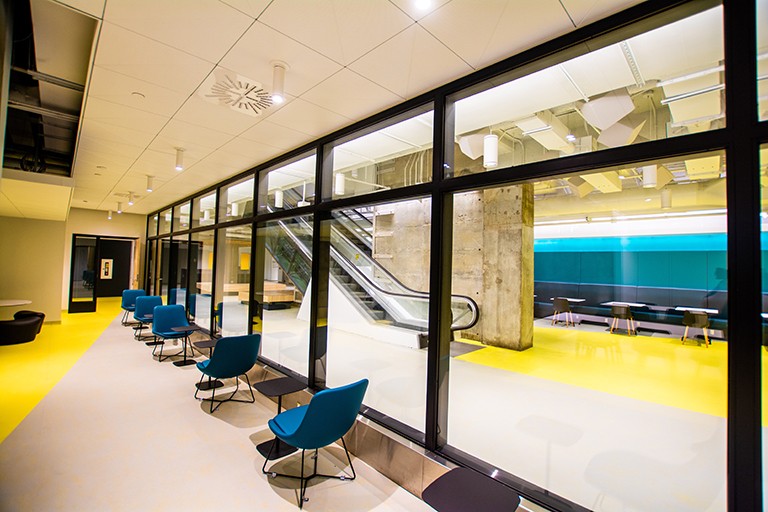 All part of the plan
The new FB facilities also serve an important logistical role right now: they allow major renovation work on the Henry F. Hall Building to proceed without requiring the university to seek out additional rental space for classrooms.
"Though we've just re-opened all of Hall 6, we've closed Hall 4 so that it can undergo a similar upgrade: inclusive and accessible washrooms, brighter and more open spaces and modern teaching and learning spaces."

Learn more and have your say about how Concordia can improve its campus facilities. Take part in the creation of a new Campus Master Plan.
---