Concordia grad student's photography explores the links between science and art
Paola Marino's work is chosen as a journal cover photo and a Science Exposed finalist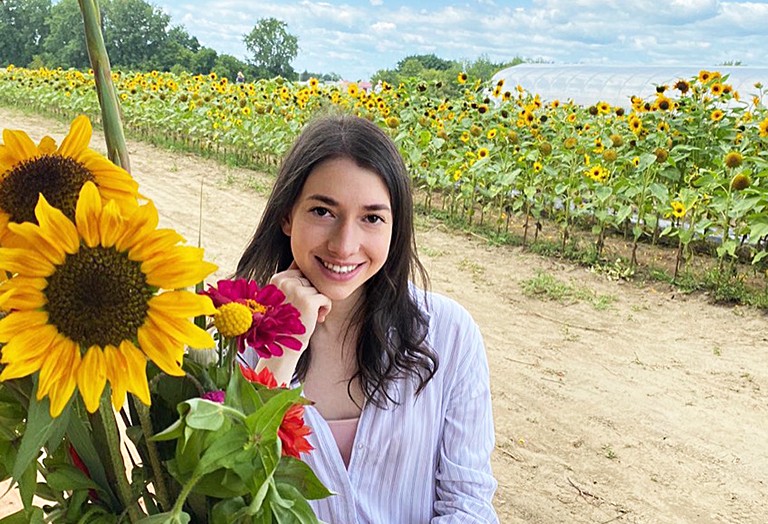 Paola Marino: "It always fascinated me how scientists are trying to answer some of the most complex questions."
Concordia MSc student Paola Marino has been having a busy year on many fronts.
She's been conducting groundbreaking research in the lab of Ashlee Howarth, assistant professor in the Department of Chemistry and Biochemistry in the Faculty of Arts and Science. The lab is in the university's new Applied Science Hub. She's also been gaining recognition for her photography work, which looks at science through an artistic lens.
Marino is passionate about turning STEM (Science, Technology, Engineering and Mathematics) into STEAM — the added "A" is for "Art."
'I hope to continue bridging science and art even after my graduate degree'
How did you first become interested in the connection between science and art?
I've been interested in science from as early as I can remember, as it always fascinated me how scientists are trying to answer some of the most complex questions and find solutions to real-world problems. Finding links between things I see — paintings, colours, textures — helps me create a vision for the materials I synthesize in the laboratory.
How does the research you are currently working on influence your photographs of scientific images?
In the Howarth Lab, I am currently working on the synthesis of metal–organic frameworks (MOFs) for applications in ophthalmic drug delivery, that is, topical administration or eye drops. As well, I am synthesizing MOFs using more environmentally friendly methods. The direct observation of synthesized MOF crystallites — either by eye or under the microscope — are the main influence for the photographs of my scientific images.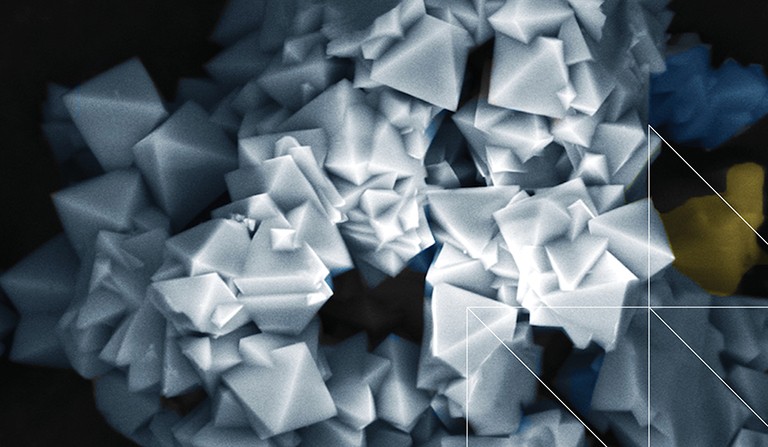 Detail from the "Metal–Organic Galaxy" on the cover of the Canadian Journal of Chemistry. | Image by Paola Marino
You've had two very successful photographs in the past year. Canadian Science Publishing will run your photo as its cover image for the entire year, and you are now a finalist in Natural Sciences and Engineering Research Council of Canada's Science Exposed photography competition.
Tell us about these images.
It is an honour for me to have my image "Metal–Organic Galaxy" on the 2021 cover of the Canadian Journal of Chemistry. The clusters of MOFs or "stars" were colourized with vivid shades of blue and yellow, and I drew my inspiration from Van Gogh's exceptional artwork, "The Starry Night."
It is exciting for me to be a finalist in the NSERC Science Exposed contest. My submission, "Metal–Organic Illumination," used a scanning electron microscope colourized with shades of the pantone colours of the year 2021 — grey and yellow to highlight the shape and structure of the MOF crystallites.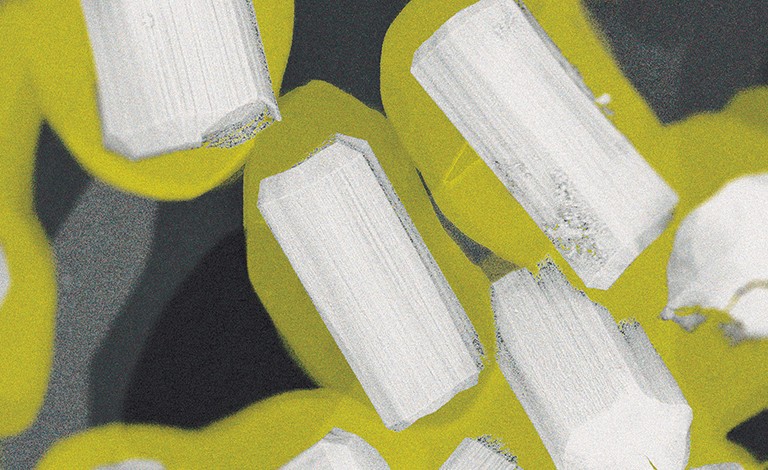 Paula Marino's image "Metal–Organic Illumination" made her a finalist in the NSERC Science Exposed contest.
Your lab is located in Concordia's Applied Science Hub — what has it been like working in this new facility?
It has been a great experience. The building is bright, modern, spacious and has a dynamic environment. It offers new instrumentation, giving students the tools and technology to successfully carry out their research, and is an ideal setting for interdisciplinary collaboration.
Watch Marino and Howarth conduct a walkthrough of their lab space.
What's next?
I am overjoyed to have contributed to the world of scientific photography, and I hope to continue bridging science and art even after my graduate degree. I also hope to inspire and encourage others to find a connection between science and art — an interesting combination between the external world and one's personal journey.

Read more about Marino's work in this blog post for ChemiSTEAM, for the Chemical Institute of Canada.
Vote in NSERC's Science Exposed contest. The voting deadline is 11:59 p.m. ET, September 26.
---