Concordia professor is designated Fellow of the Chemical Institute of Canada
The organization recognizes Gilles Peslherbe's key role in the field of computational chemistry and biochemistry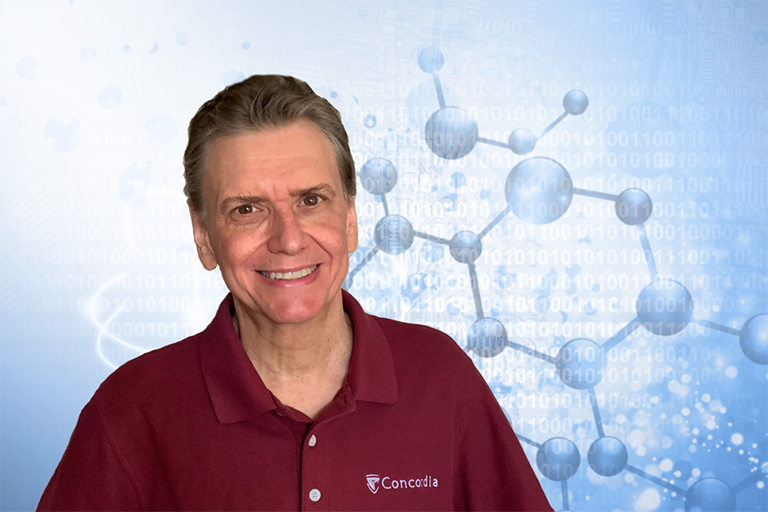 Gilles Peslherbe: "I feel honoured — and humbled — to have my name added to the distinguished list of Fellows."
The Chemical Institute of Canada (CIC) has added Concordia's Gilles Peslherbe to its select list of Fellows. This exclusive designation acknowledges exceptional contributions to the chemical profession.
"This recognition for my role as a science educator and researcher and for my service means a lot to me," says Peslherbe, professor of chemistry and biochemistry, physics and chemical and materials engineering.
"It certainly feels good to see a number of career accomplishments and leadership well received by the community."
"Gilles's impressive research career has been dedicated to making significant advancements in the field of molecular modelling and to bringing visibility to our department and the university in this field," says Christine DeWolf, chair of the Department of Chemistry and Biochemistry.
"On behalf of his students, research trainees and colleagues, I congratulate him for this incredible milestone."
Computational chemistry no longer a 'marginal subdiscipline' but an empowering tool for research and innovation
Among his many achievements, Peslherbe played a key role in establishing Concordia's Centre for Research in Molecular Modeling (CERMM), of which he is the director. His work at the centre is currently focused on practical applications of creative molecular modelling and simulations that benefit the materials, health and environmental sciences.
Some of Peslherbe's ongoing CERMM projects feature simulations that support, for example, the design of advanced materials to facilitate sustainable fertilizer production and a greener agriculture, the formulation of biomolecules such as vaccines for long-term room-temperature stability and storage — a timely issue — and the development of novel peptide-based therapeutics against cancer and coronaviruses.
"Back in my graduate student days, computational chemistry might have been considered a marginal subdiscipline of mainly theoretical and academic interest," Peslherbe says.
"Nowadays, and this is especially true with the advent of artificial intelligence and machine learning, molecular modelling and computer simulations work hand-in-hand with experimentation to solve practical problems in science and engineering in an efficient and cost-effective manner."
In addition to advancing research and innovation in the chemical sciences through the CERMM, Peslherbe says it has been rewarding to see a large number of its trainees flourish as emerging scientists and to witness their success in academia and the private sector.
Throughout his career, Peslherbe has served on numerous professional organizations and committees, in addition to organizing several international scientific events focused on molecular modelling.
He is currently the president of the Canadian Association of Theoretical Chemists and a member of both the Canadian Society for Chemistry and the Canadian Society for Chemical Engineering, two of the three constituent societies of the CIC.
Peslherbe's Fellow designation will be recognized at an awards ceremony held in conjunction with the joint 48th World Chemistry Congress and 104th Canadian Chemistry Conference and Exhibition hosted by the CIC this August.

Learn more about Concordia's Department of Chemistry and Biochemistry.
---