Concordians contribute an impressive $206.7K and counting to Centraide
The community steps up to surpass the annual campaign's goal and help out during an especially difficult year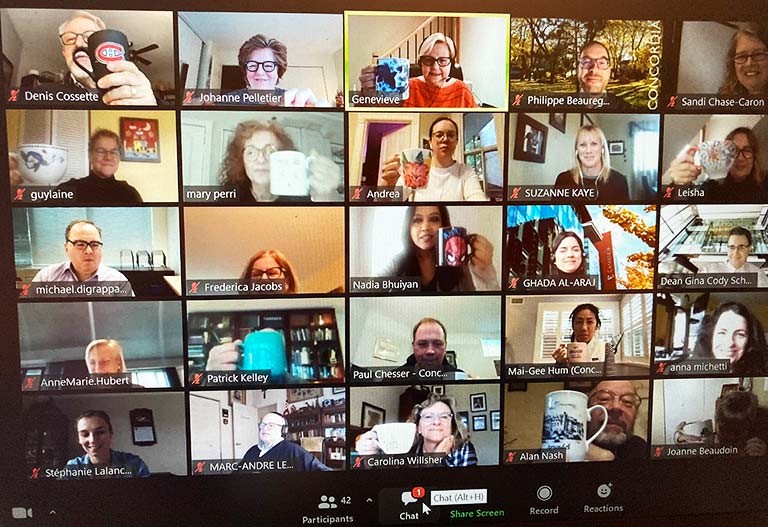 Concordians may be functioning virtually these days, but their generosity definitely continues to be real — as is the impact of their giving.
On November 20, members of the university community who joined the online Centraide Closing Event learned that the 2020 campaign raised $201,707 — and counting — surpassing its $170,000 goal by more than $30,000. As of today, the total is more than $206,700.
Each year, Centraide of Greater Montreal reaches more than half a million individuals and helps fund about 350 local agencies and projects. The COVID-19 pandemic has been especially tough on Montrealers, resulting in about 264,000 jobs lost, a 30 per cent increase in demand at the city's largest food bank and a 20 per cent spike in the homeless population.
At the campaign wrap-up, Concordia President Graham Carr welcomed the online participants and thanked those who helped make this year's annual fundraiser such a success.
Nadia Bhuiyan, vice-provost of partnerships and experiential learning, and Philippe Beauregard, chief communications officer, are the campaign co-chairs. Bhuiyan pointed out that there were 25 Centraide Campaign Committee volunteers and leaders co-chairs from across the university.
In addition, she recognized the contributions of the internal university partners: CUFA, CUPFA
ACUMAE, Hospitality, University Advancement, University Communication Services and Human Resources. She also thanked the outstanding team from Centraide of Greater Montreal: Caroline Vachon, Catherine Brunet and Suellen de Sousa.
"This year's campaign brought some new challenges our way as we had to navigate the virtual world for events. We weren't able to rely on our faithful pasta lunches and the other fantastic events and fundraisers our committee members organized last year," Bhuiyan said. "But the Concordia community rallied."
She thanked those who lent their time and expertise to mount virtual fundraising events, including a trivia night on November 12 and a wine tasting panel led by Concordia's Jordan LeBel, professor of marketing, on November 19, and more.
Centraide representative Caroline Vachon spoke and also praised the Concordia community's efforts.
Suzanne Kaye, project coordinator in the Office of the President, then revealed the numbers.
She reported that in 2020 there were 62 leader donors — those who gave $1,200 or above — 17 more than last year. That also included 24 new leaders, whose gifts are matched by the Hewitt Foundation, doubling their impact. Those figures have since jumped to 64 leader donors and 26 new leaders.
The total number of donors also went up, now at 378 compared to 313 in 2019. That donor amount will also rise as more gift comes in.
"It's important to note that many of our donors from last year increased their gift this year," Kaye said. She added that, taking into account the additional funds from the Hewitt Foundation matching the new leader gifts, the total impact for Centraide is even higher, now at more than $230,700.
She also announced the eight raffle draw winners, including Sarah Polk, senior electronic resources assistant at the Concordia Library, who won an Apple Watch Series 6 worth $600.
"Right now, I am imagining everyone clapping and cheering since I am not actually able to see you all!"

Donors can continue to give to Concordia Centraide Campaign 2020 until December 31. Look in your inbox for an email from centraide@unclic.com on November 11 or send an email to centraide@concordia.ca to learn how to give using payroll deduction or a one-time gift.
---