The 2020 edition of Concordia's Centraide Campaign is here!
OCT. 19-NOV. 20: Funds raised will support communities in the Greater Montreal area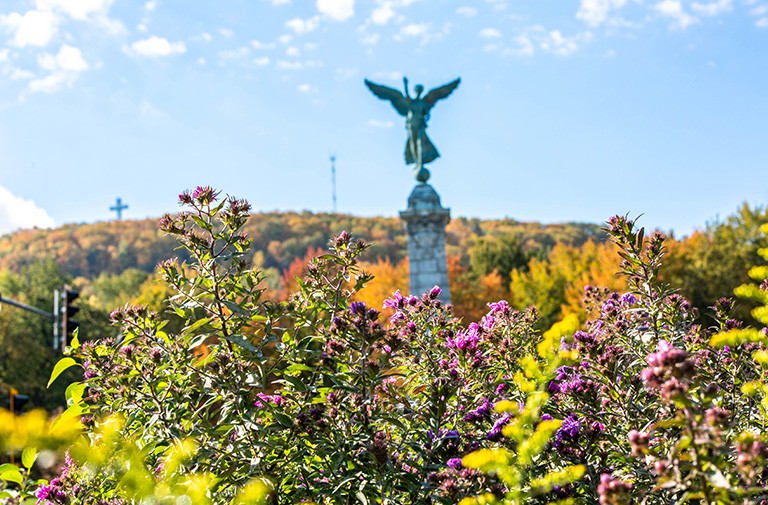 Concordia launches its 2020 Centraide Campaign this week. The funds raised by the campaign, which runs until November 20, will go to support organizations in Greater Montreal supported by Centraide.
"It has been a challenging year for all, but more so for the growing number of Montrealers who look for help from the 350 organizations that Centraide supports," says Concordia President Graham Carr. "Now, more than ever, our donations and commitment matter."
For over 40 years, the Concordia community has been collaborating with the organization to raise funds for charitable causes that help about 500,000 Montrealers — including members of Concordia's own community, such as students and staff — in need of some relief.
Campaign co-chairs Nadia Bhuiyan, vice-provost of partnerships and experiential learning, and Philippe Beauregard, chief communications officer, are back at the helm of the university's campaign this year, along with Denis Cossette, chief financial officer, as co-chair of the Leaders' Campaign.
"Giving to Centraide provides tangible benefits to thousands," says Beauregard. "Your donation helps the organization feed and provide shelter to those in need. It helps struggling youth stay in school. And it helps break the social isolation felt by many seniors or people with disabilities."
He adds that local communities require support more than ever this year due to the negative impacts of COVID-19.
"Greater Montreal alone has seen over 264,000 jobs lost and a 30 per cent increase in demand at the city's largest food bank," Beauregard says.
Last year, the campaign surpassed its goal of $160,000, raising just over $182,000.
"We had 15 first-time Leaders — individuals giving over $1,200. These first-time Leader gifts are matched by the Hewitt Foundation, so Concordia's impact in giving was closer to $200,000," Bhuiyan says.
This year, the campaign's goal is to reach $170,000 with the help of the Concordia community. On October 19, all Concordia staff will receive an email from Centraide including a custom link to donate, using payroll deduction or a one-time gift.
"These emails will be issued again as reminders throughout the campaign," Bhuiyan adds. "Payroll deductions are a great way to give."
While big in-person fundraising events won't be possible this year due to COVID-19, the campaign team is working on a variety of university-wide localized initiatives instead.
This includes online events, such as the upcoming Virtual Trivia Night for Students confirmed for October 23. Despite the obvious challenges facing the campaign this year, the team hopes members of the community will still participate, encourage each other to make donations and spread the word about the benefits Centraide provides.
Those interested can visit Concordia's Centraide page to view local education and income statistics, available support services and tax benefits associated with different giving levels.
Carr has served on Centraide's board since September 2017. He says the experience has driven home how dramatic the needs are in the city. "I am deeply impressed by the extraordinary work that Centraide does to build a more resilient Montreal."
---