4 ways Concordia's class of 2020 can celebrate their special moment together — in real time
NOV. 19: The online commemoration includes a live social-media wall, congratulatory videos, virtual yearbook and more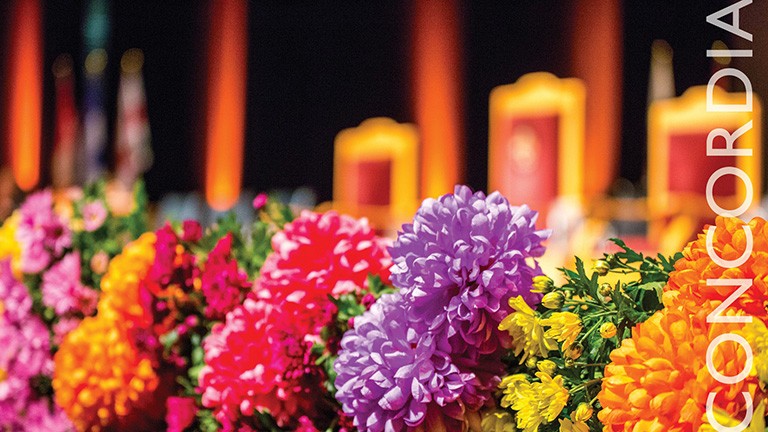 Planning a Zoom call to share your achievement with family? Use a convocation image for your background!
No matter where Concordia's class of 2020 may be residing right now, fall graduates will be able to connect and celebrate their accomplishments together virtually.
On November 19 at 1 p.m. ET, the university will begin fêting its 1,831 new graduates through CU Celebrate, an online hub of news, links and images. The official virtual festivities will include congratulatory videos from Concordia leaders, alumni, an honorary degree recipient and others. Family and friends can join in the special day.
An in-person celebration will be planned when circumstances permit.
The new grads will join the 220,000-plus Concordia alumni network — a growing global community.
Here's how grads can share the milestone celebration with their loved ones, near or far.
1. Follow the CU Celebrate online hub on November 19.
Starting at 1 p.m. ET, a live social-media wall will populate your tagged posts. Video messages will roll out in the afternoon and your virtual yearbook will be shared with you.
2. Share your congratulatory messages with custom CU hashtags, GIFs and filters!
Now that you really did it — earned that degree — tell the world through CU hashtags on social media: #CUgrad2020, #CUalumni and #CUpride. Use the hashtags to be featured on the hub's social-media wall.
Get your Concordia convocation GIF pack and check out the CUgrad filter for Instagram photos.
3. Join the grad dance party!
Finish your milestone celebration with a night of dancing. Join fellow grads and get moving at the virtual graduation dance party, led by DJ Chris Tan (BFA 11), of Royce and Tan.
November 19, 2020, 7:30 – 8:30 p.m.
Space is limited. Register now.
4. Host your own online celebration with CU backgrounds.
Planning a Zoom call to share your achievement with family and friends? Take advantage of striking convocation or campus images for your background.

Check out CU Celebrate for updates and to join the online graduation festivities on November 19 at 1 p.m. ET.
---