Concordia honours 3 professors who go above and beyond for their students
The President's Excellence in Teaching Awards recognize faculty members' creativity and commitment to accessible learning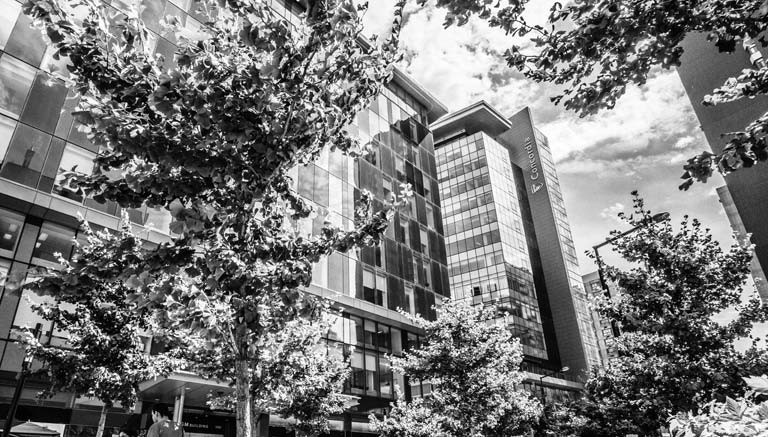 What are the factors that lead to teaching excellence?
For Sarah Turner, it begins with developing respectful intellectual relationships with students. From Ken Briscoe's perspective, it's about cultivating an environment that is conducive to creativity and openness. And for Carole El Ayoubi, it requires innovative strategies that make the classroom accessible to everyone.
All three Concordia faculty are recipients of the 2019-20 President's Excellence in Teaching Awards. The awards recognize sustained excellence in teaching as characterized by high academic quality, social responsibility, innovation in teaching, outstanding student experience, outstanding student engagement and community engagement.
"Concordia is privileged to count so many incredible educators within our community," says Graham Carr, university president.
This year's winners are being honoured in the following categories:
"The dedication, support and outside-the-box thinking that Concordia professors show their students help shape their paths forward," Carr says.
"I am proud to celebrate the innovation and drive of these outstanding faculty members."
'Challenge students to go beyond their comfort level'
Ken Briscoe has been teaching in the Department of Communication Studies for 30 years. What began with a couple sound production courses alongside his busy career as a video editor and producer grew into a lifelong passion.
"I had caught the teaching bug. I felt a close connection to the students and a strong desire to help them succeed," Briscoe recalls.
Over the years that followed, he brought his on-the-job experience to courses in television production, video production and later in the fields of public relations, advertising and production administration.
More recently, his focus has turned to scriptwriting. In 2007, the advanced screenwriting course was split into two 3-credit courses. Briscoe developed the new format and has taught it every year since.
And it is that experience that led to the incredible opportunity to co-teach two immersive, seven-day master classes with renowned executive producers in the television industry. In 2017, students had the chance to learn from Briscoe and Peter Lenkov (24, Hawaii Five-O and MacGyver) and two years later, another master class was offered with Joel Surnow (24 and La Femme Nikita).
By the end of the classes, students described feeling emboldened to proceed as writers, noting that they'd learned as much in seven days than in some term-long courses.
"My goal as an instructor is to challenge students to go beyond their comfort level," Briscoe adds.
"The results I have seen in my courses have convinced me that students, given the right guidance and support, can exceed their own perceived limitations and surprise themselves with the outcomes. It starts with helping them believe it might be possible."
'I always aim to take student feedback to heart'
During the five years that Carole El Ayoubi has taught mechanical, industrial and aerospace engineering at Concordia, she has constantly finetuned her teaching values and practices.
"My mission is to provide students with a learning experience that is accessible yet challenging, fun yet also thoughtful, individual yet also collective," she says.
"Excellent teaching is also providing a space where students get to reflect and hopefully motivate themselves to learn more, to learn better and to not be afraid to experiment with their studying techniques."
Many of El Ayoubi's students come to Concordia from abroad. She makes it her priority to think about how she can support them in adapting to their new surroundings while pursuing their studies. She says a big part of that is being open to student input and creating a student-centred environment in the classroom.
"I always aim to take student feedback to heart. This allows me to remain aware of my students' needs and challenges and address their educational process by implementing innovative strategies," explains El Ayoubi, who is also undergraduate program director for mechanical and aerospace engineering.
One area where she has put this innovation into practice is through her transformation of Concordia's heat transfer labs. In 2019, she created and implemented a new experiential learning activity for the course Heat Transfer (MECH 352).
"The new experiment covers the topics of electronics cooling and is designed to allow students to learn a new topic, not seen in class, by doing and learning from experience," El Ayoubi explains.
"I've come to understand that my students crave an opportunity and a space that allows them to navigate uncertainties on their own, to be engaged in what they do and learn from it."
'Respectful intellectual relationships with students provide the foundation for successful teaching'
Interdisciplinarity is at the heart of Sarah Turner's research and teaching practices. She teaches courses in primatology, research skills and environmental science, that touch on everything from human environment interactions and Indigenous knowledges to behavioural ecology and climate science.
"The strength and challenge of interdisciplinarity is in the bringing together of multiple perspectives from different fields to create new knowledge and broaden understandings," she says.
With the current climate emergency growing more urgent by the day, Turner also sees her role as a teacher to help her students maintain hope and generate constructive action as they confront troubling scientific data.
"Our students care deeply about the environment and social justice. I consciously bring forward examples of ways in which people are creating positive change — I think this helps students to stay positive, motivated and engaged in learning."
Once, when Turner was doing field research in Japan, she had a frightening encounter that she always carries with her as a teacher. While observing monkeys in a forest, she was confronted by a pack of feral dogs and had to escape by quickly climbing a tree.
"There I sat, eye to eye with some surprised young monkeys. Then we all looked to the ground at the predators below, our hearts pounding, and waited until we could climb down again," she recalls.
"To me, this story is a metaphor for teaching. I find it a little scary and also exhilarating; it pushes me to accomplish things I didn't think I could and helps me see things from new, unexpected perspectives."
Turner adds that connections with students are forged in the immediacy of the moment, both in and outside the classroom.
"It is these connections and relationships that provide the foundation for successful teaching."

Find out more about the President's Excellence in Teaching Awards at Concordia.
---