Want to take your education up a notch? Stop by the Grad Corner
FEB. 15: Concordia's winter 2020 Open House includes a one-stop shop for everything you need to pursue graduate studies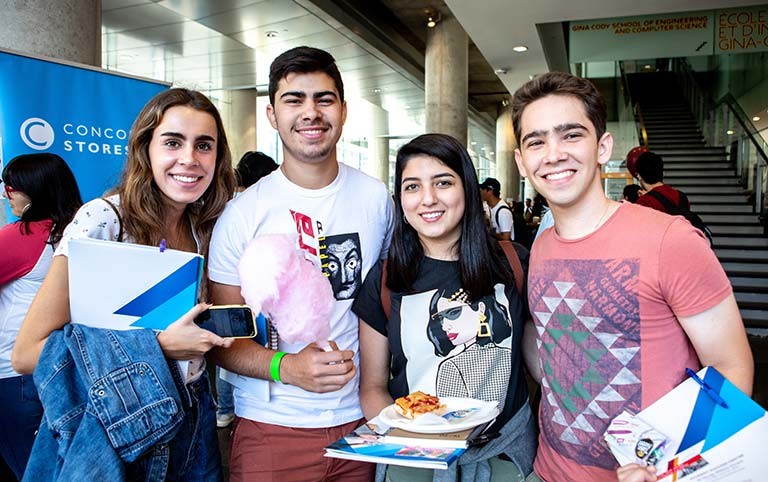 With leading research programs in the fields of digital arts, cities, artificial intelligence and more, Concordia's graduate studies are catching the attention of prospective students from across Canada and beyond.
On February 15, the university will welcome high school, CEGEP, undergraduate, graduate and postdoctorate students from Quebec and around the world for winter 2020 Open House.
Concordia's School of Graduate Studies (SGS) is taking part by hosting the Grad Corner, located by the spiral staircase on the second floor of the Engineering, Computer Science and Visual Arts Integrated Complex atrium on Sir George Williams Campus.
"This is a chance for aspiring master's and PhD students to get personalized advice from staff and faculty about pursuing graduate studies," says Joanne Beaudoin, administrative director at SGS.
"Students can speak with experts at designated information tables to learn more about individual programs and funding opportunities and to receive some admissions guidance."
Prepare for the next level of your education
Each faculty is hosting a series of presentations specific to its graduate programs, in addition to the sessions on general funding, admissions and best practices offered by the School of Graduate Studies.
Students can also get a sneak peek at the many high-tech research and creation facilities of the Faculty of Fine Arts, John Molson School of Business and the Gina Cody School of Engineering and Computer Science.
"This is a chance for undergrads to access all kinds of important information about pursuing the next level of their education," says Lorena Marzitelli, graduate school recruiter.
"Some students begin with the most basic question of all: is grad school for me? And it's a question we're happy to help answer."

Register now for Concordia's winter 2020 Open House, 10 a.m. to 4 p.m. on Saturday, February 15.
Find out more about Concordia's School of Graduate Studies.
---