JMSB students pitch their work to business execs and academics
NOV 14: The 11th Annual Graduate Research Exposition will feature 24 projects.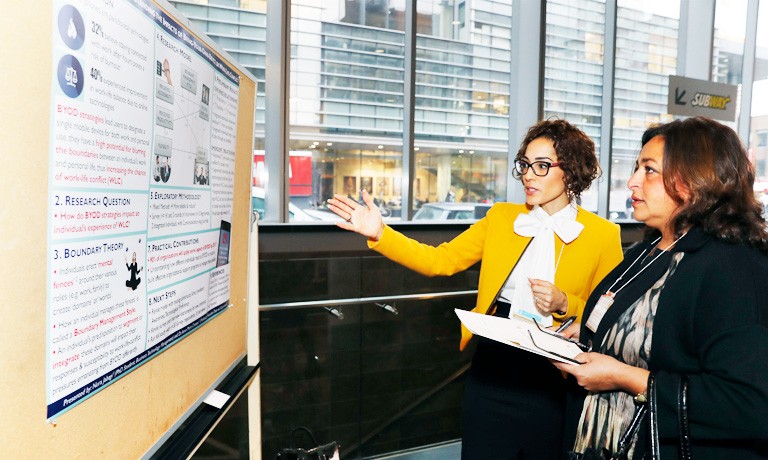 From the glass ceiling to Beyond Meat burgers, Concordia's John Molson School of Business (JMSB) graduate students are researching a breadth of timely topics.
On November 14, the JMSB will showcase student research projects from its many graduate programs at the 11th Annual Graduate Research Exposition (AGRE). The event is open to the Concordia community and the public.
Participating students will be stationed around the lobby of the John Molson (MB) Building with posters presenting their research in fields such as marketing, management, finance and accountancy.
The list of 24 featured projects includes:
Plant-based or Meat Alternative? How Product Descriptions Influence Consumers' Perception
'Aww, That's Such a Cute Lemon!' The Impact of Whimsical Cuteness
Climbing the Ladder: Why Are Women Left Behind?

Local Montreal business executives will judge the students based on a variety of factors such as significance, aesthetic quality, clarity and communication.
Linda Dyer, professor and chair of the Department of Management, says the exposition provides students with a unique opportunity to engage with the business community outside a formal, academic setting.
"What is wonderful is to see the enthusiasm of the students as their research results make the transition from reports written in academic jargon to lively and practically significant prose at the AGRE," Dyer says.
The exposition will also allow the participating graduate students to develop their ideas in a public forum.
"Engaging the interest of the judges further boosts their confidence," Dyer adds. "For me, this really is the high point of the event. My goal is that each year more students get to experience this stimulus to their thesis work."

The John Molson School of Business Annual Graduate Research Exposition takes place November 14 from 4 to 5:30 p.m. at the John Molson Building (1450 Guy St.). It will be followed by a cocktail reception, where the winners will be announced, from 5:30 to 7:30 p.m.

---