Concordia's CEO shadowing program is ready to fly after a successful pilot run
The JMSB and Co-op initiative provides mutual benefits for students and chief executives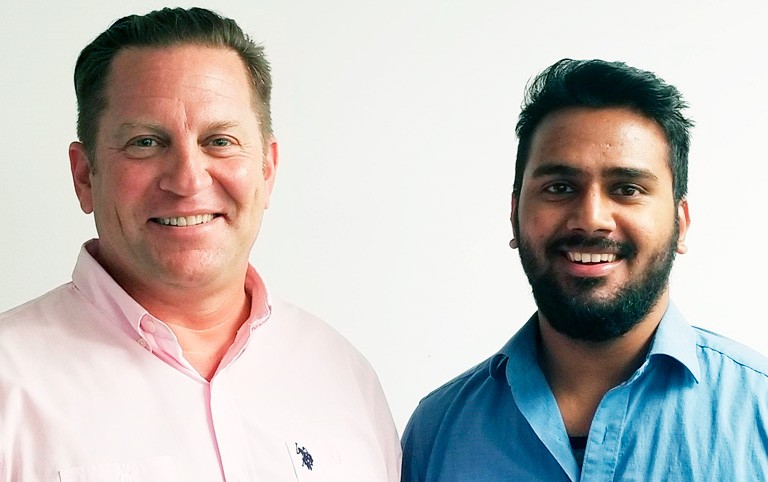 Eric Saint-Jacques, CEO of GGI Solutions, and MBA student Vikram Vetagiri worked together for four months.
Graduating students typically face tough decisions concerning their potential career paths. One option, however, often gets overlooked.
"Not many people consider business ownership because they don't know what it means, what it takes or how hard it is to do," says Bill Meder (BComm 65), director of the Bob and Raye Briscoe Centre in Business Ownership Studies in the John Molson School of Business (JMSB).
So what is the best way to encourage people to think of entrepreneurship and business ownership as a career option? What about placing them next to a CEO business owner for three or four months and letting them figure it out for themselves?
That's what Meder helped make happen.
Earlier this year, in partnership with Concordia's Institute for Co-operative Education, the Bob and Raye Briscoe Centre introduced the CEO shadowing program for John Molson MBA students.
For the pilot run, from January to May, each of four company CEOs was matched with an MBA student. The companies were of varying sizes and from diverse industries:
'Nobody usually gets to see a CEO that close up'
Students were selected based on the preferences and needs of the companies as well as their individual goals and skills. The program's intention is to create mutually beneficial experiences for the students and CEOs.
Students can see firsthand what it's like and what it takes to be a chief executive. They can also be privy to information that others rarely get access to, and possibly provide input on upper-level processes within the company.
"Nobody usually gets to see a CEO that close up," Meder points out.
In return, the CEO receives input and work from someone representing the newest generation of professionals entering the workforce — invaluable knowledge for companies trying to keep up with the ever-changing business landscape.
In many cases, company cultures are not up to date with the latest in education, productivity tools or even in the way young people think. It can be as much a learning experience for the CEOs and their current employees as it is for the students.
'They serve knowledge each and every day'
The CEO shadowing pilot project proved to be a success, especially for one pair: Eric Saint-Jacques, CEO of GGI Solutions, and MBA student Vikram Vetagiri.
Over the course of the four-month program, the duo developed an open-communication relationship that ultimately lead to Saint-Jacques hiring Vetagiri full time once he completed his MBA. It also left Saint-Jacques eager to use the program again in the future.
"I'm going to do this every single semester, as long as I find a candidate I think we can integrate into the company," Saint-Jacques says of the experience.
"This program creates an absolutely unique opportunity for me to establish a direct link with a much younger demographic than me, in a manner where I can create a very open dialogue."
As part of the program's requirements, Vetagiri delivered a presentation on his experience to a panel at Concordia on May 1. He used a tasty comparison to describe his impressions.
"Shadowing Eric was like going into an all-you-can-eat buffet, but the only difference is instead of serving food, they serve knowledge each and every day," he said.
Vetagiri's final reaction was a far cry from his original hesitance and slight skepticism. "I wasn't sure what to expect at all, because I couldn't digest the thought of shadowing someone for four months," Vetagiri admitted.
During that period, Vetegiri did a lot more than just peer over the CEO's shoulder. He took the opportunity to apply the knowledge he had gained in his MBA through a variety of different roles, including project management, business analysis, business process management and ultimately product management.
The process and experience helped Vetegiri to more accurately define his preferred career path. It also left him with some pieces of true wisdom.
"It's about not giving up," he says. "Just because you don't know something today doesn't mean you won't know it tomorrow."
'It's going to be transformative for the company'
Saint-Jacques also went in wondering exactly how the program was going to play out. "I thought, 'What am I going to do with this person?'" he says.
But as he went through the candidate selection process, his expectations clarified. Saint-Jacques says the fact that he now has an employee who can be completely upfront and honest with him is invaluable.
"Vikram, forever and ever, as long as he works for GGI, will always feel comfortable opening my door and saying, 'This thing's broken, and we should think of something to fix that,' and, 'This is not working, people are not connecting with your message,' or, 'Why are we doing that? That makes no sense,'" Saint-Jacques says.
"It's going to be transformative for the company. I have discovered an extremely important program that should be nurtured and structured and supported and explained and really carefully protected, because it's transformative."
With refined criteria for the selection process, and a better understanding of what is expected from both the students and the CEOs, the shadowing program is forging ahead with four CEO-student pairs over the summer and an additional seven pairs in the fall.
Meder sees no limit for the CEO shadowing program and the opportunities it could create.
"Ten years from now, what does 100 people like this look like?" he asks. "Imagine the power of the business community with 100 of these people having emerged from these kinds of experiences."

Learn more about the JMSB MBA program and the Bob and Raye Briscoe Centre in Business Ownership Studies.
---