Dennis Murphy (1946-2018): 'His lessons are ones I still draw on every day'
Concordia remembers the alumnus and long-time communication studies faculty member as a passionate and dedicated professor, colleague and friend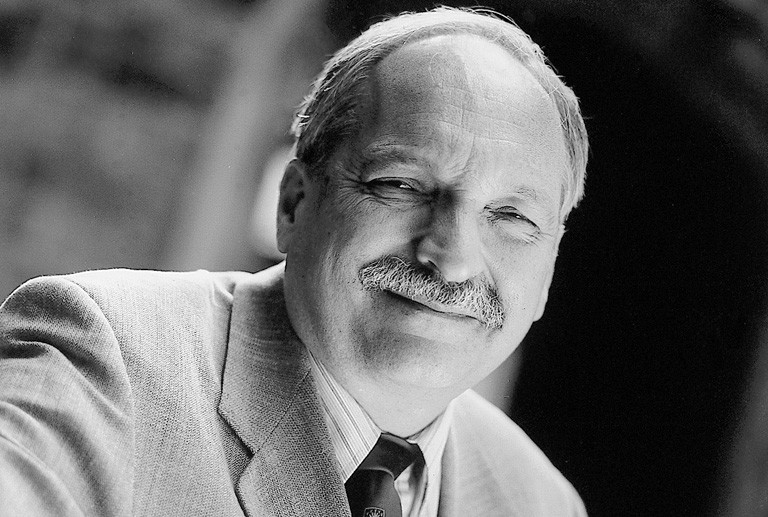 Dennis Murphy (BA 67), who played an integral role in advancing the reputation of Concordia's Department of Communication Studies, passed away on November 20, 2018, in Montreal. He was 72.
Murphy is survived by his wife, Deborah MacFadden (BA 78), and children, Alex, Erika (BA 06, MA 10), Nicholas (BA 04) and Elyse (BSc 13, GrCert 15).
He was a member of the first graduating class of the Department of Communication Arts at Loyola College, one of Concordia's founding institutions. Murphy returned in 1970 to become a faculty member in the department, which changed its name to Communication Studies in 1977, and he remained until his retirement in 2010.
Along the way Murphy inspired and influenced countless students, many who went on to prominent careers in media. The long list includes La Presse columnist Nathalie Petrowski (BA 76), John Moore (BA 88), morning host of Toronto radio station Newstalk 1010, and Todd van der Heyden (GrDip 04), anchor for CTV News Channel.
"Dennis was an extraordinary colleague who gave so much of his energy to the Department of Communication Studies and to the university as a whole," says Charles Acland, professor and chair of the department.
"He had a highly advanced expertise in media ethics, and he inspired several generations of students with his thirst for critical investigation about that topic."
Murphy told Concordia University Magazine in 2015, on the 50th anniversary of the Department of Communications Studies, that he discovered his career path by chance after taking Father John O'Brien's Overview of Communications course in 1965.
"I found it to be my passion," he said of the then-fledgling academic field. "What made it special is that it offered people a chance to produce material for media and also offered a chance to analyze and think about it. It was the integration of theory and practice, philosophy and ethical understanding that didn't exist in other schools in North America."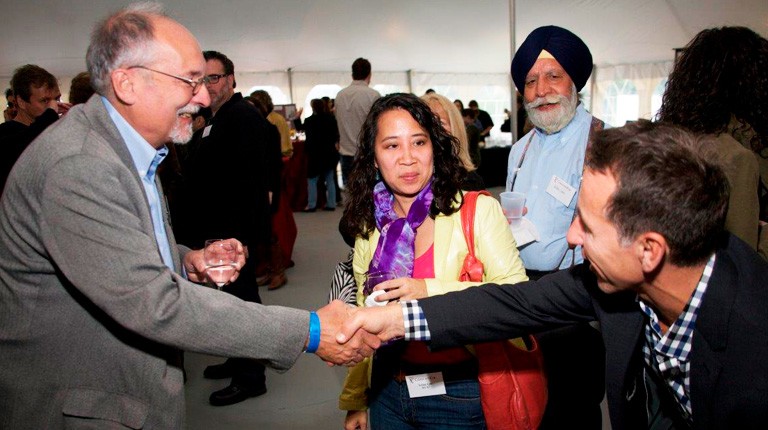 Murphy welcomes alumni to the Communication Studies 45th anniversary reunion on the Loyola Campus in 2010.
'The vitality of his thinking was inspiring'
After earning his BA in 1967, Murphy headed to San Francisco State University to pursue his MA, which he completed in 1972. By then he had already returned to Loyola to begin teaching. He later earned a PhD from the University of California at Santa Barbara in 1982.
Early on, Murphy developed the Media Ethics and Responsibility course and the Propaganda course (COMS 361), which he taught nearly every year for four decades. An examination of contemporary propaganda practices used by institutions and governments, the course had a profound effect on many students.
René Balcer (BA 78, LLD 08), whose many television writing and producing credits include Law & Order and who co-created Law & Order: Criminal Intent, often praised his former professor and kept in touch with him through the years.
"Of all my teachers at Concordia, Dennis is the one who most stands out as having influenced my media work. He shaped my belief that by bearing witness to our times and provoking reflective thought, television could be an agent for change," Balcer said in 2009.
"The vitality of his thinking was inspiring. The breadth of the counter-intuitive connections he drew to illustrate his points awakened me to new ways of seeing. I took from him a non-judgmental quasi-anthropological curiosity about how media works to shape our perception of reality," he added.
"His classes challenged me to commit myself to an 'engaged' media, and his lessons are ones I still draw on every day in my writing and producing work. In many ways, there would not be a Law and Order — at least not the socially engaged drama that we see today — if it weren't for what I learned from Dennis Murphy."
Years in administration
Murphy's contribution to the university extended beyond the department. He served as the Faculty of Arts and Science's vice-dean of External Relations from 1997 to 1999 and vice-dean of Curriculum and Appraisals from 1999 to 2000.
Following a year as advisor to the vice-rector of Institutional Relations and Secretary General for External Relations, in 2001 Murphy was appointed executive director of University Communications. In that role he oversaw Marketing Communications, Public Affairs, Internal Relations and Translation Services.
He also represented Concordia at CREPUQ (now the Bureau de coopération interuniversitaire) for several years on its New Technologies of Communication sub-committee, was the Concordia representative on Quebec's ministry of education sub-committees for histoire et civilization and arts et lettres and served on the board of directors of the Loyola College Alumni Association.
Murphy's research was in the area of systems research, cybernetics, and education and technology, providing his expertise to the RCMP and Canadian Armed Forces. He also participated in the United Nations Development Programme in Hungary to establish the School of Social Communication in Budapest.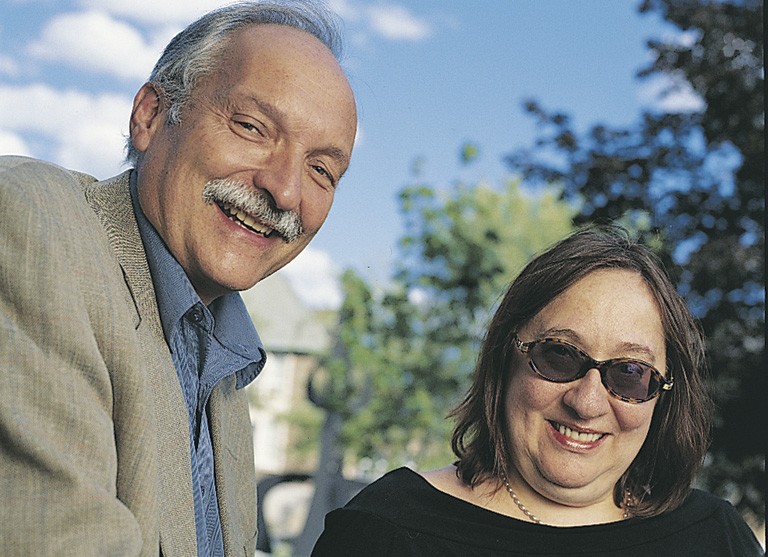 Murphy with Lorna Roth on the Loyola Campus in 2005. "He was an incredibly sensitive and attentive teacher."
Cherished by colleagues and friends
Murphy worked closely with — and befriended — many of his Department of Communication Studies colleagues during his long tenure.
"I met Dennis in 1975 when I first joined the department," recalls Sheelah O'Neill (BA 74), who was an administrator in the program for more than 40 years.
"At that time Dennis was one of the 'junior' faculty members in a department full of characters. He was no exception. He was very friendly and welcoming. Dennis loved to tell jokes and he also loved to pun. Some of them were very clever and some were proverbial groaners. If that was the case, I would usually hear, 'Ah come on, that was good.' Even after his retirement he continued to email jokes to me that usually elicited a smile."
O'Neill emphasizes Murphy's commitment to his students.
"Dennis was passionate about the courses that he created and taught. He was a dedicated teacher who cared deeply for his students, as I'm sure many can attest."
Lorna Roth (BA 72, PhD 94) credits Murphy with helping her decide to attend Loyola College when she was considering where to do her graduate studies.
"As a teacher in Montreal in the early 1970s, I had to take a service training program for video, and Dennis taught the class on a part-time basis," she recalls. "I was so impressed with him that when I decided to do a graduate diploma in communications, I chose Loyola. It was my best experience in education."
Roth eventually landed a faculty position at Concordia and taught alongside and became good friends with Murphy. "He loved to travel, and he worked with communications colleagues in Eastern Europe," she adds.
"He was an incredibly sensitive and attentive teacher. He was very democratic and encouraged dialogue in his classes. He was also a colourful character with a lively intellect and interest in the world."
Don Taddeo (BA 67), who's now assistant to the president for planning and development at Loyola High School in Montreal, was Murphy's Loyola College classmate, fellow faculty member and close friend.
"We met as undergrads in 1963 and were classmates in the first communication arts course, taught by Father Jack O'Brien. We soon became best buddies," Taddeo says.
"When I returned to Montreal in 1972 after completing my PhD in classics, Dennis called me and said Father O'Brien [then chair of the Department of Communication Arts] was looking for an administrative assistant, and I got the job."
The two also co-taught the Propaganda course from 1980 to 1985, Murphy from the communications angle and Taddeo from the classics side. Taddeo recalls Murphy's teaching style, which, he says fondly, was sometimes challenging. "He was like a James Joyce novel — all stream of consciousness."
Taddeo relates that Murphy faced his declining health, due to heart disease, with great strength. "He continued to travel with Debbie. He was gutsy. He was resilient. He tried to make the most of his life."
A funeral will be held on Monday, November 26, at 11 a.m. in the St. Ignatius of Loyola Church (4455 West Broadway), followed by a reception at the Loyola Jesuit Hall and Conference Centre on the Loyola Campus (7141 Sherbrooke W.).
Honouring Dennis Murphy
Contributions in Dennis Murphy's name can be made to Concordia at concordia.ca/givenow, by calling 514-848-2424, ext. 3884, or by sending a cheque made payable to "Concordia University" to 1455 de Maisonneuve Blvd. W., Suite FB 520, Montreal, QC H3G 1M8 (please include "In memory of Dennis Murphy" in the memo line).
---