It's game, set and match for the 2017 John Molson Sports Business Conference
A record-breaking 400 students rub shoulders with the best in the biz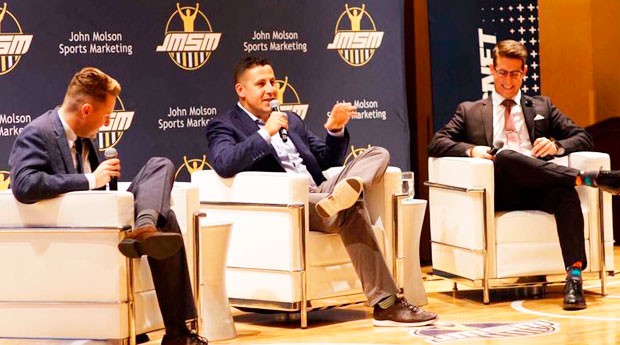 Assistant General Manager of the Chicago Cubs, Shiraz Rehman (centre), with JMSM's Nicholas Vonapartis (left) and Christos Lazaris (right). | Photo courtesy of the John Molson Sports Marketing Committee

From November 2 to 4, Concordia hosted the 22nd Annual John Molson Sports Business Conference. The student-run event is organized by members of the JMSM Committee, a group of undergraduates who share a passion for business and sports.
Christos Lazaris is a fourth-year marketing and finance student in the John Molson School of Business (JMSB) and co-president of the John Molson Sports Marketing (JMSM) Committee.

'Multiple ways to network with professionals and peers'
Organizing the 2017 John Molson Sports Business Conference required a lot of hard work and dedication from each member of the executive team. The culmination of countless planning hours led to a fantastic event that was well-received by students, speakers and alumni.
Our goal was simple: execute a bigger and better conference than last year. As soon as the executive team was finalized last March, we began brainstorming and setting goals.
We're proud to say that approximately 400 students from across Canada participated in our conference. This was our greatest attendance for a JMSM event to date, which further solidified our reputation as Canada's largest student-run sports business conference.
Among the dozens of expert speakers were Bill Daly, deputy commissioner and chief legal officer of the National Hockey League, Scott Moore, president of Sportsnet, and Shiraz Rehman, assistant general manager of the Chicago Cubs.
The program consisted of seven panels, three interactive workshops, two networking cocktails, a breakfast keynote address, a speed dating–style networking session and a closing gala. We felt this set-up would benefit our delegates the most, as they could learn in different ways by listening, participating and networking with professionals and peers.
Furthermore, our speakers represented all five major sports leagues, providing insight on many trends inside each industry and mentorship to students who want to become involved in them.
Above all, being on a team that organizes an event like this is very rewarding. Sports business conferences bring recognition to schools across Canada and certainly expose students to job opportunities in the field.
One final highlight from this year was learning about other delegations and how they were inspired to create sports marketing committees inside their own universities because of our work.
Thanks to JMSB, the Commerce and Administration Students' Association and all our sponsors for helping us make the 2017 conference possible!

Find out more about Concordia's John Molson School of Business.

---