A century of public art in Quartier Concordia
NOW OPEN: The Vitrines exhibition showcases six important pieces that shaped the neighbourhood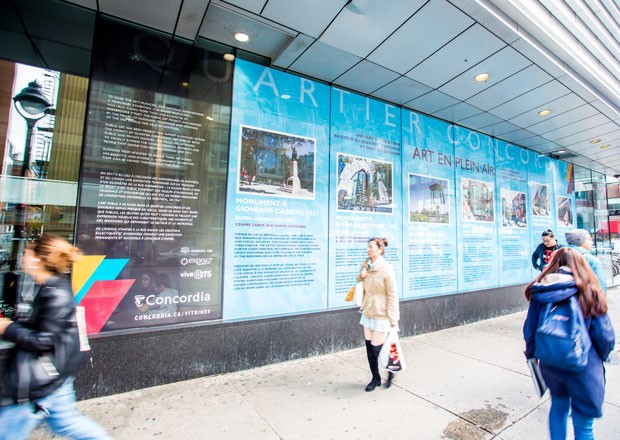 How central is public art to the character of Quartier Concordia? Extremely, says Clarence Epstein, senior director of Urban and Cultural Affairs at Concordia.
With that in mind, he and his team have mounted Art en Plein Air, the ninth iteration of the Vitrine exhibition series. It highlights six pieces that shaped the neighbourhood which is home to Concordia's downtown campus.
Epstein and his team were inspired by the Balade pour la Paix exhibition, mounted this spring by the Society for the Celebrations of Montreal's 375th anniversary.
The Balade, a one-kilometre stretch of public art along Sherbrooke Street, celebrated Montreal's anniversary, and the anniversaries of the founding of Canada and of Expo 67.
The Balade also marked the 41st anniversary of former mayor Jean Drapeau's unceremonious order to destroy the six-kilometre-long Sherbrooke Street art exhibit Corridart leading up to the 1976 Olympics. "Social acceptance for such decisions has changed since 1976", says Epstein.
"Today," Epstein continues, "I doubt that the public would allow the leadership to take on that kind of decision in the same way. Civic leaders are much more in tune with the city and its identity than back then."
Accordingly, the ninth Vitrines exhibition showcases six works spanning the last century in Quartier Concordia's history of public art.
They range from representative works by Situ Jie (Norman Bethune monument) and Guido Casini (statue of Giovanni Caboto), through the mid-century abstract works of Walter Redinger and Claude Théberge, the postmodern deconstruction of Melvin Charney's CCA Garden in the 1980s, and finally 2003's enormous urban-natural photocollage by Nicolas Baier and Cabinet Braun-Braën.
"In many ways, the definition of public art is changing quite rapidly, especially with a new generation of artists and creators who see the forum of the public as a space to express, and not always in a permanent way," Epstein says.
"The temporal nature of the Balade is interesting for one thematic, but it's also another thematic that other artists will explore in other forms, in other places in the city. And not just for an anniversary but rather as a way of marking a moment, or the message that an object brings to a place at a moment in time."
For example, he notes Old Montreal has benefitted from the introduction of the Cité Mémoire, which projects images of history directly onto walls outdoors.
This is, he notes, a contemporary way of engaging artistically with the public and the city. As new tools become available to artists, they will work with a variety of subjects in new ways.
"Over the generations, art has become a vehicle for the expression of thoughts and ideas and gestures on a more overt plane — the public sphere."

Visit Art en Plein Air outside the Engineering, Computer Science and Visual Arts Integrated Complex (EV) on Guy Street.
---