Closing the math gap
'It's about the space between academic researchers and teachers in the trenches,' says Concordia professor Helena Osana. Here's her solution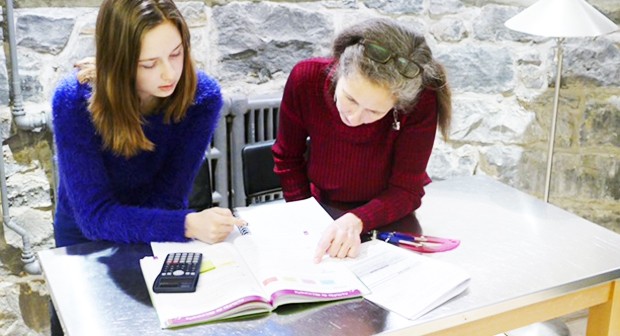 Helena Osana: "Work with your kids at home. School can't do it all."

There's a gap in math education that isn't about gender, privilege, wage or age.
"It's about the space between academic researchers and practitioners — math teachers in the trenches, in the classroom every day," says Helena Osana, associate professor of education in the Faculty of Arts and Science and director of Concordia's Mathematics Teaching and Learning Lab.
But Osana isn't pointing fingers.
"Teachers simply don't read research papers, and academics focus on their own work. We've been talking about this gap for 30 years, but nobody has been able to make significant headway. We need a bridge."

SM2ART move
In an effort to improve the situation, Osana just submitted a letter of intent for an SSHRC Partnership Grant. As lead researcher, she wrote on behalf of her 22 co-applicants and 2 collaborators, including 7 academic partners and 12 community partners, such as schools and school boards.
Their project is called SM2ART: Supporting Meaningful Mathematics Action Through Research and Training. SM2ART's first research meeting and symposium was held at Concordia on January 17 and 18 of this year.
"In mathematics education, we've made major progress in terms of what effective classroom teaching practices are, as well as what kind of knowledge educators need to be effective math teachers," says Osana, who has a PhD in educational psychology with a specialty in mathematics and cognition.
"However, it's hard to get the research findings into the classroom. SM2ART is about finding strategies to make that connection."

Make math meaningful
Osana is the founding director of the Mathematics Teaching and Learning Lab at Concordia.
"The research I do in the lab focuses on the external representations used in mathematics classrooms," she says.
"Kids use a variety of tools — concrete objects, blocks, pizza slices for fractions, cupcakes, drawings — to make sense of mathematics. I look at what kind of representations are the most conducive to children's 'meaning making' in math class."
To facilitate that research, she spends a considerable amount of time in schools with students and providing professional development for teachers. Her graduate students also help on the ground, in math classrooms.
Frequently, parents ask Osana how to help their children do well in mathematics.
"My number-one answer is to work with your kids at home," she says, elaborating on an interview she did last summer with the CBC.
"School can't do it all. Classrooms are big and teachers have a lot of responsibilities. Keep up with what your child is learning and, most importantly, get in the habit of talking about math problems and why solutions work."
If they don't understand, she adds, bring out some blocks — anything that gets them to think in different ways about the problems they're trying to solve.

Girls + math
While Osana doesn't do gender research, she's well versed on the hot-button issue of girls and math — specifically, why there is such a scarcity of female graduates going into STEM disciplines.
"The research is very clear now — there is no consistent evidence that there are gender differences in mathematics from a cognitive and developmental perspective," she reports.
"However, teachers and parents still have this underlying preconception that girls aren't as good at math as boys. Without malice, they're quick to react differently when girls struggle with the subject. Girls hear, 'It's okay, you're good at music and arts.' But when boys struggle, they're told to work harder."
Meanwhile, back at the lab, Osana is awaiting her reply from SSHRC and starting a new research initiative to study the effects of bilingualism in math education.

Learn more about Concordia's Department of Education.
---