'This leadership group was planted by our ancestors long ago'
Eight Concordians work with community to advance Indigenous directions at the university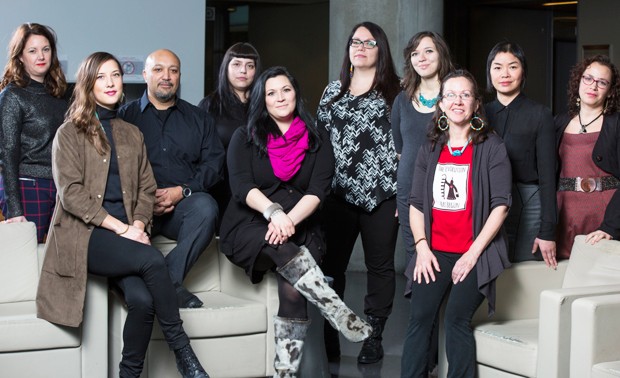 From left: Elizabeth Fast, Emilee Gilpin, Jason Edward Lewis, Cherry Smiley, Heather Igloliorte, Shiann Whitebean, Tiffany Ashoona, Louellyn White, Charmaine Lyn and Marie-Ève Drouin-Gagné.

Shiann Whitebean is looking forward to making a contribution on the newly created Indigenous Directions Leadership Group.
"My role is to share my experience as an Indigenous community member and to ensure that student voices have a central place within the decisions and directions of the university," says Whitebean, a Wolf Clan member of the Kanien'kehá:ka (Mohawk) Nation at Kahnawà:ke.
The undergraduate student in the First Peoples Studies program has been a student support worker and volunteer at the university's Aboriginal Student Resource Centre.
Whitebean founded and is currently president of the First Peoples Studies Member Association. She also a founder and advisor to the Indigenous Student Council, which focuses on First Nations, Inuit and Métis students at Concordia.
"This new group will help Concordia facilitate lasting respectful relationships with local Indigenous communities that will foster new and innovative educational opportunities and inspire research collaborations for many years to come," she says.
Emilee Gilpin, who is currently enrolled in Concordia's Graduate Diploma in Journalism program, was also named to the eight-member committee. She is of Saulteaux-Cree, Métis, Filipina, Scottish and Irish ancestry and considers her multi-layered identity a strength and responsibility.
"This leadership group is a plant that our ancestors planted long ago," she says. "It's a group of driven and compassionate people who are committed to making the academy a safer place for Indigenous students."
The Indigenous Directions Leadership Group follows the announcement made last November by Graham Carr, provost and vice-president of Academic Affairs to appoint Elizabeth Fast and Charmaine Lyn as special advisors on Indigenous Directions.
They are leading Concordia's response to Truth and Reconciliation Commission's (TRC) Principles for Reconciliation and Calls to Action.
"This leadership group will play a key role in helping us better understand the challenges and opportunities for moving forward with Indigenous directions at Concordia," Carr says.
"The members are dedicated and committed to fostering meaningful change through collaboration and consultation. I thank them for their service to our community and look forward to their insights and recommendations."
Carr notes that the group includes representatives from First Nations, Inuit and Métis backgrounds, including representation from local communities.
They are:
Elizabeth Fast, Métis (Saint François-Xavier, Manitoba), special advisor to the provost on Indigenous Directions, and assistant professor in the Department of Applied Human Sciences;

Emilee Gilpin, Saulteaux-Cree, Métis, Filipina, Scottish, Irish, graduate diploma student in Journalism;
Heather Igloliorte, (Inuit) Nunatsiavut, University Research Chair in Indigenous Art History and Community Engagement, and assistant professor of Art History;
Jason Edward Lewis, Cherokee/Hawaiian/Samoan, University Research Chair in Computational Media and the Indigenous Future Imaginary, and professor in the Department of Design and Computation Arts;
Charmaine Lyn, special advisor to the provost on Indigenous Directions and senior director of the Office of Community Engagement;
Cherry Smiley, Nlaka'pamux (Thompson) and Diné (Navajo) Nations, Trudeau Scholar, and PhD student in Communication Studies;
Louellyn White, Kanien'kehá:ka (Mohawk) Nation of Akwesasne, associate professor in the First Peoples Studies Program; and
Shiann Whitebean, Kanien'kehá:ka (Mohawk) Nation of Kahnawà:ke, undergraduate student in the First Peoples Studies program.
The group is supported by research assistant Marie-Ève Drouin-Gagné, a PhD candidate in the Department of Sociology and Anthropology, and project coordinator Tiffany Ashoona. The group will soon be joined by a local Elder, an important first course of action.

The road ahead
The group's three-year mandate involves recommending administrative and governance frameworks, including an advisory mechanism that will integrate community participation into decision-making related to curriculum and pedagogy, research, space and services.
"We will be speaking with Elders from local and urban communities to help guide this process," explains Fast.
It will also create a comprehensive inventory of existing Concordia initiatives that are relevant to the TRC's principles for truth and reconciliation and calls to action.
Members will provide input and recommendations on strategies, programs and services that support and facilitate the recruitment, admission, retention, and graduation of Indigenous learners; and the recruitment, hiring and retention of Indigenous faculty and staff.
They will also explore how Indigenous knowledge and the principles of reconciliation can be integrated into existing courses, programs, and governance structures.
Finally, they'll look at initiatives that will enhance the cultural climate at Concordia for Indigenous learners, staff, and faculty.
White, an associate professor in the First People's Studies Program, says she's confident the group will have a positive impact on the university.
"I feel optimistic about our ability to help direct Concordia in creating more awareness and attention to Indigenous issues, supporting our Indigenous students, and creating an institution that doesn't ignore our history but embraces it and works alongside us to move toward a positive future."

As part of First Voices Week, the Indigenous Direction Leadership Group invites you to attend a community conversation on Wednesday, February 1, from 2 to 4 p.m. in the Henry F. Hall Building, room H-767. You'll have the opportunity to share your thoughts on how the university should prioritize the work of the group over the next few years.
---