The Grey Nuns garden: 'A crown jewel on the downtown campus'
On September 1, the newly refurbished green space opens for the entire Concordia community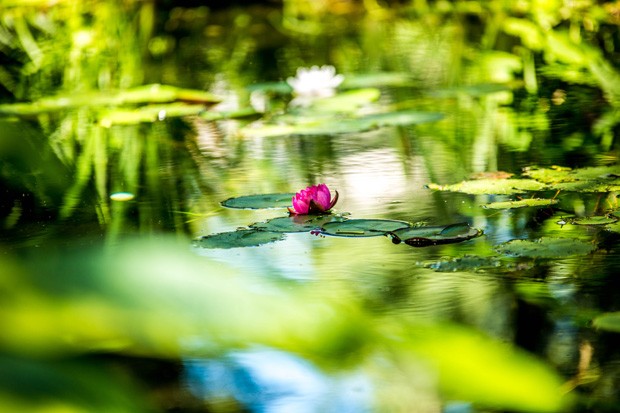 Roger Côté, vice-president of Services: "It's a contemplative space where the community can go to slow down and enjoy the outdoors." | Photos by Concordia University

Where can you go for a moment of calm downtown?
When you want a reprieve from the hustle and bustle of the big city, feel the grass between your toes in the back garden of the Grey Nuns Residence — a majestic green space accessible to the Concordia community.
During a recent lunch hour, creative writing student Molly Cockburn is sitting in the garden reading A Complicated Kindness by Miriam Toews. "I like the sound of water trickling into the pond," she says.
"To have an oasis like this in the middle of the city is pretty spectacular — especially if you're living at the residence. Then, it's basically your backyard."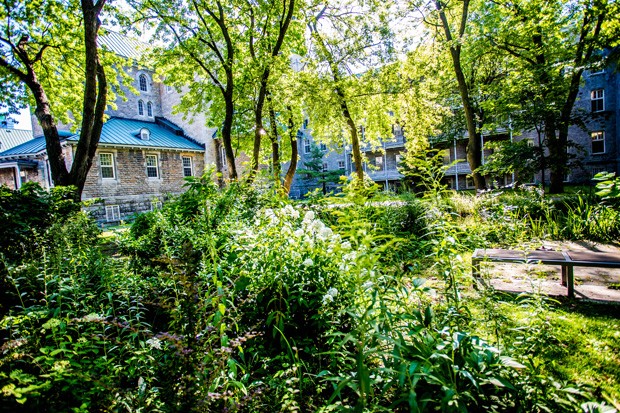 Beginning on September 1, the entire Concordia community will have access to the green space from 10 a.m. to 7 p.m. on weekdays. Faculty, staff, students, alumni and retirees can enjoy the garden by presenting valid ID at the point of entry, located off the parking lot at 1200 Guy Street.

21 benches, 16 colourful picnic tables
"It's a 7,000 square-metre space that we designed in collaboration with Athletics and recreation, Hospitality and Security," says Pat Pietromonaco, senior director of property management for Facilities Management. "We integrated it into Quartier Concordia very thoughtfully."
Pietromonaco's team refreshed and refurbished the existing garden with "love and care," pruning the trees, dredging the pond and replanting the greenery on the water feature's perimeter.
Plus, they added a new basketball net and volleyball court, along with circuit training bars. There are 21 benches, styled to match those along the west side of the Henry F. Hall Building, and 16 multi-coloured picnic tables.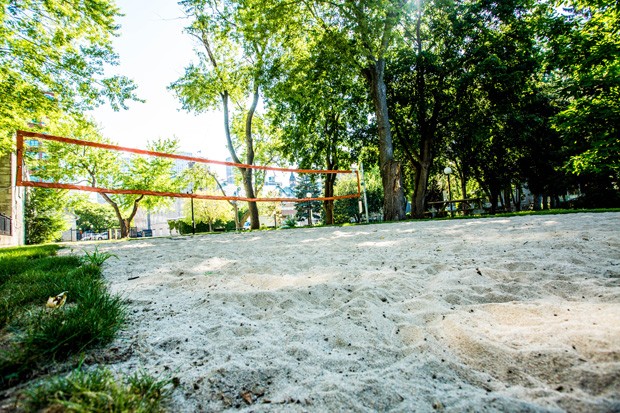 "We see this private green space as a crown jewel on the downtown campus," says Roger Côté, vice-president of Services. "It's a contemplative place in Quartier Concordia where the community can go to slow down, reflect, do some tai chi or yoga, play Frisbee and enjoy the outdoors. It's a three-season space now, but next we'll think about how to optimize it for the winter."

On opening day, September 1, wear comfortable clothing and join a game of "beach" volleyball between 12 and 2 p.m. Lemonade will be served and Stingers athletes will be on hand to partake in the fun!
Learn more about the Grey Nuns Residence, with its 600 beds for undergraduate students on Sir George Williams Campus.
---