David Pariser is named a National Art Education Association distinguished fellow
The Concordia professor receives the honour for his ongoing research into the role of childhood art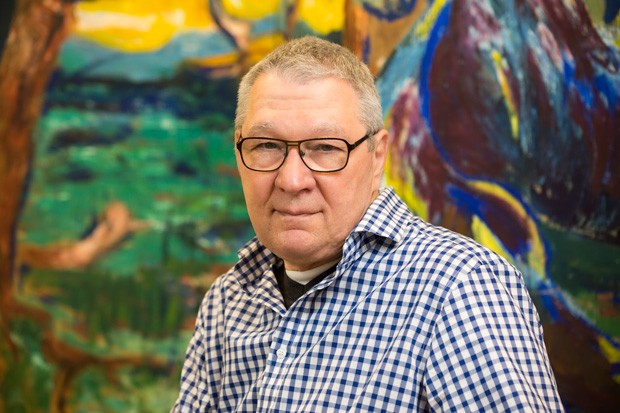 "I have time to develop my own interests, and that's been a real gift," says David Pariser, professor and chair of the Department of Art Education. © Concordia University
On March 18, after nearly five decades of teaching, David Pariser, professor and chair of Concordia's Department of Art Education, will be inducted into the American National Art Education Association (NAEA) as a distinguished fellow.
Pariser was nominated by an association member who shares his keen interest in studying the childhood art of famous painters.
"I'm very honoured and pleased to be recognized by my professional peers," says Pariser.
Born to an Israeli mother and a German Jewish father, who was a German Jew uprooted in World War II, Pariser lived the first decade of his life in England and Turkey. In 1957, his family moved to Boston when his father got a new job at the Massachusetts Institute of Technology (MIT).
As a young man, Pariser didn't support the Vietnam War, yet he felt a sense of duty to the United States, the country that had taken in his family. He learned that some classes of citizens — teachers and students among them — did not have to serve.
After graduating with an undergraduate degree in comparative literature from Reed College he joined Volunteers in Service to America (VISTA).
It was in (VISTA) and later in Teacher Corps that Pariser began working as an educator in poor southern Illinois schools. As a VISTA volunteer he worked as an educator in a Job Corps Center with mostly black and Hispanic youth.
As a Teacher Corps Intern he worked for two years in two Southern Illinois elementary schools. It was these experiences that sent him forward on the path to higher education.
His passion for studying youth art grew out of his work experiences in VISTA and Teacher Corps, as well as his graduate studies. Pariser studied aspects of juvenile art at the master's level. His MA thesis examined the correlation of children's Socio-economic status (SES) with their ability to draw the human body. This was an attempt at finding an intelligence test that was not tied to SES.
He later completed his Doctorate at Harvard where he looked at how children of different ages handled the task of drawing cars that had been in accidents. After teaching for two years in the Newton schools, and at the Massachusetts College of art he moved to Montreal in 1978 to teach at Concordia.
Pariser's interest in child art is partly rooted in an attempt to understand early childhood mastery of graphic forms, he explains.
"I like the expressive part," he says. "They do amazing things with limited graphic vocabulary. It's very evocative. It's also fascinating that it's universal — kids everywhere go through the same stages of graphic development, regardless of culture.
It is well known to art historians and psychologists that there are certain childlike elements in the mature work of some 20th-century modern art by painters — Paul Klee, one of Pariser's subjects of study, is an example.
"My choice of Picasso, Toulouse-Lautrec and Klee was a matter of convenience: All three are influential artists whose collections of childhood art have been preserved over time and are therefore available for study. Of them, Pariser says Toulouse-Lautrec is his favourite.
"I admire Picasso, but Picasso is like General Motors: a huge enterprise," he says. Toulouse-Lautrec, by contrast, is far more approachable.
"He was a nobleman — he didn't have to work at all. He just loved drawing and painting. His mother provided emotional and financial support — not to mention quantities of wine from his estates. She also saved his earliest childhood work."
Pariser also finds great inspiration in studying three generations of artists in the Wyeth family: The elder NC, is known for illustrating swashbuckling classics like Treasure Island and The Last of the Mohicans.
NC tutored his son Andrew, who painted mainly realistic works and who is known for iconic images like Christina's World. Andrew tutored his son Jamie, who is also a respected American painter, a portraitist, whose skills are finely honed and whose work ranges between the romantic and the surreal.
"What I'm interested in is, that they've kept a lot of really early drawings and paintings by Andrew and Jamie," Pariser says. Much of the Wyeth family's work is housed at the Farnsworth Art Museum in Rockland Maine.
The longitudinal aspect of studying art throughout childhood, and across generations, is fascinating to Pariser.
"One question that art educators ask is: Is this kid going to make it? Is this kid going to be good? How can you tell?" Pariser muses. "Based on my research, it's very hard to tell, which is actually good news. Until further notice, art teachers should treat all of their students as potentially great artists."
Pariser teaches and researches in a variety of venues including, of course, Concordia where he finds enormous satisfaction in working with students who will be art teachers in the schools, and with working with graduate students who, in many cases, are teachers themselves.
He's also been working with Juan Carlos Castro, an associate professor in art education at Concordia, on a project in which at-risk youth use smartphones to take photos of their surroundings.
The ability to portray and discuss their lives and neighbourhoods through an artistic lens, Pariser and Castro say, has been empowering for the students and stimulates their sense of civic engagement.
Pariser is continually on the lookout for longitudinal collections of child art to study. He would be most interested in examples of such collections from women artists and artists from non-Western cultures but these have been hard to come by.
He says Concordia has given him a great deal of freedom to explore. "I have had time to develop my own interests, and that's been a real gift," Pariser says.

Find out more about Concordia's Department of Art Education.
---