Senses and (dis)ability: a creative reorganization
On December 11, Concordia postdoctoral fellow Piet Devos will discuss his research at a public seminar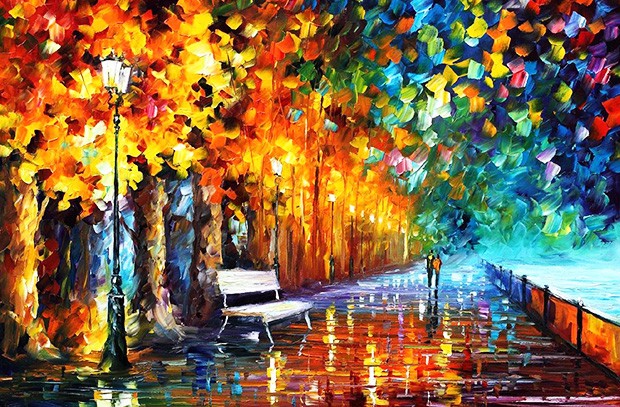 A painting by
John Bramblitt
, who lost the last of his vision in 2001. | Image courtesy of the artist

Piet Devos, a visiting postdoctoral fellow at Concordia's Centre for Sensory Studies, has been blind since the age of five. In his academic research he examines how we use our senses to perceive the world around us.
On December 11, Devos will present the centre's Fall Semester Sensory Studies Research Seminar. "Born to incarnate my wound: (Dis)abilities and haptics in a modern world (1880-1950)" will address the role of the senses through the lens of disability.
"I still think very visually," says Devos. "People think when you go blind, you are immersed in darkness. That's a cliché, and often not at all what happens."
A writer and literary scholar, Devos experiences the world through imagery, in spite of his condition. "Every letter has a different colour for me, every piece of music has colours for me. That's really my natural way of seeing things," he explains. "To give you an example, "B" is green. It's called synesthesia, when you see one sense through the other. Some people taste colours."
Devos' lecture will examine case studies such as French writer Joë Bousquet, who turned to writing following a war injury that left him a paraplegic.
"Before the war, Bousquet never thought about writing," says Devos. "But after the war he really wanted to develop his own aesthetics from this kind of special perspective. So in his novels, we find very often the main character is also paraplegic. He was really describing a world through his own special lens."
Devos is also interested in depictions of disability in popular culture. While his main area of interest is the early 20th-century avant-garde movements, Devos says examples of disability in art and literature span history, right up to the modern day.
"If you look at very popular old folk tales, they are full of dwarves, witches, usually with all kinds of disabilities. We can go on to Melville's Moby Dick, in which the character of the captain has lost a leg due to this whale. The main question is, what function does disability have in such art? Is it just a marker? Or does it also have a sensory impact?"
Devos notes the tendency for familiar stereotypes to recur when disabled people are portrayed in fiction. "Often a character is confronted with disability, it's a challenge, and you have to overcome it. And then, at the end of the book, the disabled character will succeed, and that's a happy ending. But that's actually not usually how it goes," Devos says and laughs.
Devos is at Concordia on a Niels Stensen postdoctoral fellowship. Working with his post-doctoral supervisor David Howes, he plans to spend his year in Montreal working on a book about disabled sensitivity and the subjective perspective. "I hope to examine how this leads to new aesthetics in literature," he says.
Devos credits the centre with helping to advance his research.
"There are great opportunities to share research connected to the centre," Devos says. "Meeting others whose areas of study touch on mine helps me to be inspired, and that's mainly why I came here."

"Born to incarnate my wound: (Dis) abilities and haptics in a modern world (1880 – 1950)" takes place Friday, December 11, from 1 to 2:30 pm, in Room H-1154 of the Henry F. Hall Building (1455 de Maisonneuve W.).
The lecture is free and open to the public. Attendees are encouraged to bring their lunch.
Find out more about the Centre for Sensory Studies.
---