Hands up! Concordia's Volunteer Fair is an opportunity to sharpen your skills
On October 1, explore worthy causes across 50 community organizations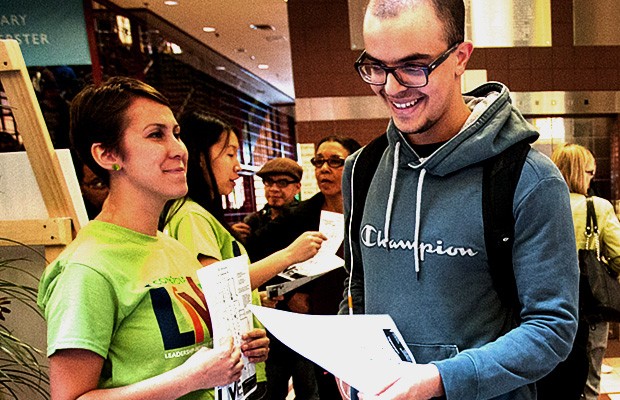 This October 1, more than 50 community organizations and on-campus groups will convene in the EV Atrium to offer a variety of opportunities to get involved on campus, off campus and abroad.
Big Brothers Big Sisters of Greater Montreal, Special Olympics Quebec and Global Brigades are among the organizations representing worthy causes such as sustainability, international development, social justice and more.
Many on-campus groups, including Concordia's Student Services, will be on site looking for volunteers to support a number of programs, such as the Access Centre for Students with Disabilities (they need in-class note takers) and the university's own LIVE Volunteer Resource Centre — the Student Services centre hosting this popular engagement event.
See a complete list of participants by cause.
How can volunteering be strategic for students?
"Volunteering is an exchange," says Valerie Millette, coordinator of the LIVE Centre and Fair organizer. "You give your time, but in return you gain relevant work experience, develop critical skills and build a network that will later assist you in your job search."
In fact, this applies to any individual, regardless of age, says Millette. The strategic part is about choosing the right opportunities to not only match your passion for making the world a better place, but to gain the transferrable skills that employers value, make connections and build relationships that can help you market yourself throughout your career.
Communication and leadership, project management and problem-solving are among the critical skills employers look for in new grads — all of which can be developed within a volunteer engagement or project commitment, whether short-term, long-term or a la carte, says Millette. Learn more about transferrable skills here.
Volunteering can do volumes for visibility
What's more, opportunities for recognition can further help your skills shine.
Concordia's Co-curricular Record is an official document that highlights your leadership and community service activities beyond the classroom. It can help you stand out to employers by showcasing your entire university experience. You could even get nominated for a Volunteer or CCSL award for your contributions to student life.
In addition, many student-led community projects qualify for funding through the Concordia Council on Student Life (CCSL). The CCSL Special Project Fund accepts applications twice per academic year. The Fall 2015 application deadline is October 9. Find out more.
Volunteer Fair a good place to start
The Volunteer Fair is open to all faculty, staff and students at Concordia, as well as the general public. It's a good place to explore your options for getting involved and to learn about the many services available in the broader Concordia community.
For students, it's also a chance to learn more about Alternative Spring Break ­— a popular transformative service-learning experience offered during February Reading Week. The deadline to apply for 2016 is October 15, 2015. They need faculty and staff as team leaders, as well as students. Apply now.
But it doesn't end at the fair. You can drop by the LIVE Centre year-round to inquire about ongoing opportunities in the community. There's always someone needing help, says Millette — and helping to match people to their passions is what keeps her motivated every day.
"I feel truly rewarded because I love what I do," she said. "Who knows what you'll discover once you take the time to look? One spark of inspiration and the possibilities grow from there."
Visit the LIVE Volunteer Resource Centre online for more on volunteering or drop-by in person at H-608-1, Henry F. Hall Building (1455 De Maisonneuve Blvd. W.), Sir George Williams Campus.
---