Like father, like daughter
Being a Stinger and a Concordia graduate 'burns bright' in two generations of Tittleys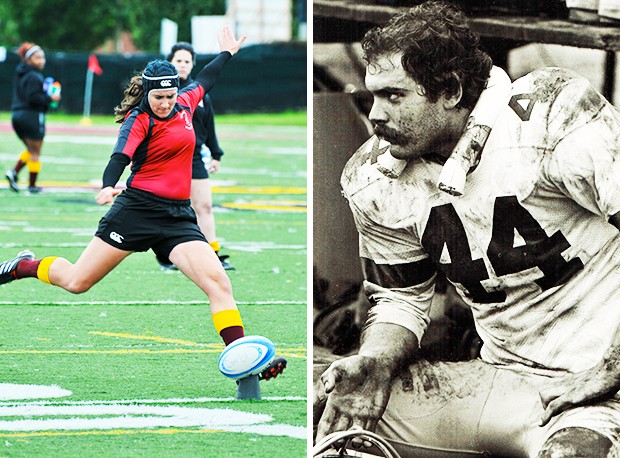 In her rookie year (2008) coach Graeme McGravie said of Jackie Tittley (left): "She's such a dominant force, other teams in Quebec scheme to run away from her." Her father, Larry Tittley, takes a breather during a tight game against McGill in 1975. The Stingers would go on to win 26-25, earning themselves a playoff spot.
As Concordia prepares to reveal a new look for its varsity sports teams next fall, we take a look back at a pair of outstanding alumni athletes from the same family.
Before embarking on a successful pro career in the Canadian Football League (CFL), Larry Tittley played football for Concordia, as well as both of its founding institutions.
In 2008, more than 30 years later, his daughter Jackie joined the Stingers women's rugby team. A three-time CIS All Canadian, she was a cornerstone of the program for five years.
"It burns bright in both of them, being a Stinger and being a Concordia graduate," says women's rugby coach Graeme McGravie.
But how did the Tittley's varsity sports story begin? Just how did Larry, who graduated in 1978 with a BA in economics, end up playing for Sir George Williams University, then Loyola College, and finally Concordia?
"I think, more than anything, it has to do with me being a young man who didn't have much direction in his life," he says from his office at Braley Winton Financial in Pointe-Claire, where he works as a financial advisor. "It's nothing I can puff my chest up about!"
While both Tittleys were highly sought-after athletes in their time, the young man who showed up to play football with the Georgians in the fall of 1970 was a little wayward, and a lot defiant.
Recruited by Loyola College, a football powerhouse, Larry chose to play at Sir George instead. "It was almost a rebellion against the institution of Loyola being so big and strong," he recalls. "But we didn't do very well on the football field, nor did I do very well academically. So I ended up leaving."
Time to go to work
After one season alternating as a tackle and centre at the University of Memphis, Larry returned to Montreal in the fall of 1973 to play for Loyola College. He was a changed man.
"I came back with a heckuva lot more composure on the football field. I was ready to put my butt on the line for the team," he says. "It was time to go to work."
Larry eventually earned a starting position and began to distinguish himself as a key element of the Warriors offence. "Both the offensive and defensive lines were outstanding, with players such as Mike Walukevich, Bob Scott, Larry Tittley and Kevin Leyva playing great football," wrote Gary Thomson in an October, 1974 game report for the Loyola News.
The Loyola and Sir George sports teams merged to form the Stingers in 1975. A brochure for the Concordia football team's inaugural season highlighted Larry's strengths as a centre: "His greatest assets are his hustle, quickness and savvy of the game."
During Larry's final season, the Stingers squeaked into the Ontario-Quebec Intercollegiate Football Conference play-offs, thanks to a dramatic 26-25 victory over the McGill Redmen. They headed to Ontario to face the University of Toronto Blues in a sudden death semifinal game.
Leading at half-time, the Stingers couldn't hold on against the favoured U of T team, and ended up losing 43-24.
Larry remembers sitting in the changing room after the game. They had a good team, and they had dreamed of going further. Except there was more to it than that. For many of the veterans, including Larry, the loss signaled not only the end of the season, but likely the end of their football careers.
"You're looking at each other, looking at your shoulder pads and equipment and you're thinking, "Am I ever going to put that on again? Probably not. It's kind of a sad time."
What Larry couldn't have known was that three months later he would be drafted into the CFL along with four of his teammates — John Montelpare, Bernie Muldoon, Dave McMillan and Gary Anderson.
He went on to play four seasons with the Calgary Stampeders, five with the Ottawa Rough Riders, and an abbreviated final season with the Montreal Concordes. "I was more of a journeyman player than an elite player," he says modestly. "I did the best I could do with the tools I had, and it seemed to be enough."
Larry credits his time at Concordia with instilling in him a sense of responsibility for his teammates. "You're not playing for yourself; you're playing for a common goal."
Nevertheless, he didn't wear a big C close to his heart. Nobody did, he says. They played for their team and the love of the game. But over the years a certain amount of school pride took root. "It's grown on me, more than at the beginning."
In 1998, Larry was inducted into Concordia's Sports Hall of Fame.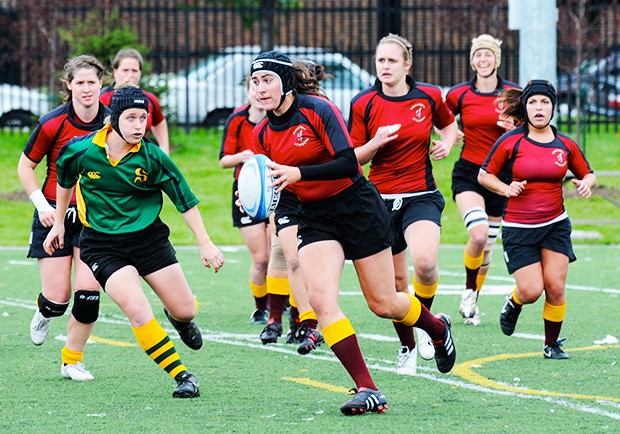 During her five seasons with the Stingers, Jackie Tittley led her team to three Quebec titles and silver at the CIS National Championships. | Photo courtesy of Athletics and Recreation
The next generation
Larry met his wife, Kathryn Atkinson, BA 76, while they were both studying at Concordia. They were delighted when their third child, Adam, and his younger sister, Jackie, decided to attend their alma mater.
Jackie was one of the top rugby prospects in eastern Canada, having already played as captain of the Canadian National U19 and U20 teams. She didn't take long to prove herself at the varsity level.
In 2008, her first season with the Stingers, Jackie scored four tries and kicked 10 converts and four penalty goals, earning herself the Rookie of the Year and CIS All-Canadian titles. "She's such a dominant force, other teams in Quebec scheme to run away from her," Coach McGravie said at the time.
During the 2009 regular season, Jackie was the team's leading scorer. In the Quebec Student Sports Federation (QSSF) final against Laval, she scored eight of Concordia's 13 points, helping the Stingers earn a berth at the National Championships. She remembers the tournament in Vancouver as the highlight of her varsity career.
"We had so many experienced players, and we clicked. It was a really fun team," she says. "And then we got to go across the country and play against all these teams that were as good or better than us."
The Stingers made it through the preliminary round to face the St. Francis Xavier University X-Women in the semi-finals at the University of British Columbia's imposing Thunderbird Stadium.
"We played on a grass field, and it was crazy November in Vancouver weather," Jackie remembers. "Rain, then hail, then sun, then more rain. It was the fourth game in two days that had been played on that field, and it was torn up."
Jackie opened the scoring with a penalty goal, and by halftime Concordia was already up 8-0. But in the final two quarters the X-Women managed to claw their way back into the game, pushing it into double overtime, and eventually winning by a score of 13-8.
It was a heartbreaking loss, but McGravie remembers Vancouver as a turning point for the team. "They all came back wanting to be better."
The next season, the Stingers earned silver at the National Championships in Trent, Ontario.
By 2012, Jackie's final season, the Stingers were stacked with new recruits. The team needed a leader, and as McGravie recalls, Jackie effortlessly slipped into the role.
"We were coming back from a pre-season tour out east. Sixteen hours on a bus. She had it all organized, in terms of what games we were going to play, the movies we were going to watch, all that kind of stuff. She just brought the team together. Every kid came off that bus wanting to play for Jackie Tittley."
The Stingers made it to the Conference Championships that year, where they faced the Laval Rouge et Or. McGravie credits Jackie with keeping her team alive under unrelenting pressure.
"I don't know where she found the physical and mental strength, but she made sure we played down in their end and kept us afloat for the 12 minutes we needed, and we won… She's just an awesome kid with a tremendous spirit — a real teammate to the other players. And on top of all that, she's got Concordia pumping through her veins."
Jackie graduated with a BA in Leisure Sciences in 2012. Today, she works at the Coaching Association of Canada in Ottawa, and still plays with the Barrhaven Scottish Rugby Football Club.
Looking back at her five seasons with the Stingers stirs up a lot of emotions. "My best friends are from the program… I grew up in this program. I feel this attachment, and a responsibility to be an ambassador."
Like her father before her, Jackie gained a lot from her years as a varsity athlete at Concordia — and contributed even more. The Tittley legacy endures, except as Larry points out, it's a little different than it used to be.
"You walk in with this young lady who's always been known as Larry's daughter — you're a Hall of Famer at the school! But now you walk on campus and you're known as Jackie's dad."

Find out more about the Concordia Stingers.
---