From bicycle couriers to guerilla gardening: intermedia production reaches out
A revamped Communications course embraces cross-disciplinary digital storytelling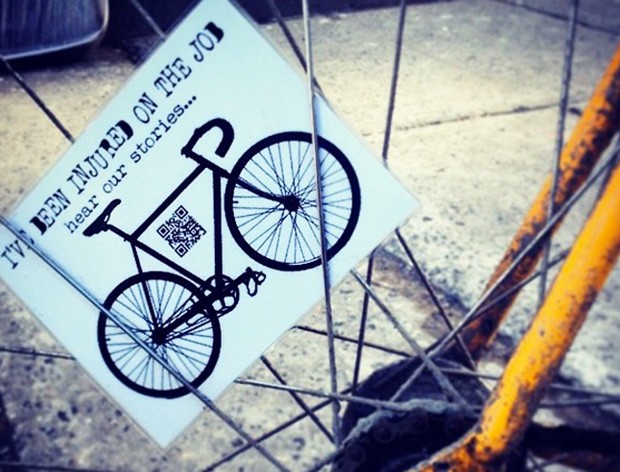 Spoke cards spread the word about the Bike Messenger Emergency Fund via Instagram. Students were tasked with making an intermedia project to advocate for a micro-community, such as bicycle couriers.
"Art isn't easy to categorize, especially when it's an emerging form of art," says assistant professor Emily Pelstring, who taught Intermedia Production last winter at the graduate level in Concordia's Department of Communication Studies.
Intermedia, defined as art that falls between existing types of media, embraces and solves the difficulty of categorizing emerging art forms. It's hybrid in nature, blending digital technologies with diverse practices, including performance art, installation, video and electronic art. In other words, the walls are torn down between disciplines to encourage a mashup of media.
"The temptation or danger when teaching intermedia is to simply teach a suite of software," says Pelstring. "I didn't want to teach Photoshop; I wanted to start with ideas, then find a form that suits the idea, not the other way around. Previously, the intermedia class tended to emphasize building technical skills, but I wanted to make sure the students went further."
Determined to find a higher-level methodology, Pelstring applied to the Curriculum Innovation Fund (CIF), a Concordia initiative that supports faculty members as they explore ways to improve teaching methods.
A joint effort of the Office of the Provost and the School of Graduate Studies, the CIF facilitates a key objective of the university's Academic Plan, to provide students with dynamic programs and engaging learning experiences.
Pelstring's proposal led to the redesign of COMS 570 – Intermedia Production for the winter 2014 term, a core course for the Graduate Diploma in Communication Studies. Pelstring's project is just one of several successful CIF projects from the Faculty of Arts and Science, many of which are still in the execution phase.
Cross-disciplinary storytelling
In the completely revamped COMS 570, students had to find a micro-community, and then take a cross-disciplinary approach to media making to tell the community's story. Additionally, students presented their projects to professional media makers from the National Film Board, who critiqued the students' work in progress.
"By broadening the course beyond the technical labs in this way, and promoting cross-disciplinary thinking, this CIF project ensures intermedia's high standards of creativity," says Catherine Bolton, Concordia's vice-provost of Teaching and Learning. "When digital storytelling mixes with other media, the impact can be tremendous."
Funding from the CIF covered guest speakers, teaching assistants and materials for the student projects. One such project focused on the micro-community of bicycle couriers in Montreal. Support Messlife Montreal, created by students Erin Martellani, Merriah Lamb, Giancarlo Aimone, Vanessa Hage-Moussa, was an integrated Instagram campaign with QR-coded bicycle spoke cards to raise funds for the international non-profit, Bike Messenger Emergency Fund.
"The outcome was very gratifying," says Pelstring. "We reached other cities' bicycle courier communities, as far away as Berlin."
Out of the lab
Another project focused on guerilla gardening — the anonymous use of public space to plant, in this case, edible plants that anyone in the city can harvest and eat.
"It was essentially a sustainability project," says Pelstring, who credits students Laura Dolgy, Shannon Lake, Stella Vassilaki and Hannah Deasy for the idea. "The students created an interactive map with harvest information. They also created QR-coded signage near the gardening sites, plus seed packages and seed bombs made of clay to distribute on site."
What impressed Pelstring about the results of her CIF project was the students' resourcefulness with social media platforms and how creatively they adapted technology they already knew into integrated, digital storytelling platforms.
"The CIF offered an opportunity for me to articulate my own philosophy of intermedia while giving the students the chance to use media for practical, community-based outreach," says Pelstring, who is now more convinced than ever that intermedia courses shouldn't spend too much class time in technical labs. "It's time to move away from the lab model and focus on the "idea first" methodology."

Learn more about Intermedia at Concordia.
---