A groundbreaking way to cool down cities
Concordia's Hashem Akbari helped develop a simple strategy that's having a big impact around the world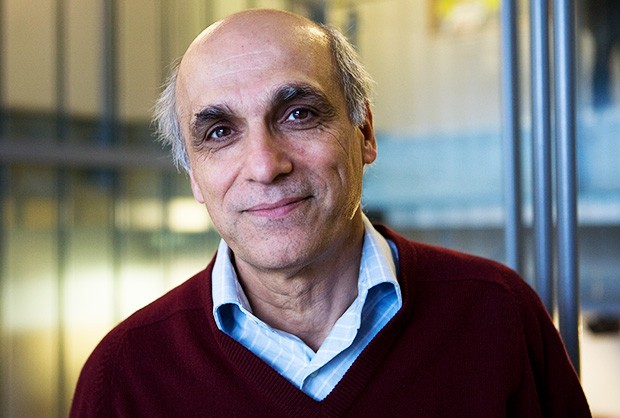 "I don't measure the success of my work just in terms of the number of research papers published, I measure it in terms of number of kilowatt-hours of energy saved." | Photo by Concordia University
Concordia professor Hashem Akbari is on a mission to change the world. He wants to transform our cities' roofs and pavement into white or lighter colours. White reflects a good portion of the sun's rays and helps prevent what are known as heat islands — an intense build-up of heat in urban areas. This afflicts northern cities such as Montreal as much as it does any southern city.
"For me, I don't measure the success of my work just in terms of the number of research papers published," Akbari says. "I measure it in terms of number of kilowatt-hours of energy saved."
In 2010, in collaboration with leading experts and colleagues, Akbari founded the non-profit foundation Global Cool Cities Alliance (GCCA). GCCA's mandate is to work with cities and countries worldwide to adopt relatively inexpensive measures against heat islands. The group cultivates relationships with governments and provides the necessary tools to help with the implementation of technology and new techniques. Sometimes the "technology" is nothing more sophisticated than installing white roofing materials instead of dark-coloured ones. But often the solutions are far more sophisticated.
The Science
In most cities, pavement and roofs together comprise over 60 per cent of urban surfaces. Akbari states that replacing 10 square metres of dark roofing with white roofing can offset one tonne of CO2. In other words, the temperature reduction due to radiation not being absorbed by the earth is equal to the increase in temperature caused by one tonne of CO2 in the atmosphere, effectively balancing any change.
That means if we resurfaced 60 per cent of the island of Montreal's 500 square kilometres with reflective materials, our city alone could offset over 12 million tonnes of CO2.
By decreasing absorption of roofs by 25 per cent and pavement by 15 per cent, the overall temperature of a city can be reduced by two to three degrees Celsius
The Implementation
The potential savings in becoming a "cool city" are enormous — not only in terms of energy consumption and money, but also in lives. Akbari points out that northern cities are ill equipped for heat waves, and for vulnerable populations, the consequences can be fatal.
Montreal is already on the path to becoming a cool city, with regulations adopted by several of the city's boroughs to ensure that any new construction or renovation project will respect the principles promoted by Akbari's foundation.
But it doesn't end there. Recently at the Third International Conference on Countermeasures to Urban Heat Islands, held in Venice, Italy, in October 2014, more than 150 national delegates signed an agreement to promote the principles espoused by the Global Cool Cities Alliance in their home countries. California has legislation already on the books to adopt "cool" technology, and a private member's bill was introduced into Canada's Parliament recently with similar aims.
Akbari is particularly optimistic about the positive outcomes for Quebec if the province continues to implement his principles more widely. "Any kilowatt-hour of electricity we save here in Quebec can be sold elsewhere, and because it's clean hydro power, it has the added benefit of potentially replacing electricity produced by coal or natural gas."
Still, he thinks so much more could be done. "Look at the pavements here in Montreal. Every year they are being worked on. That's an opportunity each and every time to implement more reflective surfaces and make this city cooler."

Learn more about what's going on in the Department of Building, Civil and Environmental Engineering at Concordia.

---