Concordia's Student Information System shines at Admissions Information Day
For the first time, prospective students apply on-site using the new portal
February 18, 2015
Source: University Communications Services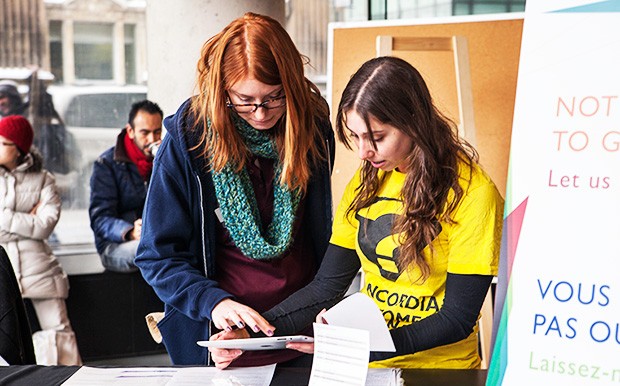 "We set up 14 laptops in the atrium for on-site applications, but demand was so high that we had to use a lab on the fifth floor with another 27 computers." | Photo by Marion Elissalde
Sir George Williams campus was abuzz with the sights and sounds of Admissions Information Day on Saturday — where prospective students applied to Concordia on-site using the new Student Information System (SIS) for the first time.
The SIS is an enterprise-level system that supports virtually all student-related services, processes and business functions at the university. It went live on Monday, January 26, when Concordia's 32-year-old legacy information system was replaced with a package solution from Oracle/PeopleSoft called Campus Solutions.
A record-breaking day
Admissions Information Day turned out to be a showcase for the new system: the SIS facilitated the processing of 722 applications on Saturday alone — including a record number of online applications at the annual event itself.
"We set up 14 laptops in the EV atrium for on-site applications, but demand was so high that we had to use a lab on the fifth floorwith another 27 computers," says Matthew Stiegemeyer, director of student recruitment in Student and Enrolment Services.
"This was our first large-scale deployment of the new application, and our visitors on campus were able to go through the online process and indicate their choice to be part of the community."
Prospective students lined up and signed up
When Eva Hirsch and her dad, Andrew, drove up to Montreal from their home in Middlebury, Vermont for Admissions Information Day, she was considering attending Concordia in September, but didn't know she'd end up applying on the spot.
"I always loved the idea of Montreal, so why wait?" said Hirsch, who hopes to be accepted into either the Department of Biology or the Department of Education. On Saturday, she completed her online application in just 25 minutes.
The same smooth, self-service process facilitated the applications for Roberto Hernandez, who wants to study finance; Jeremie Corriveau, who hopes to study electroacoustics in the Department of Music; and Sophia Evangeliou, who applied to the John Molson School of Business.
"I was at Concordia's Open House in the fall, but I wanted to come and apply here, just for the experience and to take the edge off any anxiety," said Evangeliou. "Getting the application done so easily is a good start."
"We're pleased to see a record number of students and their parents here this year for Admissions Information Day," said Bradley Tucker, associate vice-president of Registrarial Services and the University Registrar.
"They're our first generation of students being introduced to the new system, never having known the old system. Listening to them and their experiences will be important as we look to the future of the new system."
An adaptation challenge
Enrolment Services experienced a few difficulties during the earliest days of the SIS implementation. Some applications submitted before the go-live date had to be updated manually, to verify receipt of the students' supporting documents.
"Glitches related to application conversion are now fixed," says Stiegemeyer. "For a week after the go-live date, it was hard to access and evaluate applicant files, plus students weren't getting automatic confirmations when they paid their application fee. Now, students have started to receive their offers of acceptance."
SIS issues on deck
As with any system implementation of this size and scope, there are some SIS issues to resolve, as departments work with the functional and technical teams to implement solutions.
"We're committed to listening and finding ways to support the key processes managed by the system," says Tucker.
"A major system transition like this counts upon our ability to collaborate as a community to solve issues as they arise," Tucker adds. "I appreciate the patience of our community as we move forward through this implementation period with an eye to taking advantage of new functionality in the future."

Faculty and staff can learn more about the new Student Information System in the SIS Renewal Project Hub on Cspace.
---