What is the correct legal response to hate crimes and public health emergencies?
A Sociology and Anthropology researcher explains why we must be "very, very open to new ideas"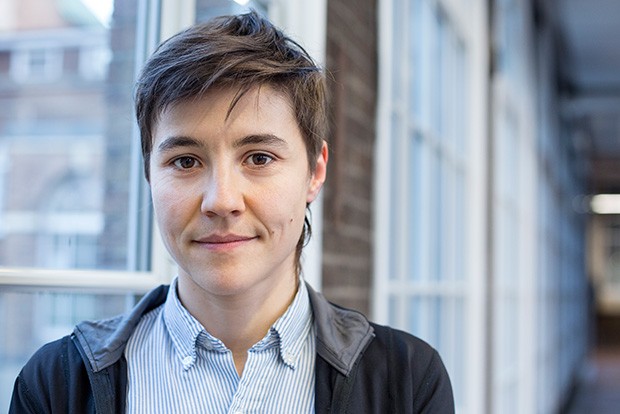 Amy Swiffen: "I look at new areas of law or emerging contexts, situations where there isn't an existing precedent or consensus on what law should be." | Photo by Concordia University
Concordia researcher Amy Swiffen isn't afraid of taking on controversial topics or unexplored areas of study — in fact, she thrives on it. Through a double lens of sociological theory and law, she examines contentious and provocative issues facing contemporary legal studies.
One of her most latest subjects was hate-crime legislation in Canada and the United States. In a recently published article, Swiffen addressed a new resistance to legislation from certain LGBTQ communities and poor communities in the U.S. that has yet to be addressed in the mainstream legal debate.
She ultimately argued that the hate-crime debate should be reframed around the idea that criminalization is itself a form of violence.
"I look at new areas of law or emerging contexts, situations where there isn't an existing precedent or consensus on what law should be, or where the authority of law comes from," says Swiffen, an assistant professor in the Department of Sociology and Anthropology at Concordia. She also won the 2013-14 Dean's Award for Outstanding Research (Junior Scholar category) in the Faculty of Arts and Science.
Swiffen is currently tackling two different projects. The first is an investigation into the criminalization of HIV non-disclosure — the practice of criminally charging people who are alleged to have not disclosed their positive status to sexual partners.
Many countries have promulgated HIV-specific criminal statutes, while others apply pre-existing criminal laws to instances of transmission and non-disclosure. Canada is at the forefront of criminalizing this behaviour, and an offender has already been convicted of murder here.
"It's an interesting area of law because basically what's happening in Canada is that the government is using existing laws, especially around sexual assault, and trying to apply them or make them fit this new situation. It's quite controversial," Swiffen says.
She has compiled a database of all the cases of criminal convictions for HIV non-disclosure in Canada up to 2013, and is in the process of analyzing that data.
With Martin French, a departmental colleague at Concordia, Swiffen will be publishing two research papers that explore how health information is used in criminal trials. One considers the role of epidemiological information in criminal prosecution for HIV non-disclosure, while the other looks at how individual health records are being "repurposed" for evidence in criminal trials.
Swiffen's second ongoing project focuses on public-health emergencies like the outbreak of a communicable disease. While an Ebola-type crisis has yet to occur in Canada, threats will continue to arise and legal reforms are therefore required to facilitate a governmental response.
"This is a very important issue at the moment that does not appear to have been sufficiently considered in the literature," Swiffen says. Her research identifies precedents from various areas of law that are likely to be invoked in a public-health emergency, and examines how they might be used.
The project is funded through a grant from Quebec's Fonds de recherche sur la société et la culture. Swiffen has so far written one article on the use of Canada's Emergencies Act in the context of a public-health crisis, and another on the use of criminal law to address the federal government's power to quarantine.
But this research is just a small sample of Swiffen's work. She has written a book, Law, Ethics and the Biopolitical; co-edited The Ends of History: Questioning the Stakes of Historical Reason; and has been published in numerous academic journals. Outside academia, she writes for law magazines such as Insights in Law & Society.
"I try to publish shorter pieces in professional magazines to put out information that I think is important for people to know," Swiffen says. "I put it out into the professional world and make it accessible to people for whom its useful."
Despite these accomplishments, Swiffen is passionate about continuing to learn. Her next move? A sabbatical to acquire a master's in legal studies at the University of Toronto.
"I realized that to keep my motivation and my interests, I needed to continue to expand my horizons, to continue to learn new skills and develop my academic perspective," she says.
"I think one of my strengths as an academic, and something I would recommend to all academics, is just to be very, very open to new ideas and new approaches."

Find out more about Concordia's Department of Sociology and Anthropology.
---