'You have built this incredible place'
Concordia honours 279 staff and faculty members at the 2014 Long-Service and Retiree Luncheon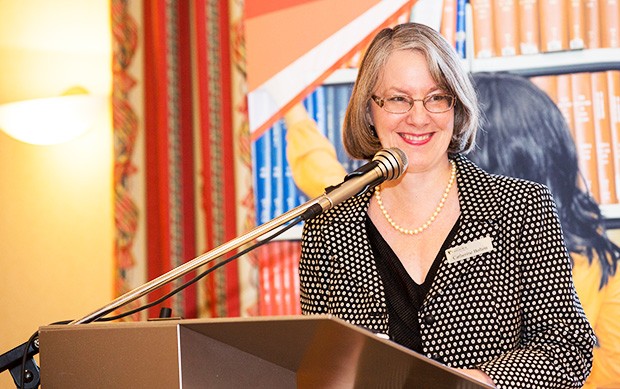 Catherine Bolton celebrates 25 years at Concordia. | Photos by Concordia University

On December 4, an impressive archive of institutional memory was present at the 2014 Long-Service and Retiree Luncheon, where the university celebrated members of its staff and faculty who have reached milestones in their careers. More than 200 members of the community came together to share in each other's successes.
The numbers say it all. There were 41 people with 20 years of service, 69 with 25 years, 53 with 30 years, 37 with 35 years, 12 with 40 years and three with a remarkable 45 years of service, as well as 64 retirees.
Concordia's Vice-Provost Benoit-Antoine Bacon shared those numbers while congratulating staff and faculty, before joking that some of those being honoured had worked at Concordia during Woodstock and the first moon landing.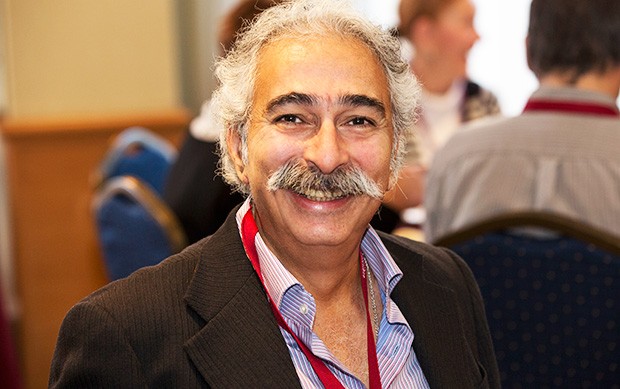 Atila Pahlavan (25 years).
"Together, you have brought Concordia to life for two, three or four decades," said Bacon. "You have built this incredible place."
"Concordia is a product of all the many contributions of its community members," said Carolina Willsher, Concordia's associate vice-president of Human Resources. "Concordia is community, a community of people. And you have been, and continue to be this community."
Ron Rehel, a technical supervisor in the Department of Exercise Science, was among the honourees. The feeling of community is something Rehel can relate to. He says one of the main highlights of his career has been interacting with the people he works with, which is also why the luncheon is such a special event.
"The soup, the main course, the dessert, all were so satisfying," said Rehel. "But the company was absolutely stimulating."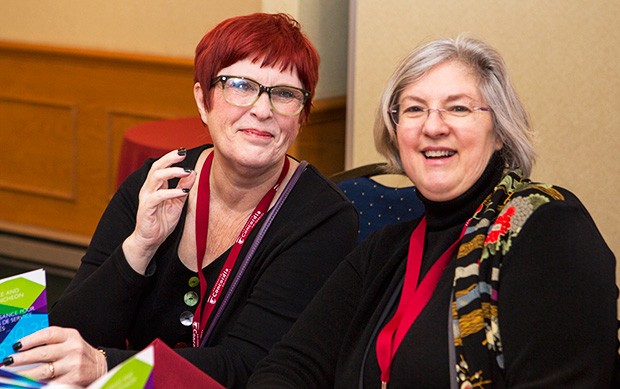 Catherine Mackenzie (35 years) and Lorrie Blair (20 years).
After 35 years at Concordia, Rehel is on the cusp of retirement. "Being surrounded by young minds in this wonderful environment keeps one's own spirit young," said Rehel. "I am probably not alone when I say the passage of time has occurred but there exists a measure of disbelief. It is an easy milestone to have sneak up on you when you enjoy what you do."
Another honouree, Peter Grogono, a professor of Computer Science and Software Engineering, is celebrating 30 years of service. Like Rehel, Grogono said reaching this milestone at Concordia was easy.
"Unlike a company, in which long-term service may become stifling, a university is always changing," said Grogono. "Each fall brings a new set of faces and personalities, and my own graduate students would arrive, grow and mature, then graduate."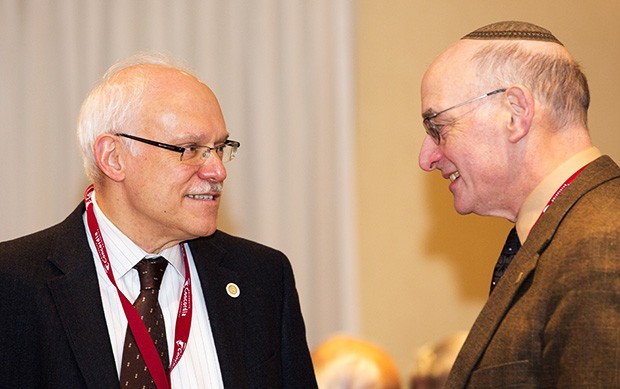 Calvin Kalman (45 years) and Ira Robinson (35 years).
Catherine Bolton, vice-provost of teaching and learning, who was in attendance to celebrate her 25 years of service, spoke of how the university had changed and the importance of sharing our stories and remembering where we came from as we move into the future.
"I think that the fact that we have such a strong community is because we have stories that reach so far back into the past," said Bolton. "And we will continue to build good, strong stories because of the dedication of all of you who come to work every day to work with each other."

Read more about staff who were honoured at the Long-Service Luncheon.
---