RECODE: $500,000 for Concordia's new social-entrepreneurship launch pad
The partnership-powered initiative will enable students to play an active part in engagement and mobilization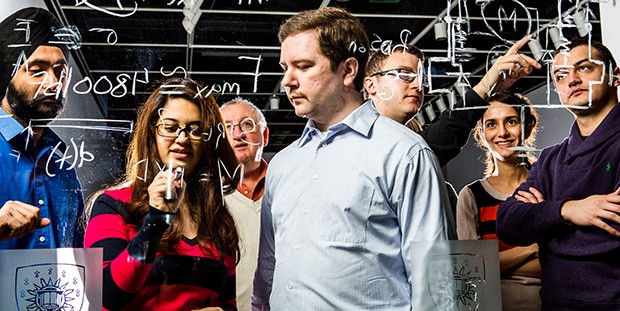 RECODE will create a social innovation zone in collaboration with Concordia's District 3 Innovation Center, among others. Photo by Concordia University

Concordia students who are interested in contributing to the social economy — a sector that includes charities and non-profit organizations — will soon have unprecedented opportunities to become active players in social innovation and entrepreneurship (SI/SE).
On November 6, the J.W. McConnell Family Foundation awarded $500,000, the maximum amount, to Concordia for its RECODE initiative. The project is a collaboration between partners from the private, public and non-profit sectors. It aims to foster new social enterprises, and create a network that spans institutional and sectoral boundaries.
RECODE Concordia's mandate is to provide students with key SI/SE-related skills. Because of its partnership with leading local consortia, the initiative has the potential to help students at all levels contribute in transformational ways to the development of Quebec's and Canada's social economy.
Marguerite Mendell, a professor and graduate program director at Concordia's School of Community and Public Affairs, sees RECODE as an ideal opportunity for budding entrepreneurs who are keen to launch ventures that address social or environmental issues in both the profit and non-profit sectors.
"These are new forms of business that are committed to social justice and sustainable development," she says.
Developing incubation capacity at Concordia
By building on the university's proven success in providing SI/SE with business intelligence and access to the entrepreneurial ecosystem and funding channels, RECODE will create a social innovation zone in collaboration with Concordia's District 3 Innovation Center, the Incubateur universitaire en innovation sociale at Université du Québec à Montréal (UQAM) and the Incubateur universitaire Parole d'excluEs, a non-profit, grassroots organization dedicated to ending exclusion in all its forms.
The partners will also collaborate with incubators outside the university system, like the independent financing platform La Ruche.
Curriculum integration and experimentation
RECODE's mandate also includes broadening student engagement and piloting new credit-based learning models.
These efforts include the creation of an SI/SE elective course, undergraduate minor and graduate certificates, as well as independent study and collective learning opportunities.
A multi-sectoral approach
The initiative will also foster a network of partnerships among leading institutions, clusters and community-based social innovation zones in Quebec and across Canada.
This will provide mentorship opportunities and student mobility across the province's business community. Confirmed partners include Territoires innovants en économie sociale et solidaire and Chantier de l'économie sociale, as well as UQAM's Centre de recherche sur les innovations sociales and Services aux collectivités.
"This project is exactly where we want to go as a next-generation university," says Graham Carr, Concordia's vice-president of Research and Graduate Studies. "It embodies forward-thinking ideas — cross-sectoral and institutional partnerships — as well as student entrepreneurship aimed at tackling social issues."

The university is investing $750,000 in financial and in-kind contributions. It is also one of 14 colleges and universities across Canada to have been awarded matching grants.

---