Can art transform communities?
Canadian practitioners converge on Concordia to learn to build an "art hive" for every community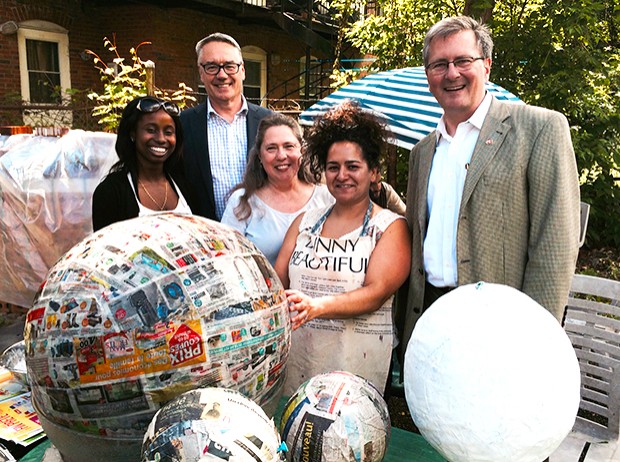 Making connections (from left): Student Alyssa Archer-Cooper; J.W. McConnell Foundation president Stephen Huddart; Janis Timm-Bottos; student Andrea Quintero; and Concordia president Alan Shepard at La Ruche d'Art St. Henri's Each One, Teach One event on June 6. | Photo courtesy of the Faculty of Fine Arts

Janis Timm-Bottos, an assistant professor in the Department of Creative Arts Therapies, has brought her practice, teaching and research to one of Montreal's most storied neighbourhoods ­— St. Henri.
La Ruche d'Art St. Henri, a storefront studio and gallery Timm-Bottos established three years ago, is a community space open to anyone who wants to come in and make something.
"It's a non-programmed space that allows for potential connections to take place," Timm-Bottos says. "Making art connects us across languages, races, ethnicities and religions."
It's simple, she says: come together, tap into your creativity, connect with others and try to come up with solutions to the problems a community is facing. It all starts with creating a sense of belonging.
From June 13 to 15, some 50 art-practitioners, educators and funding representatives from across Canada will converge at Concordia's Grey Nuns Building for a national symposium on arts-based social inclusion.
In the past 20 years, Timm-Bottos established six centres — which she calls art hives — in cities across North America, each adapted for an individual community through her sustained practice research.
She says the hives are designed to stimulate the imagination, informally build art skills and foster community among neighbours and students. "We need places where everyone can rediscover the power of expression through the arts, and see our generosity of making and sharing is received."
This week's visitors will explore La Ruche d'Art and Montreal's other art hives in the Ahuntsic and St. Henri neighbourhoods to produce work of their own, and to see how the establishments operate. The participants will draw on their own experiences and expertise to collectively imagine how the model can work within their own communities.
With the help of its staff — which includes two art therapists — La Ruche D'Art offers outreach initiatives designed to encourage creativity among the community beyond the studio with an eye to welcoming people and groups who may have traditionally been marginalized from accessing the arts.
Thanks to the support of the J.W. McConnell Foundation, the Gainey Foundation, Federation CJA, the Office municipal d'habitation de Montréal, Eco-Quartier du Sud Ouest, the Concordia Greenhouse and, of course, the Faculty of Fine Arts, its programs are free of charge.
"We're proud to help sustain such a unique research initiative," says Catherine Wild, dean of the Faculty of Fine Arts. "Janis's art hive model is a great example of how research can have a direct and immediate effect on our surrounding community and neighbours."

Classroom connections
For Wild and Timm-Bottos, it is important to connect the work of the art hive to the work of the university.
In 2011, Timm-Bottos introduced "Community Art Studio Methods and Materials," a service-learning course cross-listed in the Departments of Creative Arts Therapies and Art Education.
"It's all about students practicing what they are learning," she says.
The class takes place in the La Ruche d'Art storefront. At first, students experience the hive as participants to understand how it works. They then complete 15 hours of service-learning over the course of the term.
The class concludes with an event, Each One, Teach One, at which students present new skills in small groups and receive peer instruction in return.
"By the end of the term, they have come to understand that we are all part-teacher and part-student," Timm-Bottos says. "We're levelling the playing field with regard to the idea who has something that is worth sharing."
Wild describes the course as a vehicle for knowledge transfer. "A course of this kind complements community-based research in a positive way," she says. "Having the research integrated into curriculum sees that the knowledge travels even further."
"Community Art Studio Methods and Materials" has been offered four times, most recently in the spring 2014 term; 72 students have taken it to date. The course encouraged four of those students to develop art hives of their own in Montreal, Vancouver, British Columbia, and Oshawa, Ontario.
"It helps students find their cause and a way to make a small change from their own vision while serving a community."
At this week's symposium, students from Timm-Bottos's "Community Art Studio Methods and Materials" course will present their final projects for their visiting audience.
"This is a chance for them to see how what they learn in class can actually help make a positive impact on the world."
After the symposium concludes, the ideas it generates will be turned into an online tool kit for those who aspire to starting art hives of their own.
"The experience offers the opportunity to learn about the nuts and bolts of translating this sort of vision into a tangible reality," Timm-Bottos says.

---