A passion for teaching
Three part-time instructors reflect on life inside — and outside — Concordia's classrooms
Francine Tremblay: creating engaged citizens
Francine Tremblay, a part-time sociology instructor at Concordia, hopes her students leave her classes with more questions than answers. "It's not about agreeing with me," she says. "I don't care what you think about prostitution. Argue with me!"
Ten years after completing her BA in psychology at Concordia, Tremblay returned to pursue a certificate in family education. The program director encouraged her to complete a second BA in applied human sciences instead. During an elective course in sociology, a light went on.
"I just thought, 'Okay. This is it,'" Tremblay recalls. "Sociology was the missing piece! I thought, 'How can I understand the individual without understanding the social context?' I needed to know more."
In 2001, Tremblay completed her MA in sociology from Concordia, and a year later landed her first teaching job at the university. "I taught a 200-level course called Social Problems. I was a nervous wreck," she admits.
She need not have worried. An avid reader and social theorist with a strong interest in inequality, deviance and social movements, Tremblay also brought years of experience as a volunteer with indigenous women and sex workers to her teaching practice.

Sociology instructor Francine Tremblay says her work experience, including volunteering with indigenous women and sex workers, "keeps my theory grounded."
"I like to have one foot in academia and one foot in the real world," she says. "It keeps my theory grounded."
Recently, Tremblay was appointed chair of External Relations for the Concordia University Part-time Faculty Association (CUPFA). She is also working on a pilot research project aimed at assessing student engagement at Concordia, supported by a $4,000 grant from CUPFA.
Community activism, a union role and academic research: it's all part of being an engaged teacher who strives to create the same restless curiosity in her students. Tremblay says she's happy to ruffle a few feathers if it means getting her classes really thinking about the issues affecting their society.
"I want to confuse them sometimes," she says. "As a matter of fact, it's in my course evaluations. Apparently I confuse them. Good! I shape citizens. That's my job."
Patrick McDonagh: a man with many hats
A teacher, freelance writer and avid researcher in the field of disability studies, Patrick McDonagh is not sure what he considers his main gig.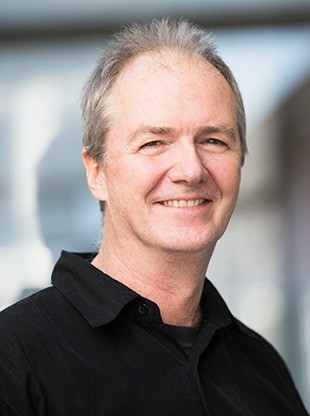 Patrick McDonagh, a part-time faculty member in the Department of English, is a frequent contributor to Concordia University Magazine.
"A lot of effort goes into preparing a course. So it seems that when I'm teaching, that's the main thing," says the part-time faculty member in Concordia's Department of English. "That said, I always have a lot of projects going on the freelance side, and I'm also doing a lot of academic research."
In 1998, McDonagh received a PhD in humanities at Concordia for his study of cultural representations of intellectual disability in 19th-century England. A decade later his book, Idiocy: A Cultural History (Liverpool University Press, 2008), was published to critical acclaim. "McDonagh has set a new standard in the history of intellectual disability," wrote one reviewer from Truman State University.
Currently McDonagh is co-editing a collection of essays on the history of ideas of intelligence and intellectual disability, slated for publication next year.
The British Columbia native traces his interest in cultural representations of intellectual disability to a summer job he held as a university student working with autistic children.
"It ended up being quite fascinating — and some years later I also realized that this interest could become a research project," he says
In 1987, before moving to Montreal to pursue his PhD, McDonagh turned his interest into action, co-founding a non-profit agency in Vancouver that provides support services for people with developmental disabilities, autism and acquired brain injuries. The Spectrum Society for Community Living is still active. While McDonagh is no longer involved in day-to-day operations, he remains on its board of directors.
When he first arrived at Concordia as a PhD student, McDonagh immediately sought out work on campus to support himself. With no teaching assistant positions available at that time in his department, he took a job teaching technical writing to engineering students. After earning his PhD, he was offered a part-time position in the Department of English.
The job often requires McDonagh to quickly get a handle on weighty texts included in the syllabus for a course he's never taught before. Yet he enjoys the challenge, and the payoff is that he gets the chance to discuss great works of English literature with his students.
"I like the preparation, I like digging into it on my own, and the classroom itself is a stimulating environment," he says. "There are always some good insights that come up — things I wouldn't have thought of, that I find exciting to hear. It's not a bad life, talking about literature with a big group of people."
Robert Mearns: teaching for the fun of it.

Part-time faculty member Robert Mearns is celebrating 50 years of teaching mathematics at the high school, CEGEP and university levels. "If I had to do it all over again, I'd do exactly the same thing," he says. "I guess I'm one of the lucky ones who's made a career out of something I don't regard as a job. That's why I'm still at it."
Mearns earned a BA and MA from Sir George Williams University, one of Concordia's founding institutions, and then an MSc in mathematics from Concordia in 1979. After teaching high school in Chateauguay, Que., in the 1960s, he began working at John Abbott College in Ste-Anne-de-Bellevue, Que., when it first opened in 1971. Four years later he took his first job as a part-time instructor teaching night courses in Concordia's Department of Mathematics and Statistics.
Working at Concordia, he says, "was a chance to come down from the milieu where I was, which was kind of homogeneous, and deal with people from all over the world — listen to their stories about why they came here; some of them wanting to go back to their homelands, some not. It was a chance to open up."
Almost 40 years later, Mearns has retired from his full-time role at John Abbott College, but he still teaches 200-level courses mathematics courses at Concordia. "Now I'm doing this just for fun," he says.
And how does he describe the particular moment that keeps bringing him back to the classroom?
After more than four decades, Robert Mearns is still motivated by the moment his students "get it."
"When you see a student sitting in front of you with a stern look on their face, as you're trying to describe something or explain something, and then all of a sudden they crack a smile... You know that they've got it," Mearns says. "That's a helluva reward for me. That's what I get out of it."
We'll be running more part-time faculty profiles over the next few weeks. Stay tuned.

---