Concordia's new accounting diploma will carry on a 'tradition of excellence'
JMSB prepares to inaugurate its Chartered Professional Accountancy program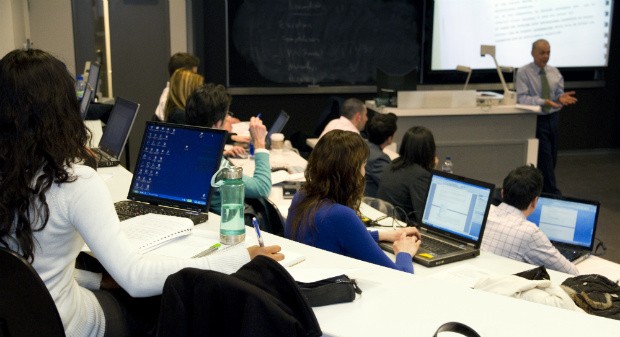 Concordia's CPA program is now accepting applications. | Photo by Anna Gunaratnam

For the hundreds of students wishing to pursue careers in accountancy in Quebec, the wait is over. On March 14, Concordia's Senate approved the curriculum for a new certification program called the Graduate Diploma in Chartered Professional Accountancy (CPA) at the John Molson School of Business (JMSB).
This program came about as a result of the province's 2012 accounting designations merger. Prospective students stood by while its standards and regulations were set, and the certification program designed.
Concordia's CPA program is now accepting applications: it welcomes its first cohort this September.
In the past, accounting students followed one of three separate educational paths. These lead to three distinct designations: chartered account (CA), certified management accountant (CMA) and certified general accountant (CGA).
CAs typically worked for major accounting firms, performing corporate and government audits. Because CMA programs focused more on business management, their graduates normally aimed to fill corporate managerial and leadership roles. The CGA designation was attractive to to professionals who wanted to add accounting to their business skill set.
In May of 2012, the three professions were merged in Quebec under a common set of regulations. All accountants who were previously members of CA, CGA,or CMA orders are now part of the new Ordre des comptables professionnels agréés du Québec (CPA Order). With more than 35,000 members, it is the province's largest professional order.
According to program director Trevor Hagyard, the Concordia CPA program will be similar in many ways to its predecessors, with a few key differences.
"The program will be 30 credits, and courses will generally be offered in the evening as students gain daytime work experience in public accountancy firms or other enterprises," he says. "And, subject to certain conditions, students will be able to transfer credits from the CPA program to our MBA program in recognition of the high quality of the courses offered."
Accountancy has long been an area of strength for Concordia. Haygard believes the Department of Accountancy will offer one of the top CPA programs in the province.
"We have offered the Diploma in Chartered Accountancy program since the late 1970s. In that time, we trained thousands of successful chartered accountants and many of our graduates have key roles in industry, public accounting, education and other enterprises," he says. "Our success rate on the final Uniform Final Examination of the Order of Chartered Accountants has been excellent and we expect this tradition of excellence to carry through to the new CPA program."

Learn more about Concordia's new Graduate Diploma in Chartered Professional Accountancy at the John Molson School of Business.
Read an interview with Alexandre Bilodeau, gold-medal Olympian and Concordia accounting student.

---