'District 3 is a call to action'
Concordia's incubator of innovation nurtures interdisciplinary ideas with big potential. We take a look back at its first year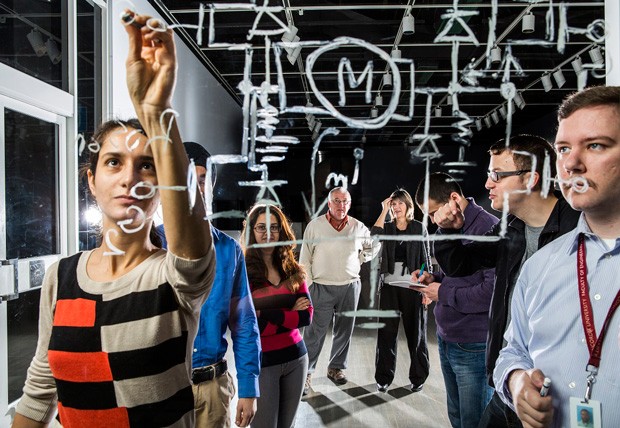 A "win-win for everyone": students Narges Roofigari Esfehani, Depinder Singh Bhullar, Shayesteh Mohammadbeigy, Sergiu Geamanu, Andrew Henry and Ryan Desgroseillers with Off The X's John Brkich and District 3 founder Deborah Dysart-Gale.

In the fall of 2011, John Brkich (BEng 71) came to Concordia University for the 40-year reunion of his graduation class. He had no idea he was about to be headhunted.
The retired engineer's 29-year career had helped transform fields as diverse as ballistic fingerprinting and process control and automation. His friend and fellow alumnus Xavier-Henri Hervé (BEng 87) wanted to recruit him for the nascent District 3 — an "incubator of innovation" that he had recently founded at Concordia. The reunion that crisp autumn day ended up being about a whole lot more than cocktails and canapés.
District 3 was, at the time, an idea without a name. But the intent was clear: to give students from all Concordia Faculties an environment in which they could participate in projects with an innovative or entrepreneurial mandate. A home for the facility was found on the 7th floor of the Engineering, Computer Science and Visual Arts Integrated Complex.
Hundreds of curious Concordians attended an information session in November 2012. Shortly thereafter, students themselves officially coined the effort's name, District 3 — the "3" standing for its three founding principles: innovation, collaboration and entrepreneurship. By the spring of 2013, District 3 was open for business.
An incubator comes into its own
The speed at which District 3 took flight owes largely to the zeal of Hervé, himself a successful entrepreneur. He had co-founded Mechtronix in 1987. It became one of the fastest-growing aviation simulation companies in the world, and Hervé was awarded an honorary doctorate by Concordia, recognizing his team's business and engineering prowess.
As for Brkich, he had grown up in the Montreal area, and six years after graduating from Concordia joined the company of yet another alumnus, Bob Walsh. With Walsh Process Control, Walsh Automation and then a spinoff enterprise called Forensic Technology, Brkich became, in his words, a "process guy" — adroit at finding ways to automate or otherwise improve the performance of diverse systems.
In the late 1980s, during a camping trip, he got talking to a firearms expert and discovered just how time-consuming it was to find a possible match between a criminal's gun and a bullet found at a crime scene. With the use of the latest cameras, computers and software, Brkich felt confident there was a faster way. He was right. Forensic Technology, under the leadership of Bob Walsh, is now among the world's leading companies in ballistics identification and analysis.
Over the summer of 2013, a dozen teams filled District 3, all of them engaged in wildly different projects: an inflatable plant-growing bed, a laser-welder and a chair made from electronic fabrics, to name just a few. Projects came in two varieties: those that were the creations of students who are themselves entrepreneurs, and those mandated by alumni, established industry leaders and experts.
The projects are interdisciplinary collaborations between the interns — graduate and undergraduate students from the Faculty of Engineering and Computer Science, the John Molson School of Business and the Faculty of Fine Arts — and experienced alumni, who provide expert guidance.
"One of our key success factors has been the active involvement of our alumni, first as entrepreneurs and leaders, as the industry experts who coach and mentor our Concordia students," says Hervé. "District 3 is a call to action for all alumni who want to take part in entrepreneurship or innovation."
Brkich was the ideal alumnus to serve as a mentor and, as it turned out, a whole lot more. He and his business partner, Andrew Sutherland (BA 04), who graduated with a degree in sociology, had earlier identified a prime opportunity. Sutherland had served as a front-line police officer. He noticed that when police needed to break down the doors of commercial and some residential buildings, they were exposed to enormous risks.
The space in front of a door was known as "the fatal funnel:" a criminal with a gun might be standing on the other side, or there might be hazards from flames and projectiles. To keep police and other emergency responders safe, a device was needed that could break down doors remotely. Sutherland had an idea of how such a device could be built — but, as Brkich points out, "We had no capabilities to design or build it."
So their project, Law Enforcement, came into being, an official mandate from the company Brkich had co-founded in his retirement, Off The X. Sutherland spent most of August through October in Montreal, consulting on a weekly basis with the student team that had been formed to work on a functioning prototype.
"The credibility of the university and the students' skill set was a major plus for us," says Sutherland. "For a project like this, you need professionalism. That is number one, and at Concordia, we couldn't have asked for more."
Big ideas
Ryan Desgroseilliers, an electrical engineering undergraduate, was then — and is still — a member of the team working to convert Sutherland's ideas into a prototype.
He explains the numerous challenges he and his fellow students are overcoming.
"We are targeting steel doors," he says. "We need to make sure our device can handle that and not be damaged in the process. We have to manage very high forces — thousands of pounds. That's very rare for an academic project. The whole point of the device is that it breaks things."
The prototype goes for final testing — user validation — in the spring of 2014. Once that is formalized, District 3 will be asked to participate in the design, prototyping and testing of other inventions from Brkich and Sutherland.
Brkich couldn't be more pleased with the progress to date. "The team in D3 has exceeded my expectations," he says. Law Enforcement has now become a final-year project — what's called a capstone — for several of the team members. In other words, it will help students earn credits towards their degrees.
This is a major coup for the chairs of the departments in engineering, such as Bill Lynch, who leads the Department of Electrical and Computer Engineering, and who pushed hard for innovation and entrepreneurship initiatives to be embedded within university curricula. The plan is for many more projects to become capstones in the future.
"What we need right now is experts in residence — alumni with experience who can help as coaches and mentors," says Hervé. "With the alumni who have already helped us get this far, we've proven District 3 is a win-win for everyone. Now it's a matter of growing it. Join us."
---