Concordia welcomes back a literary trailblazer
Clark Blaise, who will be awarded an honorary doctorate by Concordia on November 21, will make an appearance at Writers Read on November 19
Author, educator and new Concordia honorand Clark Blaise is all set to address the Faculty of Arts and Science at fall convocation on November 21. But he also plans to make two more intimate appearances next week.
On November 19, at the latest instalment of the university's Writers Read series, Blaise will present a work in progress: in his words, a "Franco-American novel about that fringe area of northern New England that borders on Quebec, and whose population were all totally French going back 50 years." Then, on November 22, he's teaching a master class with his wife, writer and professor Bharati Mukherjee.
Both events are tied to the Department of English — where Blaise taught until 1978, after founding Montreal's first university-level English creative writing program at Sir George Williams in the late 1960s. He has since published three novels and four works of non-fiction including the Pearson Prize-winner Time Lord: Sir Sandford Fleming and the Creation of Standard Time, as well as contributing essays and short stories to more than 100 anthologies.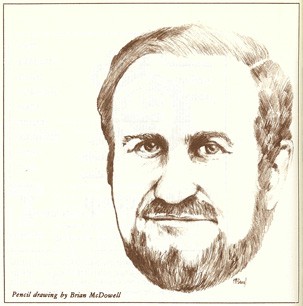 Pencil drawing of Clarke Blaise by Brian McDowell, taken from the Illustrated Companion History of Sir George Williams University.
When asked about his propensity for short-form writing, Blaise quotes a friend of his who once said, "I never had an idea that I couldn't treat in 20 pages."
You started teaching at Sir George Williams University in 1965 and remained at Concordia until 1978. How do you remember your time at the university?
CLARK BLAISE: It was my longest and most satisfying teaching experience. And it happened at the time I was just starting out — when I was trying to make a name for myself, and trying to do something for a writing community that I felt was missing in Montreal. It was all very satisfying.
What did you think was missing in Montreal?
CB: I came from the very closeted writing community in the Writer's Workshop in Iowa, where everyone was a writer, and everyone wanted to be a writer, and everyone was studying and writing furiously all the time. When I came to Montreal, I saw that there was no real cluster of writers keeping one another company.
We had writers at Concordia — Jerry [C.J.] Newman was there, Margaret Atwood was there, and I was there. But Jerry left almost immediately for the west coast, and Peggy [Atwood] went to Toronto after a year, so that really left a big hole in the community.
John Metcalf patched that up with the [fiction performance group] Montreal Storytellers, and we did that for a few years. But there were no young people. I was teaching a writing course, so I saw that there was a lot of talent in the Montreal community, but they didn't know any other writers. There wasn't a kind of fraternity feeling where everyone was helping each other get ahead.
Was it hard work getting the creative writing program off the ground?
CB: I had a lot of help. The chairman was Sidney Lamb. When I went to him with a proposal to start a creative writing master's program, he said, "Are you proposing turning out writers like Ford motor cars?" I said, "Yes!" And he carried it off.
Do you remember any particular students from your time at Concordia?
CB: Oh yes. I'm close to many of my students I had in those years. They were probably the most talented bunch that I've ever taught, including in very prestigious workshops.
Peter Behrens [winner of the 2006 Governor General's Award for Fiction], Nino Ricci, Mary Soderstrom, Terence Byrnes [associate professor of English at Concordia], Ramon Kubicek, Howard Shrier, the list goes on … I run into them all the time, and get letters from them still, so it's a very nice relationship I have with my Montreal students.
What does it mean to be coming back to accept an honorary doctorate at the university?
CB: It's the closing of a door that's been open for a long time. So there's a sense of finality: it's a circle that's now completed.
What: Writers Read presents Clark Blaise
When: Tuesday, November 19, 2013, at 4 p.m.
Where: Room H-767, Henry F. Hall Building (1455 De Maisonneuve Blvd. W.), Sir George Williams Campus
What: Master class with Clark Blaise and Bharati Mukherjee
When: Friday, November 22, from 10 a.m. to 12 p.m.
Where: Room LB-646, J.W. McConnell Building (1400 De Maisonneuve Blvd. W.), Sir George Williams Campus

The master class is open only to graduate and undergraduate students in the Creative Writing Program. There are 35 places. If you're interested, please sign up on the sheet pinned to the door at LB-683.7 (the office of Stephanie Bolster, associate professor and coordinator of the Creative Writing Program).
Find out more about Concordia's two new honorary doctorates and pick up expert advice from five great grads.
---