Tired of your snarly commute?
Download the free app that could redefine transportation in Montreal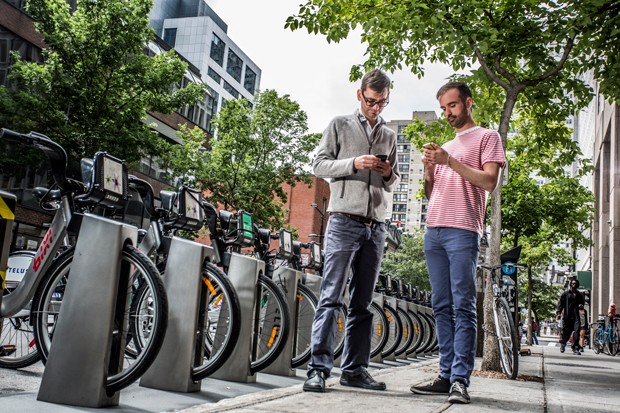 Calling all Concordians: Zachary Patterson (right) is using an app to find out how faculty, staff and students commute. Photo by Concordia University
One solution may be a few taps of the finger away. Zachary Patterson — a Canada Research Chair and assistant professor in Concordia's Department of Geography, Planning and Environment — has developed DataMobile, an origin-destination smartphone app that he hopes will give transit authorities better information on how we move.
A former transportation planner with Agence métropolitaine de transport (AMT), Patterson is calling on students, staff and faculty to use the application between September 16 and October 6. With the data collected, he will look at whether the quality of the information is as reliable as origin-destination surveys conducted over the phone.
As city dwellers studying or working on an urban campus, the chaos of traffic-heavy commutes is something many of us have learned to live with. After all, what can we do about it?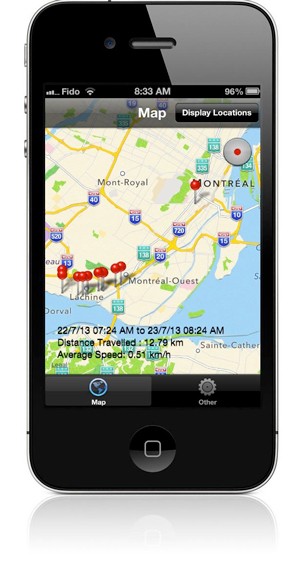 The DataMobile app is free and available for iPhone and Android devices. Image courtesy of Phil Viau
But Patterson says this approach doesn't make more traditional forms of information gathering obsolete. Since mobile data-collection apps are still in their infancy, much remains to be understood about how to interpret and complement the types of information they collect. In fact, the traditional telephone survey remains an integral part of how transportation agencies understand commuting habits.
By tapping into smartphone technology, Patterson is taking a big-data approach to origin-destination studies: now that most mobile phones are equipped with GPS, applications like DataMobile are able to capture massive amounts of information quickly and non-invasively.
"Cities across North America have to make important decisions when it comes to where to invest in expensive infrastructure projects," he says.
"The richer the data that transport planners have at their disposal, the better informed they will be when it comes to allocating scarce resources."
"In Montreal, for example, data gathered through telephone origin-designation surveys — like the one taking place this fall — are being used to evaluate the impact of three subway extensions that are under consideration," Patterson says.
"The last survey cost close to $1.5 million and took three months. This may seem like a lot, but the results serve to evaluate infrastructure investments worth billions of dollars."

And those investments will save us all the continuing frustration and lost time caused by traffic messes.
So have your say by downloading the DataMobile app: it's simple, non-invasive and an excellent way of taking part in research that is making a difference.
However — if the phone rings and you don't recognize the number, answer it. Patterson says it could very well be the AMT calling.
"Your input will literally shape the future of transportation networks."
How it works
Access the App Store or Google Play Store and download DataMobile for free.
Launch the application and fill out a two-minute survey.
Let the application run in the background for a maximum of two weeks.
Wait to see if you win an iPad 2.
---