City Farm School yields fresh approach to marketing
Internship offers home-grown organic vegetables -- and an introduction to economics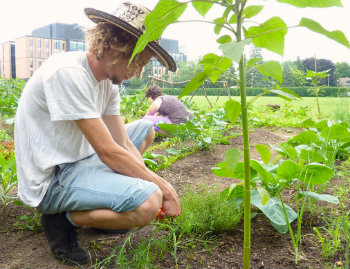 It's 9:30 a.m. on a Thursday morning in July, an hour and a half before Concordia's City Farm School opens for market. Behind the Hingston Hall residences on the Loyola Campus, students are busily working work their way down rows of leafy greens, cutting off the larger leaves an inch above the ground.
They pull radishes, pick strawberries, harvest herbs and pluck flowers to use as garnishes; then wash the produce and place it in wicker baskets, ready for sale. Large bags of mixed greens go for $4, and small bags for $3. Radishes cost $1 a bushel.
The workers are all members of City Farm's new eight-month Market Gardener Internship: on Tuesdays and Thursdays from 11 a.m. to 1 p.m., they sell their produce from a market stand at the school. Any revenue goes first to paying for the seeds and seedlings purchased in the spring — but everything left over is clear profit.
"The idea is to get the students thinking about the economics of gardening and farming, especially in a market setting," City Farm co-coordinator Jackie Martin says.
In March, at the start of the internship, Market Gardeners are divided into four small groups, each with its own plot. Then they are given specific challenges: to grow four plant families; to practise "companion planting," that is, planting different crops close together to increase productivity; and to build trellises out of discarded materials. They must also let at least one species go to seed so they can collect its seeds at the end of the season.
One student, Josianne Boucher, takes a few moments to show off the plants growing in the packed four-by-five-and-a-half-metre plot tended by her group. "These are our tomatillos," she says. "It's a Mexican fruit, and you can make salsa verde with it. Those are tomatoes, that's basil, and up there we have eggplants."
She points to a group of plants growing up a trellis constructed out of three old bicycle wheels. "That's a mix of beans and cucumbers. Those are peppers up there in the middle. That's parsley, that's cilantro, kale, and on the other side there is Swiss chard."
It's the first year that City Farm School students have been given their own plots alongside the ones managed by the two City Farm School coordinators, Martin and Marcus Lobb. "They design the whole thing from scratch," Martin says. "They decide where the rows are going to grow, and what plants they want."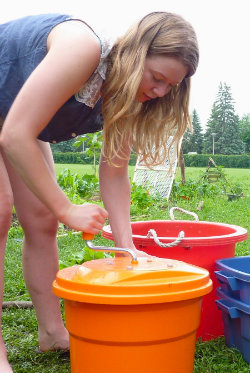 So far, Martin says, the experiment is working very well. "They make whatever decisions they want. Sometimes they make the same decisions as we do, and sometimes they'll do something totally different. Some stuff they've done has turned out way better than what we've done!"
As well as the Market Gardener Internship, the school is offering two other new programs this year: a Medicinal Plants Internship, for people who want to learn about growing and using medicinal herbs, and a Schoolyard Gardener Internship, in which interns work alongside five-to-12-year-olds in established gardens at Montreal schools.

All City Farm internships last eight months, starting in March in Concordia's Henry F. Hall Building greenhouse on the Sir George Wlliams Campus and running until the end of the growing season.
For intern Emmalee Biebl, who works as a barber, the Market Stand Internship is a great opportunity to learn about planting and harvesting in an informal setting. "This is the first opportunity I had to do a gardening course, and still work," she says. "I don't know where this will take me, but it's definitely something I want to do."
What: City Farm School Market Stand
When: Tuesdays and Thursdays, from 11 a.m. to 1 p.m.
Where: Behind Hingston Hall, Loyola Campus, 7141 Sherbrooke St. W.
Related links:
---