Saving money - and lives - with "smart" construction
New method protects workers and keeps production on schedule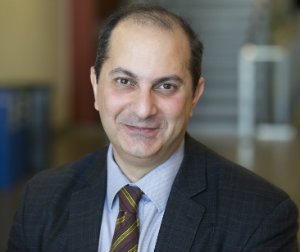 Heavy construction is an intricate ballet, where a dysfunctional excavator or stalled truck can cost thousands of dollars. The industry is also notorious for its high rate of accidents: between 2001 and 2010, there were 172 fatal accidents in Quebec alone. But according to Amin Hammad, a professor at the Concordia Institute for Information Systems Engineering (CIISE), a new approach to state-of-the-art construction technology could not only make sites safer, but more efficient and productive, too.

If Hammad's vision comes to fruition, cranes, excavators and other machines will not only collate critical information – they will send it back to the operators and project managers, and even "talk" to each other.
"We can improve the productivity and safety of heavy construction projects by integrating near real-time simulation and accurate tracking technologies into the management and operation of heavy construction sites," he says.

Hammad recently teamed up with graduate students in the CIISE and the Department of Building, Civil and Environmental Engineering to re-examine the concept of the "smart construction site": a site where workers, equipment and materials are continuously monitored. The resulting information is processed almost instantaneously to provide navigation guidance and safety warnings.

Hammad and his team honed in on this stream of updates to determine the current operational status of different pieces of equipment. When the reality on the construction site differs from the simulation predictions – for example, if a truck arrives later than expected – this information can be fed back into the simulation in order to map out the "smartest" course of action.

"By integrating new tracking technologies like GPS and other geo-positioning technologies into the smart construction site, we can improve productivity and safety by enabling on-site data capturing and decision making," says Hammad. He thinks incorporating 3D design models and automated machine control (GPS-based tracking systems) could also eliminate the need for manual measurements, which sometimes lead to miscalculations.

Currently, smart construction sites use semi-automation at the individual machine level: the same way modern train drivers oversee computer-controlled actions, instead of manually driving the train. Hammad "wants to move beyond what's there" – he envisions coupling this technology with the overall project management.

Hammad's system is still in the trial phase, but he's predicted many potential practical applications: averting crane collisions, avoiding damage to underground utilities, minimizing scheduling conflicts, and more.
About the research: Hammad's findings have been presented in journal papers published by the American Society of Civil Engineers. The most recent paper was presented in 2012 at the Winter Simulation Conference, the premier international forum for disseminating recent advances in the field of dynamic systems modeling and simulation, and subsequently published in the conference proceedings.

Related links:
• Amin Hammad on research@concordia
• Concordia Institute for Information Systems Engineering
• Department of Building, Civil and Environmental Engineering
• Faculty of Engineering and Computer Science
• American Society of Civil Engineers Library
• Winter Simulation Conference 2012 Proceedings


---