Major gift from CN advances business research
CN Centre for Studies in Sustainable Supply Chain Management established thanks to $500,000 gift
Version française

A major gift from Canadian National Railway Company will advance business research at Concordia University.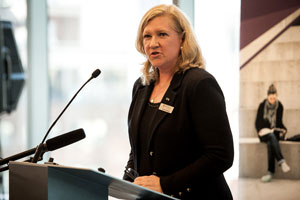 CN has donated $500,000 to establish the CN Centre for Studies in Sustainable Supply Chain Management at the John Molson School of Business (JMSB). The gift will support JMSB students at the bachelor, master and doctoral levels.

The centre will conduct research on sustainable supply chain management, explore new techniques to make supply chains more sustainable and conduct sustainable supply chain management projects.

Supply chain management improves the movement of goods to the benefit of environment. Increasingly, supply chain managers face the added challenges of cutting greenhouse gas emissions, waste and energy requirements while maximizing safety and financial returns. Uniquely, the CN Centre for Studies in Sustainable Supply Chain Management will address both concerns in great depth.

Over a five-year period, the centre will receive $100,000 annually for research, student awards and conferences with keynote speakers.

The centre's director, Ahmet Satir, will oversee research and core activities. The CN Centre for Studies in Sustainable Supply Chain Management will also benefit from an advisory board, including a representative from CN who will help shape the centre's activities and curriculum, mentor scholars and approve research projects.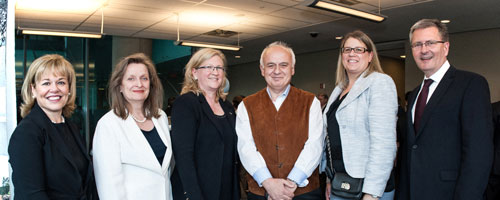 "We are grateful for CN's gift in support of business research," says Concordia President Alan Shepard. "This special initiative will reinforce graduate studies and research as well as Concordia's delivery of outstanding business programs."

Claude Mongeau, president and chief executive officer of CN, says: "CN is a true backbone of the economy, safely and sustainably transporting approximately $250 billion worth of goods annually for a wide range of business sectors. We believe our donation to Concordia will generate innovative research outcomes that will help produce further gains in supply chain efficiency and sustainability that are critical to Canada's competitiveness in global markets."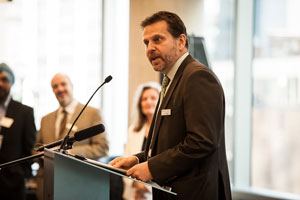 Steve Harvey, dean of the John Molson School of Business, says: "The creation of the CN Centre for Studies in Sustainable Supply Chain Management will further deepen Concordia's world-class expertise in the field of sustainable enterprise. This initiative will enable business leaders to work closely with John Molson School of Business students to discover better ways to manage supply chains in a sustainable business context."

Concordia and CN are natural partners in the field of sustainability. Concordia has fully incorporated sustainable development into its strategic framework with investments in several key initiatives. CN is committed to its Sustainability Action Plan, which seeks reductions in the environmental impact of its operations.

Related links:
• John Molson School of Business
• CN Centre for Studies in Sustainable Supply Chain Management
• CN
---