Concordia athletes join inaugural Universiade teams
Rugby Stinger and four synchro swimmers head to Russia for world summer university games
June 20, 2013
|
Source: Recreation and Athletics</p>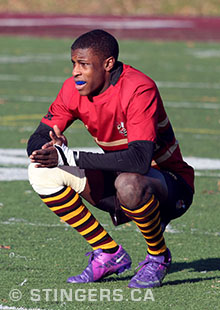 Rugby
Concordia Stinger winger Caleb Jordan was named to the Team Canada roster for the men's rugby sevens competition at the 2013 Summer Universiade in Kazan, Russia.

Announced May 28 by Canadian Interuniversity Sport, in conjunction with Rugby Canada, men's rugby sevens will make its Universiade debut in Kazan, with the inaugural tournament set for July 14 to 17.

A resident of LaSalle, Que., Jordan will be one of 12 players on Team Canada under the direction of head coach Sean McDonaugh. McDonaugh is also head coach of the rugby team of the Royal Military College of Canada in Kingston, Ont.

Jordan joined the Stingers in August of 2012. He played five games in the 2012-13 season, scoring one try. His efforts helped Concordia finish in first place in the Réseau du sport étudiant du Québec conference with a 6-2 win-loss record.

At the Universiade, Canada will be in a pool with Russia, Poland and Ukraine. The schedule is as follows:

July 14: Canada vs. Russia
July 14: Canada vs. Poland
July 15: Canada vs. Ukraine
July 15: Placement matches (bottom 8)
July 16: Placement matches (top 8)
July 17: Tournament final

Synchronized swimming
Also competing in their sport's first Universiade appearance are four synchronized swimmers from Concordia. Watch for Rachel Fréchette, Rebecca Maule, Samantha Nealon and Lisa Sanders from July 5 to 9. Nealon is the only Canadian team member who will compete in solo events.

The Summer Universiade is an international multi-sport event held every two years and is second only to the Olympic Games in the number of participating athletes and countries. It is open to competitors between the ages of 17 and 28. Participants must be full-time students at a post-secondary institution or have graduated in the year preceding the event.
Soccer
Vladimir Pavlicik, associate director of Campus Recreation, is also on his way to the Universiade, as manager of Canada's men's soccer team.
---