Christine Harries steps right into her career
Building engineering graduate wins 2013 Co-op Student of the Year award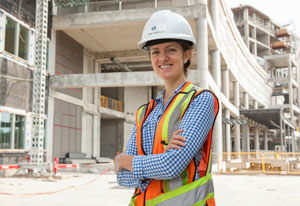 Christine Harries, BEng 2013, is an award-winning co-operative education graduate with a difference. She completed three work terms at three different companies; she was active as a mentor to other co-op students; she was a student showcase exhibitor; and she was consistently on the Dean's list.

Yet somehow working, studying, mentoring and academic excellence weren't enough. As a certified lifeguard, swimming instructor and ski instructor, Harries continued to train in the pool every week, and teach on the snowy slopes each winter.

"Many times I would be in the pool during the morning knowing I had an exam that evening," Harries said. "This did not worry me as I knew I had been studying diligently and could afford the time to relax. But I must admit I was reciting building materials in my head as I did my laps."

Harries also volunteered with the National Shoreline Cleanup, and at Free the Children fundraising events. She plays violin, saxophone and piano, and has used her talents to perform in community settings as well as record her own compositions. "I was able to stay focused," said Harries, "and keep a balance between my school work and my other interests."

As a young person with many options and interests, Harries did not know she was destined to become a building engineer. At one point she thought she might like to design wedding dresses. But Harries was able to take advantage of one of the biggest benefits of co-operative and experiential learning; she confirmed what she liked to do by doing it.

She completed her first building engineering co-op work term as a student analyst for Tardif Murray and Associates Inc. "I visited a work site which sparked my interest in construction and buildings." Her next work term was as an assistant project manager for Triad Construction Inc. "It taught me about subtrade coordination and construction techniques. Working with a female superintendent who had earned her place in a male-dominated industry provided an unparalleled opportunity from which I benefited so much."

Harries' final work term was for SNC-Lavalin Inc. at the new Montreal superhospital. "It was so exciting because it allowed me to combine my passion for structural design and all the site work knowledge I had gained." SNC-Lavalin recognized her with a $2,500 internship award, and offered her a full-time job in structural design upon graduation. She accepted.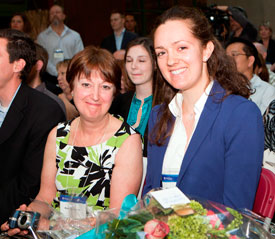 At the 2013 Co-op Awards of Recognition Event held May 30, Harries was a featured speaker as well as winner of the Alexandre Quintal Co-op Student of the Year award. As her proud mother looked on, Harries ended her insightful address with a message to other co-op students: "Whether our work specializes in business, fine arts, arts and science or engineering, when it is our turn to reach out and help a student, let us remember the faith these employers here tonight had in us, and continue the link between Concordia students and the working world."

Related links:
• Institute for Co-operative Education
• Department of Building, Civil and Environmental Engineering
• "Shaping Tomorrow's Leaders: Putting Stock in Student interns" — spectrum – quarterly magazine of SNC-Lavalin

Harries is just one of many exceptional Concordia students. Read about more great students.
---