Using a life-history approach to education
Gold Medal winner Natasha Reid combines art education and social responsibility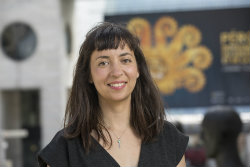 Natasha Reid remembers going to her first art exhibition. Her mother, an artist, prepared her for the gallery visit by explaining what she would see so that she could better understand the art.

"I was quite excited," Reid recalls.

She was three years old.

With parents who were heavily into the arts scene — her father is a musician — perhaps it's no surprise Reid grew up to be an artist and art educator.
And an outstanding scholar: she delivered the valedictory address at Concordia University's fall 2012 convocation, at which she received a Doctorate in Art Education, and has since been awarded the Elliot Eisner Doctoral Research Award in Art Education from the United States-based National Art Education Association.
Reid's excellent research and stellar academic performance have been recognized once again. She was named the recipient of the Governor General's Academic Gold Medal in the category of People and Society, awarded each year to the university's top graduate student. She will receive the award on June 10 at the Faculty of Fine Arts convocation ceremonies.

"To be recognized by the university that has been so integral in the development of my own voice and the continuous refinement of my visions for research, teaching and creation practices is an immense honour," she says.

When Reid decided to pursue a master's in art education, she chose Concordia because it seemed committed to community engagement and social responsibility. The university exceeded her expectations on that front, while it also helped her pinpoint her passion.

"The professors created a learning community in the classroom that was based on our experiences," Reid says. This life-history approach to teaching and learning inspired the topic of her doctoral dissertation.

"The Contemporary Identities of Art Museum Educators as Told through Their Life Histories" focuses on bringing the personal experiences of art museum educators to the forefront, to give greater voice to the perspectives and visions of those in a field that has often been relegated to the sidelines.

"Bringing together the arts, life-history research and cultural institutions, she is undertaking a significant stream of inquiry that makes a real contribution to our understanding of museum educators' professional identities — and, by extension, to the nature of the role and function of our cultural institutions in society," says Kathleen Vaughan, an associate professor in the Department of Art Education.

Reid, who is currently a Fonds québeçois de la recherche sur la societé et la culture post-doctoral fellow, is now preparing for her next big chapter: she's moving to Tucson to teach art education at the University of Arizona. Her Concordia professors believe she'll do just fine.

Says Vaughan, "Natasha is one of those gems of a human being who you just know is going to go far in life."

Related links:
• Department of Art Education
---