A vision for water's future
TED Fellow Sonaar Luthra, inventor of the Water Canary, visits Concordia
Sonaar Luthra has a plan to simplify the testing of the world's water supplies for contaminents, using a cheap, portable device. Current processes for testing water are expensive, time-consuming and require specialists and laboratories.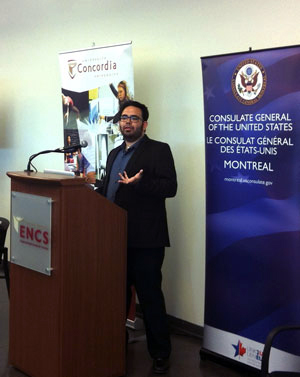 The young New York-based inventor brought his pocket-sized testing device, dubbed the Water Canary, to Concordia on May 13 for a special event co-sponsored by the Individualized Programs (INDI) at the School of Graduate Studies and the Centre for Engineering in Society in the Faculty of Engineering and Computer Science. The Montreal-based United States Consulate also supported the event.

Luthra's Water Canary is designed to perform on-the-spot testing for a selection of the most prevalent contaminants. The inexpensive yet groundbreaking technology contained within the device is key to Luthra's ambitious strategy to revisit how the world collects vital data on the state of its water.

He envisions a world where portable devices like the Water Canary are deployed along waterways and feed data back to monitoring stations, providing real-time information on water quality across geographic areas. Just as we now have weather maps, which warn us of approaching storms, we would have water maps to warn us of impending threats to water supplies.

"Maps like this don't exist right now, because in order to do this you need fast, affordable testing and networking capability," Luthra told the audience of mostly engineering students and faculty gathered in the new District 3 meeting area on the seventh floor of the Engineering, Computer Science and Visual Arts Integrated Complex (EV). He pointed to a slide of the Water Canary. "Only a system like this can provide that."

A device like the Water Canary could help prevent the outbreak of diseases such as cholera, caused by the contamination of local water supplies. It could also help in less dire situations, such as detecting high nitrate levels caused by farm runoff, which may threaten aquatic life in lakes and rivers.

Luthra's company plans to focus its initial field-testing on agricultural contaminants in the U.S. before allowing its technology to be deployed for testing potable water supplies. He hastens to point out that the impact of agriculture on water supplies is no small issue. "Nitrate pollution (from fertilizer runoff) in the U.S. and the rest of the world is a $400-billion global economic problem every year."

Once the bugs are worked out, his company plans to open the source of its hardware, allowing others to build it themselves and continually improve upon it. "If the point is to make better decisions, what we as a company want to do is to remove every barrier that would prevent someone from being able to test water," he says.

Peyman Ansari, a master's student in the Department of Building, Civil and Environmental Engineering, says he was impressed by Luthra's idea of creating a cheap alternative for water testing, but that his presentation did not contain enough information about how the product works. "The technical part was really short and simplified," he says. "But it's a good approach to use nano-technology to provide a user-friendly product that's not just for scientists."

Undergraduate engineering student Keoponnareay Kim says she, too, was left with many questions about the technology used in the Water Canary. "I'm very interested in finding out how it is possible for it to be so cheap and so small, and so simple … and to be able to identify the contaminents."

The recipient of an undergraduate research grant from the Natural Sciences and Engineering Research Council of Canada (NSERC), Kim is spending this summer researching the filtration of phosphorous contamination in waterways with Professor Catherine Mulligan. Kim says she plans to keep a close eye on Luthra's Water Canary project.

"I'd like to see if in the future it might be able to test for more contaminants," she says, adding that she found Luthra's presentation very inspiring. "I'm very passionate about environmental problems. I want to be a part of the solution … I always believed in the power of technology, as it's what has helped human civilization combat diseases and other problems."
Watch Luthra's TED talk:
Related links:
• Individualized Program (INDI)
• Centre for Engineering in Society
• Concordia Institute for Water, Energy and Sustainable Systems
• Water Canary
---